Cambridge – Leader Simon
Cyclists : Simon, Dave, Carol, Helen W, Lyn, Neale, Maureen, Louise, Rob W, Clair, Bruce, Nancy. E-Bikers: Roz, Sarah, Wolfgang, Paul C
DAY ONE: Te Awa ride, 55km
Author: Louise
Fine weather greeted our first day of the hub. This was very welcome after the big wet and wild summer most of us had experienced. We had met for a briefing on Sunday night so after a quick outline of the day's riding from Maureen we headed off to ride Te Awa from Cambridge to just south of Hamilton gardens.
This section of the river pathway almost completes the whole pathway from Ngaruawahia to Cambridge. Features of this section involve impressive timber pathways and zig-zags, bike friendly features and reminders that in some places we were biking through farms.
Coffee was at the new Tamahere sports fields and commercial hub. It is evident that with all the growth in housing – especially retirement villages – that this area is targeted for substantial urban development.
A few kms after coffee we reached an area that looked like Hamilton's version of spaghetti junction. Just south of Hamilton gardens we stopped to look down on 2 bridges getting built – one a new road bridge over the Waikato awa and the other a new shared pathway to lead into the gardens and pathways north.
After being suitably impressed with the new infrastructure we were treated to a 'walk your wheels' bush walk section of the pathway.
Maureen led us back towards Cambridge via the eastern side of the expressway. Lunch was enjoyed at the attractive and peaceful botanic gardens before the group dispersed for a look around Cambridge. Thanks Maureen for a varied, enjoyable day out.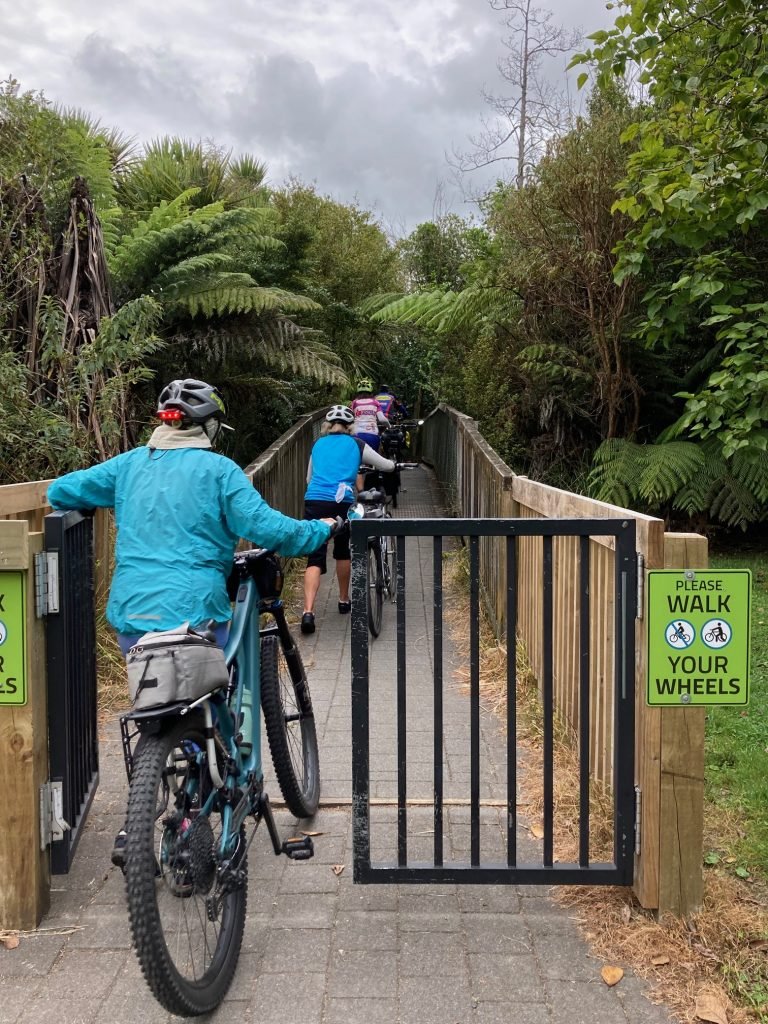 Day Two – 14th March – Around Maungatautari, Sanctuary Mountain – 80 km, 967m of climbing.
Author: Lyn
Woke up to another blue sky day – 10 degrees. Our group of 16 cyclists assembled at the camp ground entrance ready for the 8.30am start.
Following the Riverside cycle path for 5 km we stopped at the Karapiro rowing centre to admire the calm, mighty Waikato river. A further 5 km south we detoured 1 km down to Waipuke Park. On the banks of the river this recently opened park offers basic composting toilets, children's playground and picnic seats. At this picturesque setting we settled for an early morning coffee stop.
Back up at the main road we split into 2 groups and for the next 30 km cycled up and down hills, through lush, rolling countryside predominately dairying and 1 kiwifruit orchard before reaching Sanctuary Mt café for a well needed lunch stop.
Sanctuary Mountain is an ancient forest protected by a 47 km pest-proof fence. New Zealand's largest mainland eco-sanctuary is a safe habitat for many of the country's rarest and endangered species. The forest is alive with bird life also tuatara, weta, kiwi, ruru and glowworms. Visitors can explore more than 5 km of walking tracks, climb up the 16m observation tower, book a guided tour, listen to bird call or rest at the well-resourced visitors centre and café.
We pedaled the last 40 km back to camp along rolling countryside and 2 steep hills. After 80 km and a warm day we were all pleased to hit the showers and relax.
Simon had organized a group dinner at Sila restaurant in Cambridge. Hungry cyclists enjoyed Thai dishes and refueled for more cycling next morning.
Day 3 – Wednesday – 30km
Author: Sarah
Day 3 on our recent Cambridge tour (15th March 2023) dawned fine and clear with a light dew on the ground. Perfect cycling weather. We have been very lucky with sunshine and very little wind on this tour. This ride was planned to be short (30k) so that people could move on to Otorohanga fairly early in the day.
Some of us were ready whilst others didn't seem to be worried about even turning up with a bike!!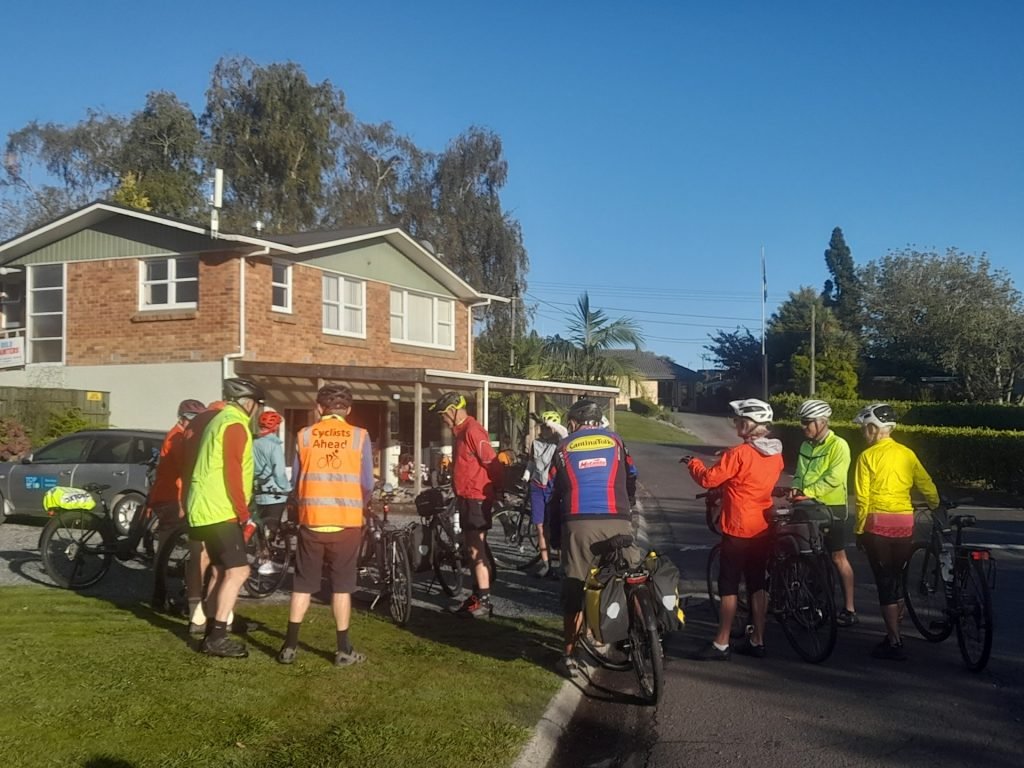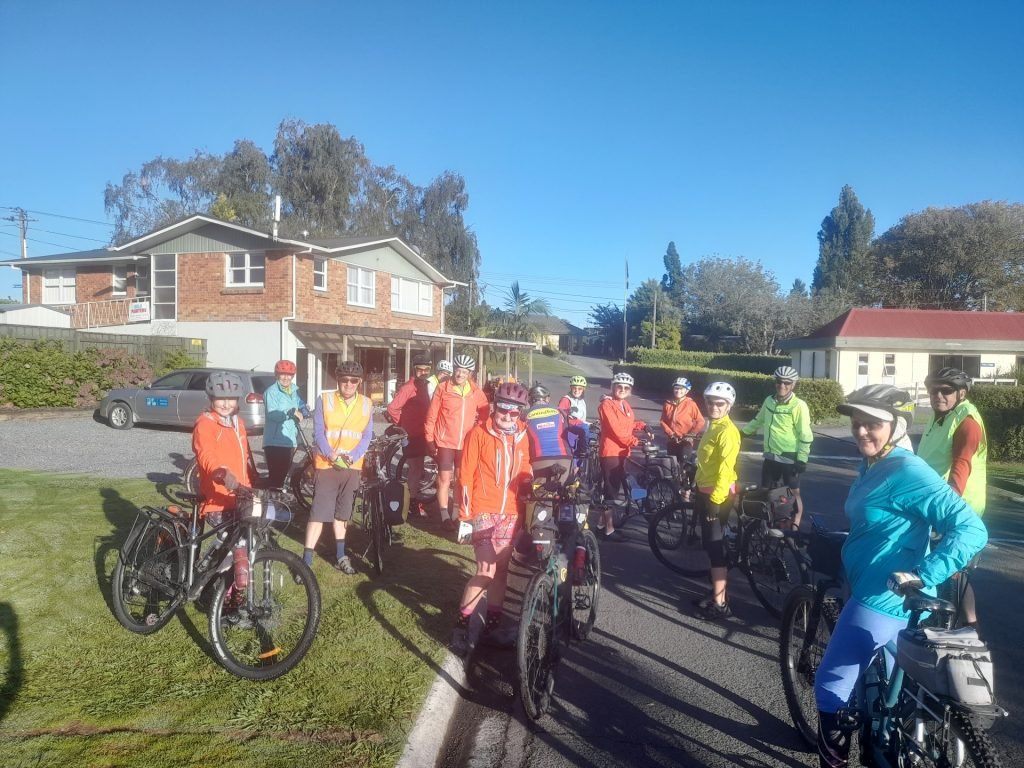 Eventually underway we found some lovely cycle paths through the trees on our way to coffee. Signs of the recent hurricane were evident by numbers of very large, fallen trees.
It is amazing how much the quality of the coffee stop seems to rule the chatter first thing in the day. One could almost imagine we were the Auckland Coffee and Tea Association and cycling was a bit of an afterthought.
Morning coffee proved to be long and very relaxing at the Monavale Organic Blueberry Farm Café where over 80,000 plants are weeded by hand twice each year. The farm has suffered from the devastating weather events in February but the staff were very upbeat and happy to see us.
Now back on our bikes again, it was a fairly straight road back to Cambridge. On the way we encountered a few chainsaw jobs in progress – large trees had fallen through fences reducing them to kindling. The soil is obviously very good for growing but it was nevertheless very sad to see such large trees wiped out so completely.
Our ride ended with a round of applause for the leader Simon, and agreement that we had had a most enjoyable 3 days cycling.
Otorohanga
Author: Helen
Cyclists: Maureen, Lyn, Neale, Bruce, Nancy, Wolfgang, Louise, Helen W, Dave W, Carol G
After a great few days in Cambridge we regroup at the McRea's B&B & camp site for ACTA members. Five vans positioned themselves for the night & a couple of us sleep comfortably in the house. The pot luck dinner was delicious & 3 times the people could have been feed. So much was contributed that some never made the table & was saved for lunch the next day. What a great group of people.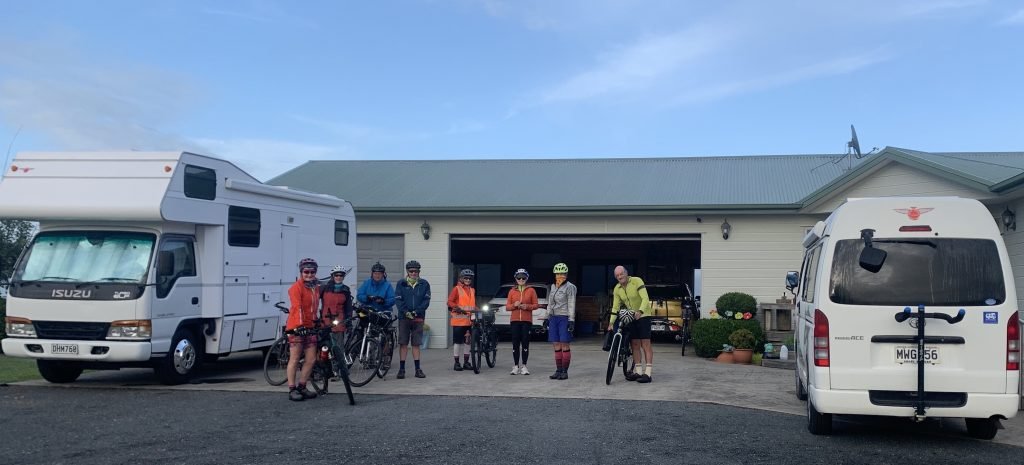 In the morning we are warned we begin with a long downhill & it will be cold till we meet up with the ACTA locals in Otorohanga. I foolishly did not bother with my full padded gloves when they were definitely needed. Very soon the sun warmed us & it was time to remove layers.
Morning tea was at Honikiwi hall thanks to Maureen's connections. Great toilets & fantastic food in what seamed like nowhere. The photo of what was put out tells all.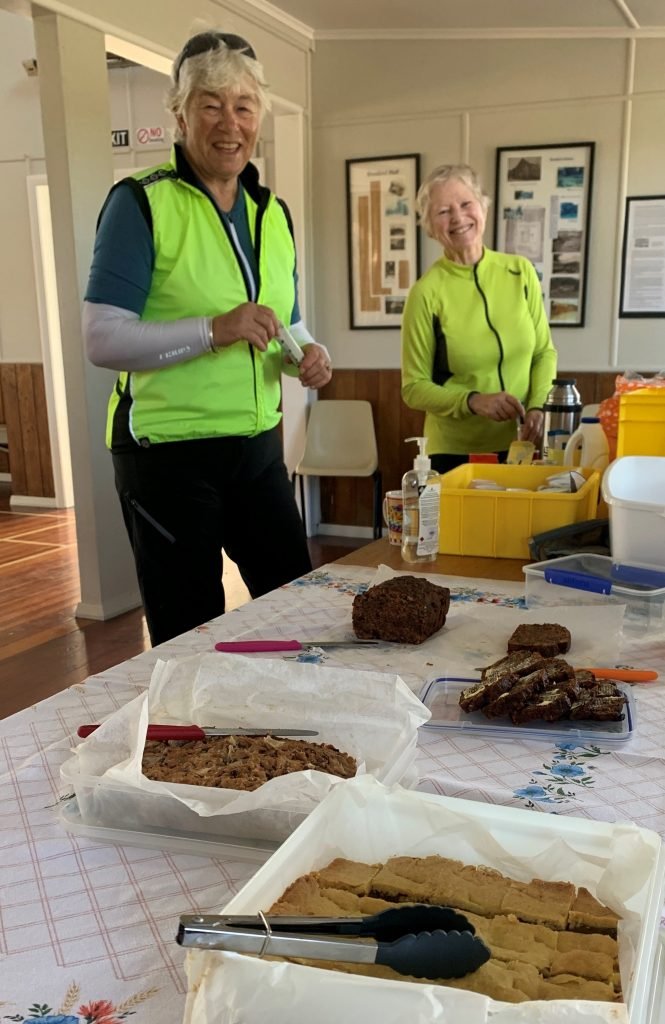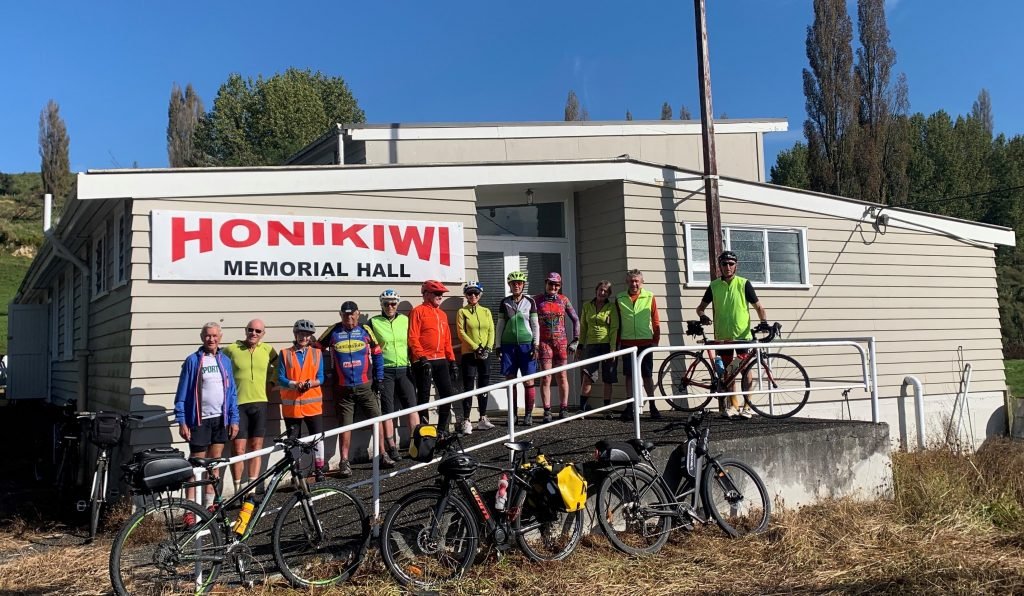 The weather was kind, traffic was mainly none existent & the country side green & welcoming. As always the company was good. We climbed just under 680m while riding 76.7K so the very large late lunch at the McRea's went down well. The afternoon flew by with van snoozes, books read & discussions had. Maureen spoilt us by serving us all with a tasty evening meal willing helped & contributed to by those at hand.
Reasonably early start Friday as we all drove & parked by the station in Otorahonga. We were joined today on our ride by ? a local cycling companion of Liz & Maureens.
Morning tea was at Te Kuiti King St Café via the public toilets as the café does not have the use of toilets till after 11am. The scones were huge. Us city folk were impressed when Farmer Ken joined us having just pulled a very large truck out of the mud with his tractor. I say joined us but Ken & Bruce were not always with us but having fun powering out ahead then circling around. Today the weather was kind until the very end when a brief downpour drenched us.
Back at Otorohanga we had three good choices as to where to buy our lunch in town. We then regrouped, baring festival goers Bruce & Nancy, for very good coffee at the railway station coffee shop. They cannot serve food yet as not licensed. They grind there own Guatamalan sourced coffee beans.
So after 64.6k & a 831m climb it was time to drive home. Maureen thank you very much for your generosity & superb organisation we had such a fun filled interesting 2 days in a lonely part of New Zealand..
Cambridge HUB- 13th, 14th & 15th March 2023. Otorohanga HUB 16th & 17th March 2023