Leader: Marianne McNeil
With Mike and Nita Harris, Julie Hiton, Sandra Knight, John McLean and Marianne McNeil, who all laughed morning, noon and night
Author: The Group
Wednesday 12 July – Night ride for Matariki
Em, Julie and John travelled to Kaikohe a day early to join a local Matariki celebration. We followed the cycle trail to the tunnel, starting after 5pm and arriving in the dark. We returned to the old dairy factory, all lit up, for a hearty meal: fish chowder, hangi and Maori bread. The highlight was the talk about Matariki, the canoe and the hammerhead shark.
Overcast:
John is a happily married man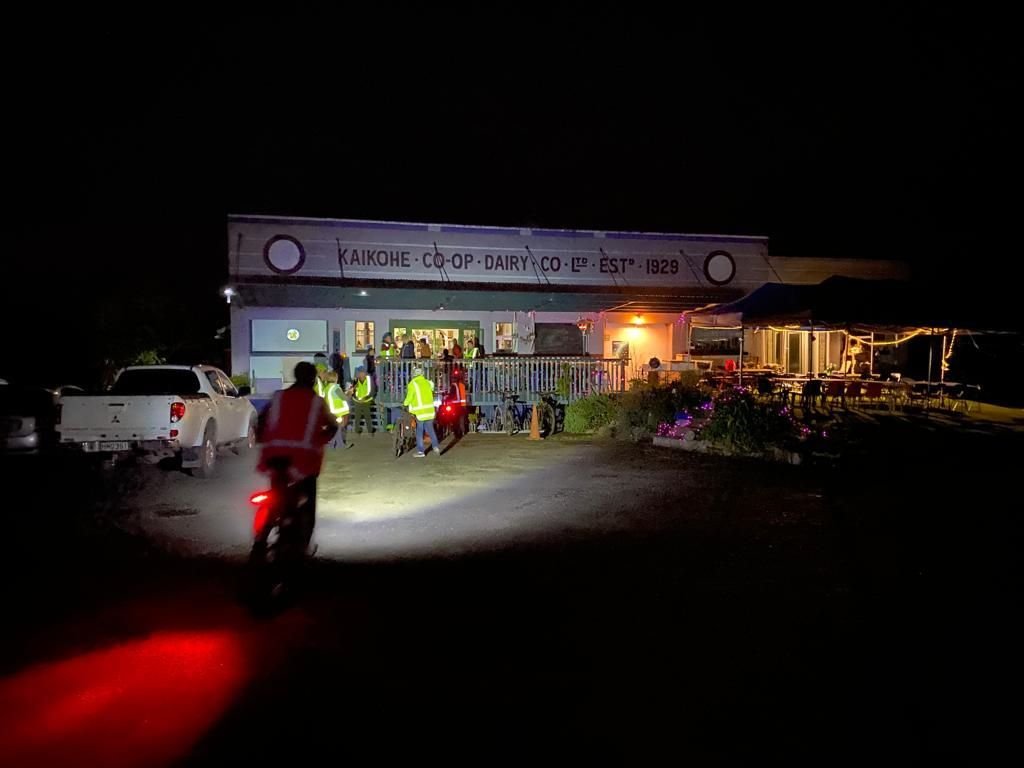 Thursday 13 July
Overcast:   Delicious shared potluck dinner.
Friday 14 July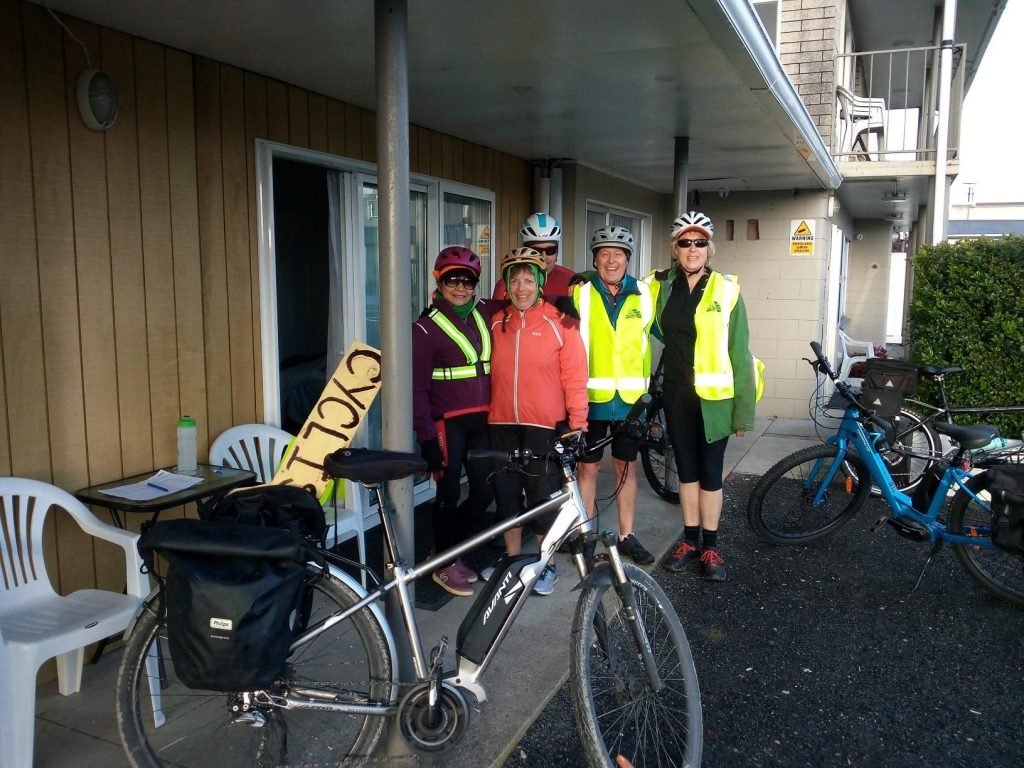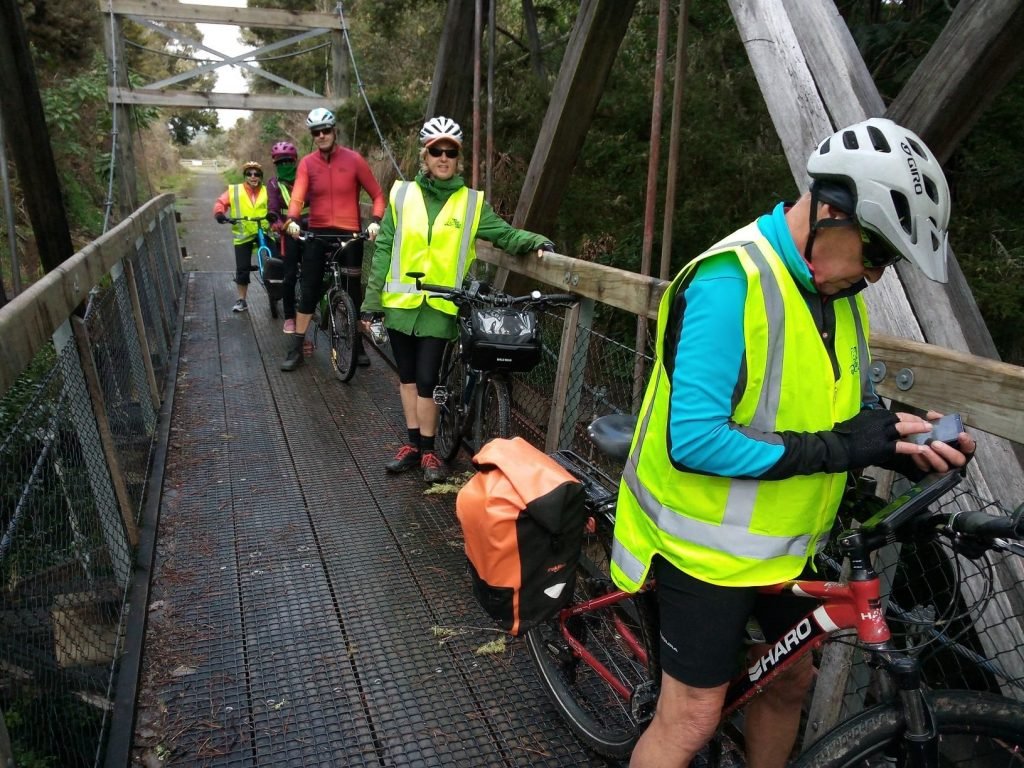 Kaikohe return via Kawiti Bridge, Otiria, Matawaia, Tautoro. Short ride 68.5km, long ride 81km with altitude gain 477m. Overcast:
In anticipation of a 90+km cycle ride on Matariki day, Sandra hired a bright blue Norco ebike – very exciting. While at the historic Kawiti rail bridge, Mike asked if anyone wanted a date. Em responded that she didn't date married men. Mike finally acknowledged he was a happily married man. Two others accepted a date.
Talk of a new horror film to be titled "CYCLISTS Fri 14th" after the photo shoot at Otiria.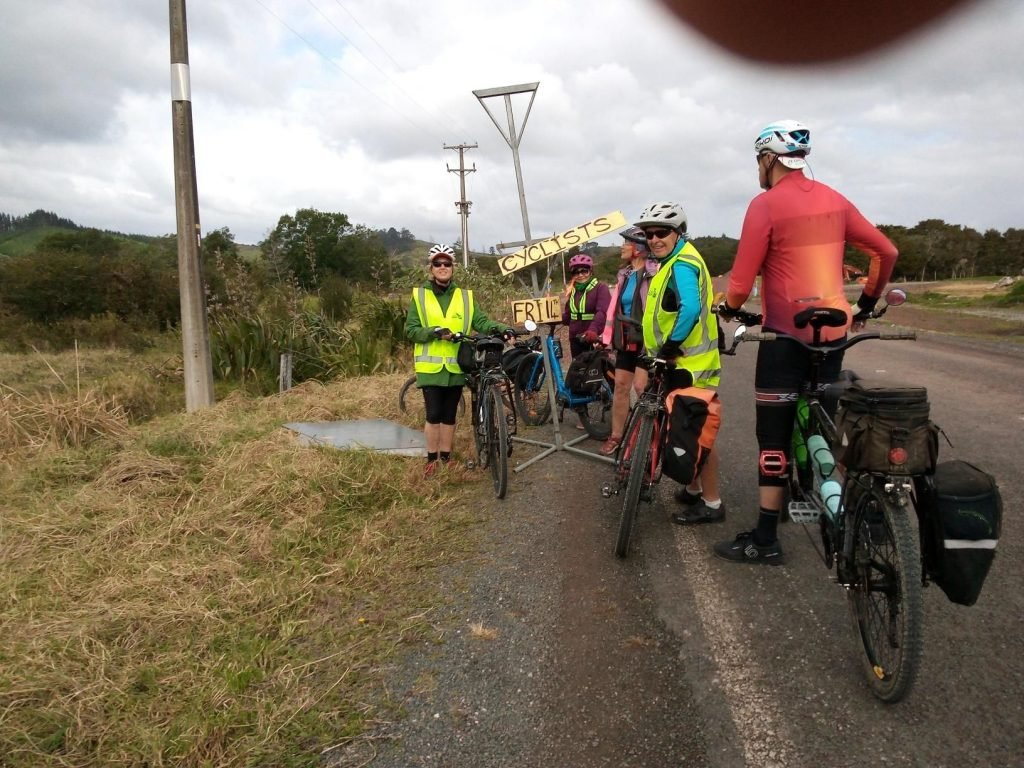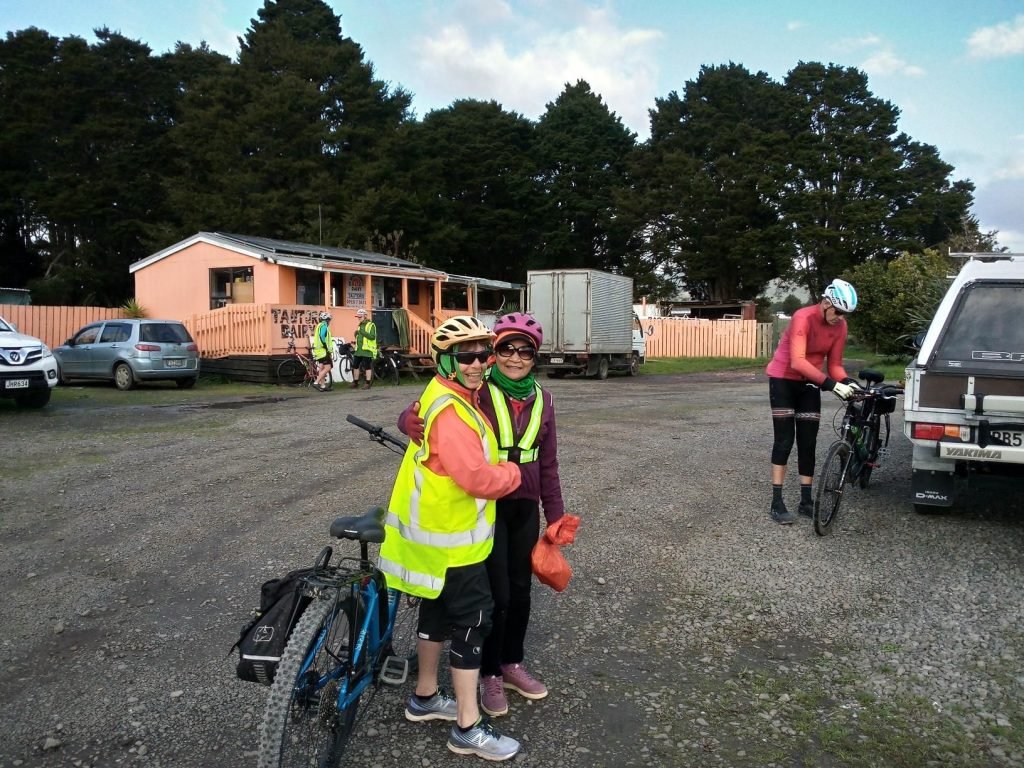 Saturday 15 July – Kaikohe return via Okaihau, Horeke, Taheke
Em drove Mike's ute to Horeke, for those who opted for the shorter ride. Short ride 41km on Twin Coast trail. Congratulations to Julie and John who cycled the long option 74km with 700m altitude gain.
Overcast:

Okaihau cafe: "Do you make real coffee here?"
"You must be from Auckland, and move your bikes from against the corrugated iron, and get your helmet off the table."
The Cafe owner was nominated to be star of the horror film.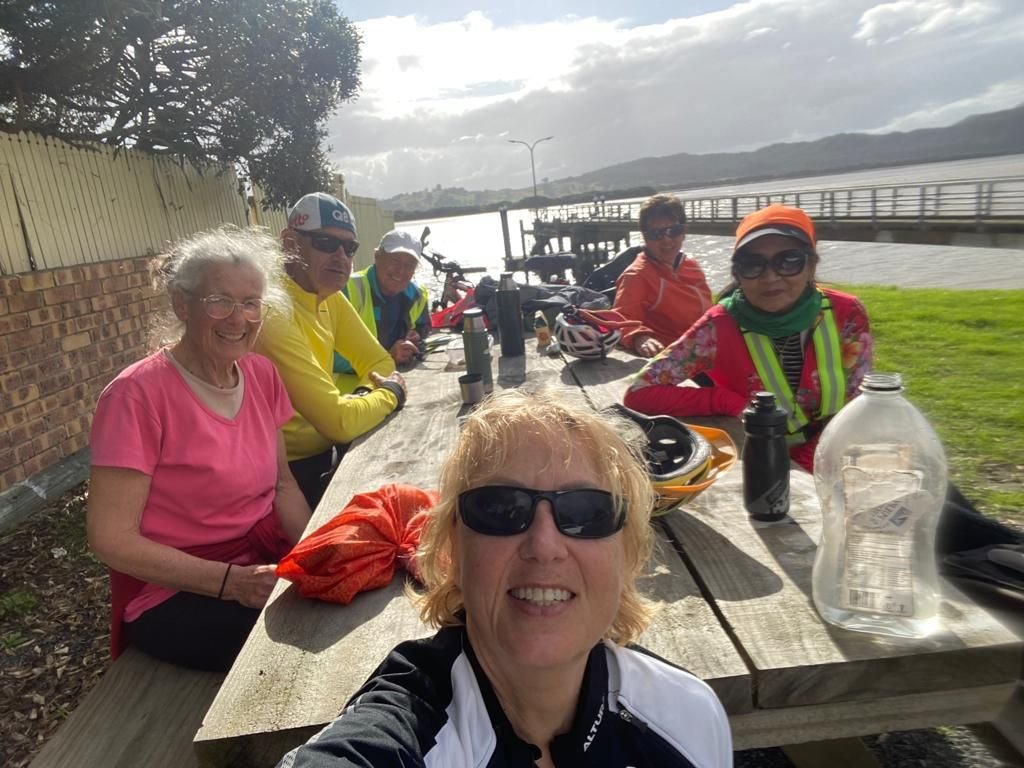 Sunday 16 July – Kaikohe to Kohukohu via Okaihau and Mangamuka.
After struggling through the huge loose gravel on Fri, we decided to not proceed with the proposed Twin Bridges circuit, owing to the fresh gravel on those roads. John suggested the above route, made possible by Twin Coast Adventures kindly agreeing to transport us back from Rawene. Because SH1 Mangamuka Gorge was closed we had the road much to ourselves except for local traffic. Ride 69.71km, altitude gain 729m. With one shower,
Overcast:
Okaihau Cafe: "So you're back, Muffin Man".
"Yes, we enjoyed it so much yesterday that we had to come back"

A police car was waiting just out of Mangamuka, passing us on the road to Kohukohu, then spotted again in Rawene.
No cell phone coverage in places.
After Mangamuka Bridge we practiced draughting to increase the average speed and to protect the stragglers from being picked off.
Just when Muffin Man thought it safe to continue, it was a shock to the group, after pedalling all day looking over our shoulders, that we hadn't escaped because we then happened on a large pair of scissors stuck upright on the picnic table at the ferry terminal.
PS. The hub has had some good challenging cycling, but there has been so much laughter, along the themes of 'happily married man' and 'Fri 14th horror story'.
PPS. The aforementioned dates were from a 3kg pack from Costco
PPPS. Mike brought his sky TV on demand connection so evenings we were able to watch
Tour de France and the rugby on Sat.
Ballad of a Grumpy Man
For reasons unexplained, Mr Grumpy never liked the Muffin Man
Even back in childhood, he wanted to put him in the can.
Muffin decided that the Grumpy man, he would taunt
"I think I'll return along the Twin Coast Trail at Matariki time and take the whole gang back to that psycho's haunt"
Julie was married at seventeen to an ex- Hell's Angel named Phil
They bought a house together down Taumarunui way, by the old abandoned mill
Phil worked on the roads for a company called Fulton Hogan
Phil got Julie a job there too and in no time at all, she became a real bogan
The Muffin Man had his eye on Julie for a date
He said "Hey Julie, if I teach you to draught we could ride up to Okaihau really fast and you won't be late"
Julie eyed the Muffin man and really wasn't sure, "You are quite lanky"
"But OK buddy, it's a date but I'm warning you, there'll be no hanky panky"
When the ACTA Gang darkened Grumpy's Okaihau door
Grumpy was so shocked, he almost hit the floor
'It's you again Muffin Man!!!!!!", cried Grumpy in alarm
"I warned you not to return here, this time I'll make you buy the farm"
"You don't scare me!" blustered the Muffin Man to the ugly brute
"Don't make me ride back to Kaikohe, or I'll come back with my ute"
Nita stepped forward nervously, 'cause Grumpy made her jumpy
But she knew he wasn't a real barista, 'cause his flat whites were quite lumpy
She said, "Do you serve kid's size meals here , 'cause I'm a very small eater
"And by the way, why is that lady's face so bruised? Are you a wife beater?"
This was too much for Grumpy, he flew into a rage
"You must be an Aucklander, I'll put you in my cage!!"
"And you too!!" He said to Sandra, "Get your helmet off my table"
'I've killed dozens for less and you know that ain't no fable"
"And while you're at it, move your bikes off my nice corrugated iron fence"
"Even you stupid Aucklanders should know that handlebars cause dents"
"Do you have real coffee here" ? asked the smiling Julie so innocently, to the Grumpy Man
"You must be from Auckland too!" cried Grumpy as he ran
Into the street carrying Julie as a shield
"Back off, you ACTA scum, or these scissors will make her bleed"
Then brave John stepped forward yelling, "Grumpy you're a liar!!"
"I told you last time we met, this would go down to the wire"
"I'll have you know" said John fixing Grumpy with his steely gaze, "I've been inside!!!"
"Because the last time a psycho killer like you challenged me, he died!!!".
Sandra piped up, "Hey Grumpy, I'm a Maori Princess, born Ngapuhi"
"Our Iwi is very warlike so watch out, that ain't no fooey!!"
The gang rescued Julie just in time, from Grumpy's evil clutches
As Marianne commented "After that beating, I think he'll need crutches"
"Follow me!!" yelled Marianne, "I'll use my E-bike power"
"I'll lead us all to safety, if we can just find a cell phone tower"
Towards the Northern Hokianga , furiously they did pedal with Grumpy in hot pursuit
He was taking the whole thing personally now, he didn't care about the loot
Drafting all the way to the Rawene Ferry, the intrepid six did fly
Arriving at the wharf, a large pair of scissors stuck in a nearby table they did spy
"Hey look, it's a warning" said Marianne in dismay, "How scary!!!"
"If Grumpy's still on the loose, we need to be wary"
Watch this trailer now and then decide who you will watch it with when the full episode drops on 14 July 2023
The terrifying new splatter movie by Marianne McNeil and Wingnut Films.
Based on the true story "Grumpy's Last Stand" by Sandra Knight about a group of six cyclists touring in New Zealand's Northland in 2023.
Directed By:                        Marianne McNeil
Producer:                             Peter Jackson
Executive Producers:         Steven Spielberg, James Cameron
Cast:                                Marianne McNeil, John McLean, Julie Hilton, Sandra Knight, Nita Harris, Mike Harris play themselves
Original Music and Lyrics: Bob Dylan
Performed By:                      Bob Dylan
Copyright:                            Sony Music Entertainment 2023
Funded By: The New Zealand Film Commission Man   
  Lyrics published courtesy of Sony Music Entertainment
Kaikohe Hub Tour – 12th to 15th July 2023