By Lyn Jobbins, Maureen McRae and Louise Sinclair
Day 1. Tuesday 13th April
Today we split into two groups. Maureen leading the way. Off out the gate of the lovely Top 10 holiday park along the street for a short time, then onto a cycle trail before heading along Roto o Rangi road which takes us over to Te Awamutu. Our first stop was at the old St Paul's church at Rangiaowhia.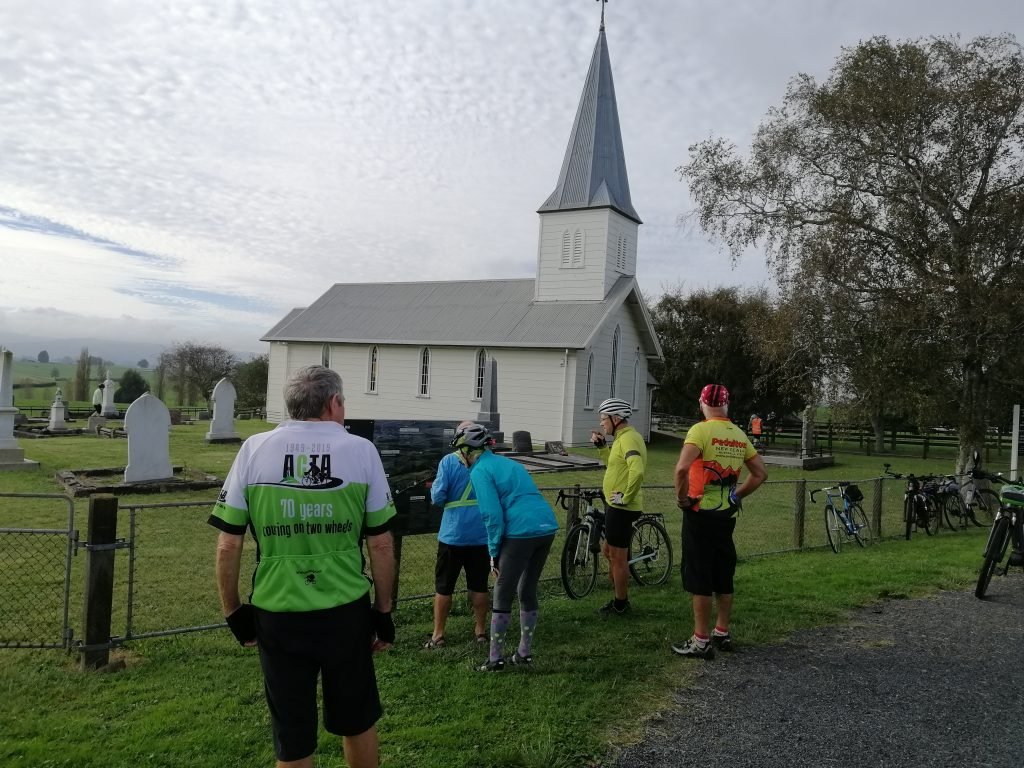 Soon after we crossed over the main road heading towards Te Rahu road before arriving at our destination being the Central Café. Which has an impressive collection of motoring memorabilia.
After we were fed and watered, we headed out on quiet back streets before a short ride on the main road over to Kihikihi. Stopping at the Cicada statue for a group photo.
From here an easy ride on the new cycle trail back to Te Awamutu, which has a nice compact surface running parallel to the road. Then we headed out through the industrial part of the town up Bond road. A few more twists and turns before arriving on Wallace road being our only bit of gravel for the day. Passing a large milking sheep farm with over 800 ewes being milked. Big huge sheds were seen back in the distance.
Arriving back at camp in time to eat our lunches. Quite an easy 63 km ride today. Leaving plenty of time for people to do has much or as little as they wish for the rest of the afternoon. Cambridge being the tree town capital of New Zealand, on a beautiful autumn day was very enjoyable. Plenty of autumn leaves falling.
Day 2. Wednesday 14th April.
Around Maungatautari. Distance 78kms. Climbing 1025 metres.
Day 2 started with some drizzle and the sun breaking through occasionally. The 24 riders tried a new cycling format. The first group included all e-bikes with Simon the leader (on his conventional bike). Steve lead the second group of 12. We cycled 5kms along the concrete path to Karapiro Domain with lovely views of the moody Waikato River.
The next 30kms up and down hills looking for a sheltered spot to have morning coffee. Eventually Simon spotted an old cow shed, the rain abated so we pulled out our thermos and snacks.
Next 18kms was cycling through rolling lush countryside, predominately dairying then a right turn up the hill to Maungatautari /Sanctuary Mountain. This ancient forest, with numerous walking tracks, is protected by a 47km long pest-proof fence, the longest of its kind in the world. A cafe and visitors centre is just by the park entrance. Being the only visitors we were made very welcome, most sat outside in the sun enjoying our lunch.
Back on our bikes again we assembled on the start line for a rolling race down the hill. E-bikes set off, then the conventional group, not sure who won either race. The last 20kms back to camp was challenging. The forecast electrical storm arrived, very frightening with thunder claps overhead, numerous lightning strikes all around and driving rain/hail in our faces. As it was also very chilly with a sudden drop in temperature we all pedaled furiously back to camp where wonderful warm showers were waiting.
Simon had organized a group dinner at a Thai restaurant up the road, the nearest spot that could accommodate our large group. A pleasant evening was enjoyed as we refueled the engines for another interesting days cycling next morning.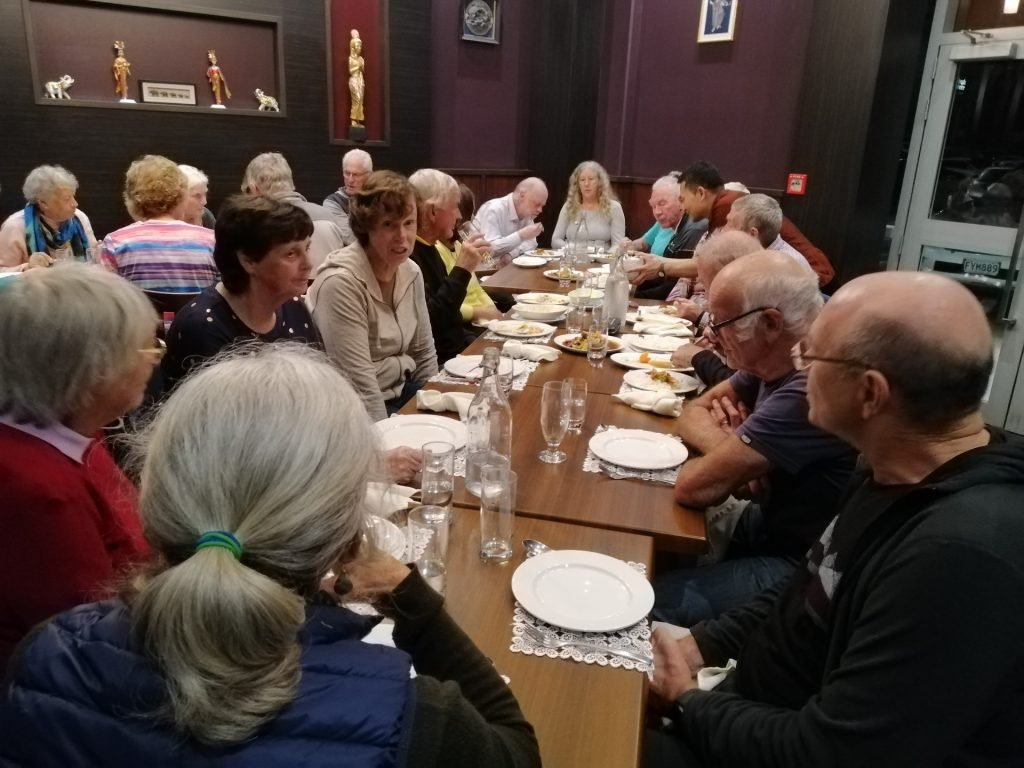 Day 3. Thursday April 15th
After our "electrifying" ride around Maungatautari Thursday morning dawned fine and calm. According to NIWA there were over 300 cloud to ground lightening strikes in the Cambridge area as we were battling our way home over the last 20 km of Wednesday's ride. Certainly an impressive display of what mother nature can turn on. We had an easy start to Thursday's ride heading out to Café Irresistiblue which looks over Monavale Organic Blueberry orchard. A great spot to enjoy the freshest blueberry muffins in the Waikato
We then made use of the Leamington to Karapiro cycleway to take us to the lake and over the Karapiro Hydro dam. Patience was needed to make an unavoidable right hand turn on SH1 but with that safely negotiated we were back on quiet roads and soon enjoying lunch on the verandah of Whitehall Settlers Hall – a beautifully restored and cared for community hall. A couple of motorbikers stopped to chat and Maureen found herself enjoying a 'Triumph' of her own!
The real work of the day began after lunch with a 15km undulating climb up to Mangakawa reserve at the top of Sanitorium hill. The reserve is the site of an old TB hospital that also cared for returned servicemen after WW1. Not much is left now apart from information boards, old foundations and lots of lovely old trees. A few of us went up to the radio towers where you get a great view although there was a bit too much cloud to see Ruapehu or Taranaki.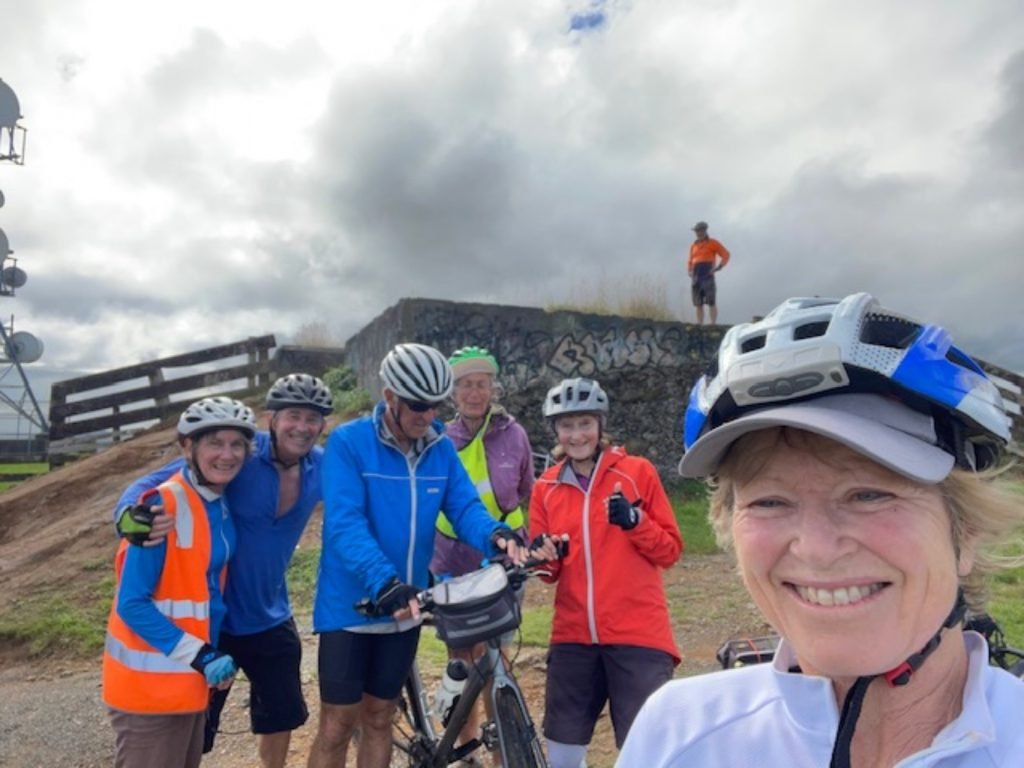 A lovely downhill with some tight switchbacks was a good test of the brakes and before long we were back into urban Cambridge ready to enjoy a post ride coffee at one of the many great cafes.
Thanks to Bruce for leading the advance party and to all who helped as TEC riders
Day 4. Friday 15th April.
Around Cambridge. Distance 26kms.
Another beautiful, blue sky day. Our large group gathered at the front gate at 8.30am keen and eager to explore the outskirts of Cambridge. After navigating our way through the town on dedicated cycle paths we hooked into the wide concrete Waikato River path and after 5kms arrived at the Avanti velodrome. No track cycling today but several checked out the bikes and gear shop.
Taking a back road past the racecourse and trails through reserves the group arrived back in town. Staff at Absolute Cafe had reserved tables in the garden area. Sitting in the sunshine all enjoyed great coffee and a wide selection of savouries and cakes.
More suburban back roads took us back to camp by 12pm. After lunch all headed on a 45 minute drive to Otorohonga meeting outside a motor camp to carpool for an interesting visit to a working dairy farm. Stuart Anderson explained his breeding programme, year round calving rotation, pasture management and answered all questions. We watched afternoon milking in the rotary shed, patted docile cows in the paddock and calves in the rearing shed.
In the evening we gathered back at Maureen and Pete's farmlet for a potluck meal with all contributing a variety of interesting mains and delectable desserts. Today was a special Gold occasion for Steve Thoms. Besides enjoying a beautifully decorated carrot cake we sang a raucous Happy Birthday.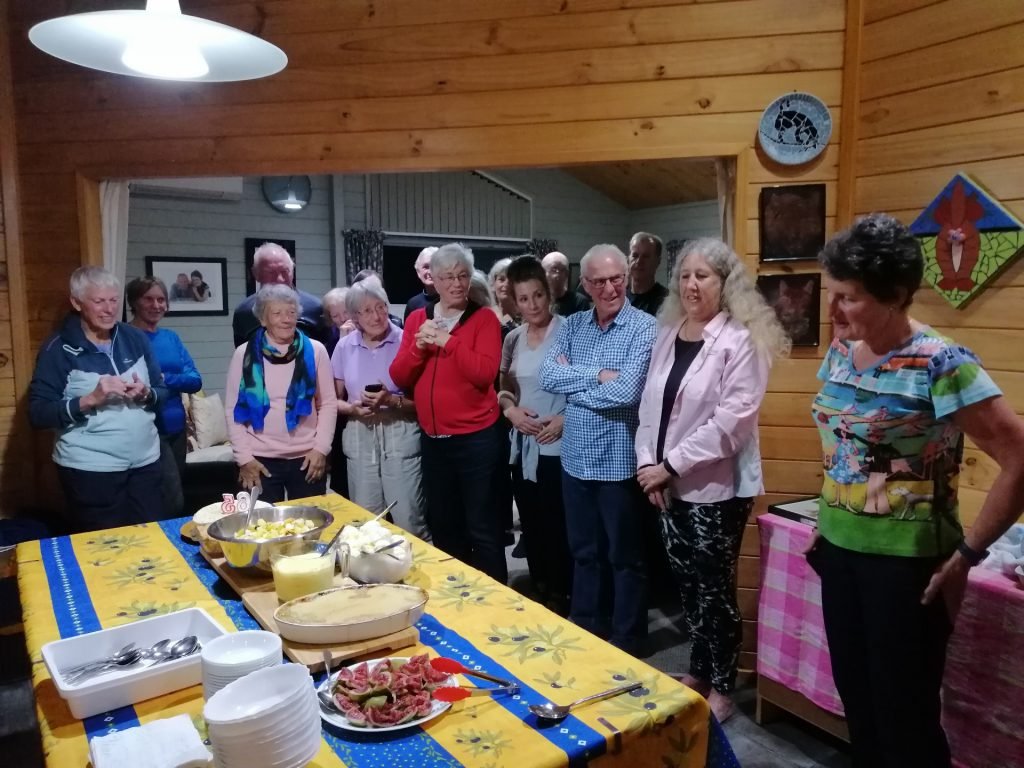 Day 5. Saturday 17th April.
Maihiihi Countryside Loop. Distance 81.4km. Climbing 1349 metres.
It rained all night but by the time we drove 7km to Maihiihi School sun was breaking through the chilly morning. Ken was our ride leader for the day, Maureen and Carolann went ahead by car making sure we took correct turns at intersections. 18 cyclists started at the school with 3 more joining in 10kms along the road. There were 3 significant hill climbs before reaching the Ngaroma Hall, our morning coffee stop. Spread out on tables on the verandah we sat in the sun enjoying Maureen's famous baking – cakes, slices and home grown figs. Then noise could be heard getting closer and about 50 classic cars, hot rods and custom cars on a mystery rally pulled into the domain, entertainment for us cyclists.
As the road was rather narrow it was decided to let the rally cars go ahead of our group. After 7kms we turned onto Aotearoa road, a gravel and dirt 4wd track winding through lovely bush to the hilltop with wonderful views across farmland. The downhill gravel desent was rather lumpy then after about 7km we were back on sealed road. Along the way there were interesting rock formations and a wind whipped up. While Louise and Lyn were cycling along there was a loud crack and just in front a huge branch broke from a pine tree.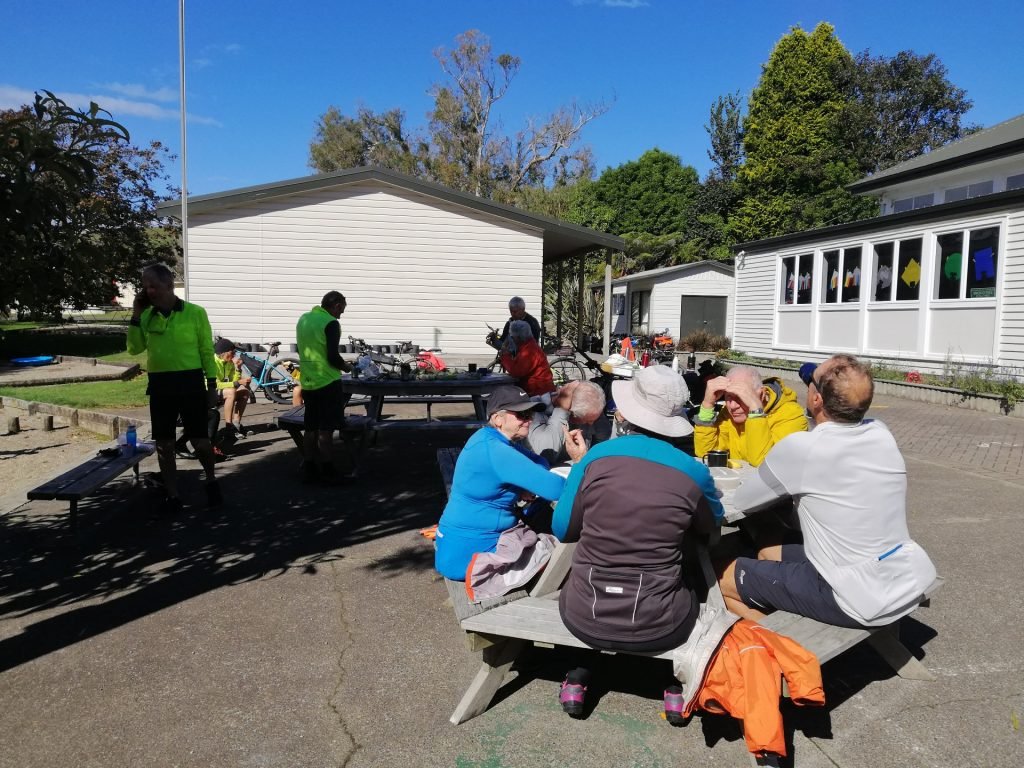 Our lunch stop was at Wharepapa School. We sat in the sun eating our lunch and again enjoyed more of Maureen's wonderful home baking and fruit. With a tailwind it was a quick trip back to our vehicles at the school, while loading bikes the rain arrived.
Back at Maureen and Pete's home we all warmed up with delicious homemade pumpkin soup, scones and savouries. Then quick showers before car pooling and heading into town for dinner at the Otorohonga Club.
Day 6. Sunday 18th April.
Otorohanga and surrounding districts. Distance 74kms. Climbing 720 metres.
Two groups with 11 cyclists in each rugged up ready to set off from Maureen's at 8am. It was a very cool 5 degrees as we headed down the hill then along rolling green farmland with a few hill climbs to warm up our chilly bodies.
After 30kms we arrived at our morning coffee stop opposite Otewa School. Carolann had set up tea, coffee and Maureen's fabulous home baking – fruit cake, apple & pear cake, apple shortcake, prune & walnut cake, date loaf and chocolate cake. With engines refueled our 2 groups headed along Otewa road towards SH1, south of Otorohanga. We crossed the highway at Waitomo intersection before taking a back road to town. Being a Sunday there was very little traffic on the back farm roads.
After 60kms our 2 groups arrived at the village green keen to find lunch and check out the Sunday markets & town. With 3 cafes and a bakery next to the park we were spoiled for choice.
On leaving town we cycled down to one end of the walk/cycle trail. This 2km long gravel path runs along the top of the stopbank. Liz explained that the stopbank was formed after the Waipa river flooded large parts of Otorohonga in 1958, though farmland and the primary school (on the south side) flooded again in 2008. Then it was back along the flat and up the hill to Maureen's home.
Many thanks Simon for organizing a memorable 4 day hub exploring areas around Cambridge. Maureen, you are a wonderful organizer, ride leader and hostess. A huge thank you from us all for another wonderful weekend with you in Otorohonga.
Cambridge 12th to 15th April 2021. Otorohanga 17th & 18th April 2021. Hub Tours