By Liz and Ken Phillips
Leader: Athol
The East Coast had been experiencing days of heavy rain and high winds when 11 of us met up at the Napier Beach Top 10 on Friday March 25 wondering what the next few days would bring.
Sat March 26th Napier to Havelock North 43Kms, 120m vertical metres, 4 hours 48 minutes
The day dawned clear but with a strong wind from the SW, a head wind for us! Athol, Erica, Helen, Sandra, Vicky, Luitgard, Graeme, Matt, Terry, Ken & I assembled outside the camp café and set off on the coastal pathway towards Napier Port & township. We hadn't gone far when we met Wolfgang & Maurice flying along with a tail wind in the opposite direction to us. They were there for the first Napier Hub Tour due to start the following day. We persuaded them to join us and cycle with us to our morning coffee stop in Clive. We battled into the wind along the cycle path mostly along stop banks and through orchards. In places evidence of recent storm damage was clear to see but we were able to cycle through without problems. Wolfgang & Maurice departed after morning tea & were looking forward to being blown back to Napier. Meanwhile we battled on into the wind and through apple orchards arriving at Te Mata Lodge in Havelock North, our very comfortable accommodation for the night. Catherine Doyle joined us here and had arranged a table for us at a local pizza restaurant for dinner that night which we all enjoyed.
Sun March 27thHavelock North to Waipukerau 55kms, 453 vertical metres, 3 hours 22 minutes
We set off into the wind again and for the first 28kms stayed on the same road so were unlikely to get lost!! It was wet and drizzly as we set off, showery all day but was a very pleasant ride with quiet roads. We stopped at Waipawa for afternoon tea then followed a new concrete cycling path which was wonderful and took us nearly all the way to Waipukerau. The last part down by the river had not yet been completed and had suffered washout damage in the storm so a bit of walking was required. However we soon made it over the bridge to our accommodation at Waipukerau Holiday Park where we stayed in cabins. Several of us enjoyed dinner at a local Indian restaurant which served excellent food and was very good value.
Monday March 28th Waipukerau to Porongahau 53Kms, 342 vertical metres, 3 hours 22 minutes
After a visit to the local bakery to stock up for the day, we set off into the wind again but the day was mostly fine. We could see evidence of storm damage beside the road and in the paddocks. We came across several lots of road works and temporary traffic lights due to slips etc. Fortunately there were not too many logging trucks on the road as the ground was too wet for them to harvest the trees. We stopped in the local Porongahau store to buy a few supplies for lunch the following day then headed out to the beach and our Airbnb house for the night. The house was large & comfortable, the beach windy & wild. Ken found a large bluebottle jellyfish on the shore but thankfully didn't pick it up!! Erica cooked us a wonderful pasta dinner and a great night was had by all.
Tuesday March 29th Porongahau to Pongaroa 73kms, 965 metres vertical, 4 hours 13 min.
We left our cosy house by the beach and set off into the rain which lasted for most of the day. A few called in to the store in Porangahau to collect sandwiches while the rest of sheltered from the rain chatting to the local publican who was very friendly despite the pub being closed. We set off up the hill and soon came to the spot with the longest place name in NZ , so we stopped for the obligatory photograph's of Taumatawhakatangihangakoauauotamateapokaiwhenuakitanatahu,
Athol phoned ahead to the Wimbledon Pub who made very welcome cups of coffee for us when we arrived there a bit later on, dripping wet. Then it was on and up our steepest climb of the trip, lots of road works and forestry going on. Sadly the views were a bit limited owing to the rain. We had a short roadside stop for lunch then on to Pongaroa Lodge, a big backpackers with lots of room for everyone and a lovely roaring fire to welcome us and help dry wet gear. Dinner was at the local hotel who also made us sandwiches for the next day and supplied muesli and bread for breakfast. It had been a long day with a big climb and we faced 91Kms the following day. There were big smiles all round when Athol told us that he'd arranged for the hotel shuttle van to transport our panniers for the first 40km the following day!! The driver was happy to do this for a donation to the local Ambulance station and we were certainly all happy to contribute.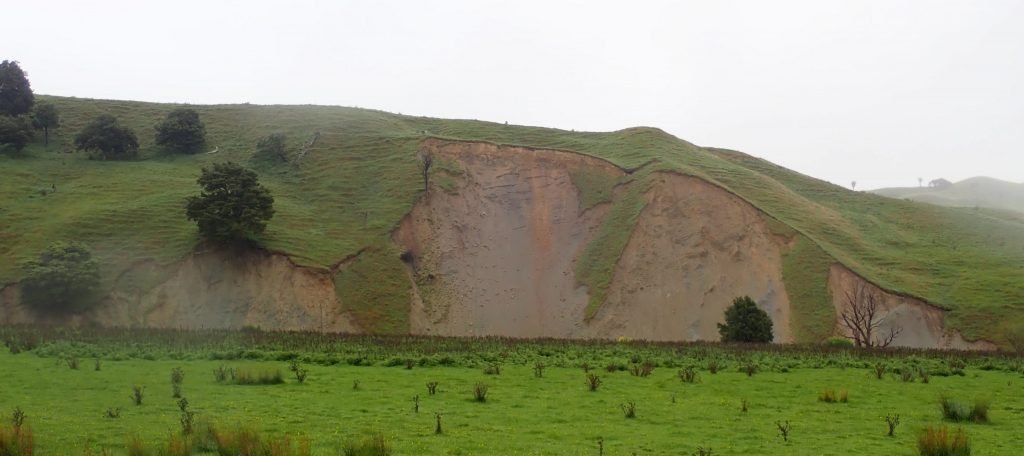 Wednesday March 30th Pongaroa to Masterton 93kms, 737 vertical metres, 5 hours 17 minutes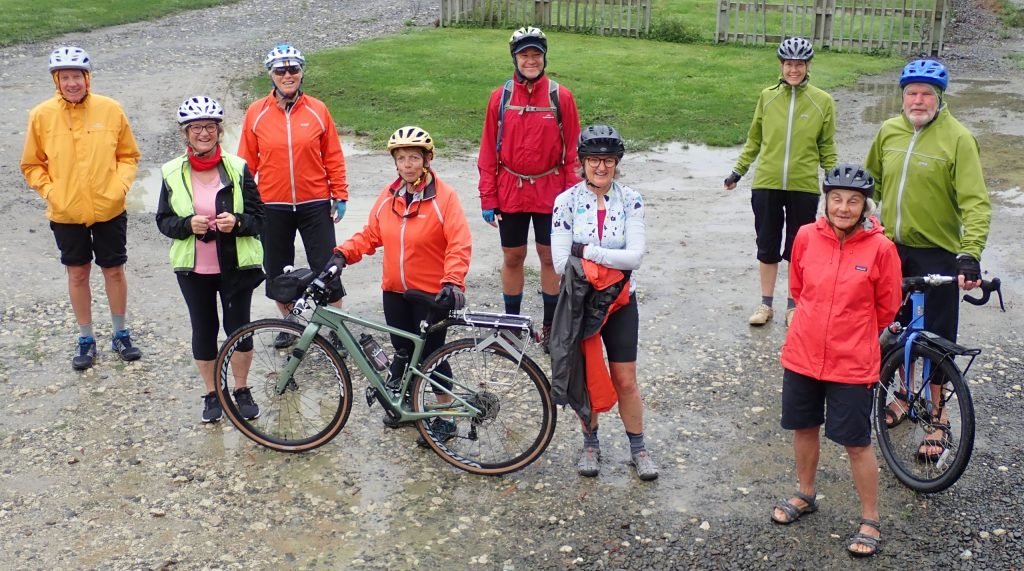 It was another drizzly morning but thanks to the fire our gear was dry again. We loaded the van with our panniers and set off with sandwiches made by the hotel. Ken and Matt set off ahead of us all towards Alfredton so that they could be there to meet the shuttlebus driver at the school, help unload the bags & watch over them until we all arrived. There were a few more hills but it was a beautiful ride with just a few showers of rain. There was a lot of storm damage with slips & fallen trees close to the road.
We had lunch at the Alfredton Domain which was ideal, a large area with beautiful trees, tables and a toilet. We set off again for Masterton, some of the group were held up by forestry workers loading a huge log harvester onto a loader trailer which took up the whole road. We regrouped and headed to an ice cream shop on the edge of town where we rewarded ourselves for our hard work! We arrived at Mawleys Holiday Park in Masterton around 4pm having ridden approximately 90 km feeling weary but we all agreed that it had been a great day's riding. We celebrated with a Thai dinner in town that evening.
Thursday March 31st Masterton to Martinborough 54kms, 306 vertical metres, 2 hours 33 minutes
Our final day of riding and a big improvement in the weather made for a beautiful ride. Athol had arranged for the pub in Gladstone to expect us all for coffee which was great. Then a beautiful scenic ride to Martinborough in the sunshine was enjoyed by all. We stayed at the Martinborough Top 10 which was very good and enjoyed a lovely evening together at a local hotel.
Friday April 1st
Our shuttle bus driver from Green Jersey Cycles arrived bright and early to load our bikes & shuttle us back to Napier. We stopped in Eketahuna for coffee and were back in Napier in time for a late lunch before heading our separate ways.
This was a wonderful trip, a great group of people and excellent organization by Athol and Erica. The ride was lovely and very scenic in parts, the weather made it challenging at times but that was all part of the adventure. Thanks to the team & especially to Athol, we had a great time.
ROUTE 52 Napier to Martinborough Tour 26th March -1st April 2022