Leader: Carol Gilbertson
Present: Non E-Bikes: Sue W, Bob M, Jude B, John B, Reg C, John Mc, Carol G E-Bikes: Dave W, Greer M, Ann A, Wendy C, Bill C, Marion K, Derek B, Geoff P, Chris P, Marlene H, Maria J, John [Sloop]
Route Planners: Simon, Paul C & John [Sloop] – Same as for the Solstice Tour
Day One. Waimata North, Okaihau, Kerikeri — 74km, 34% gravel, 816m climbing
Days Leader: Carol G & John [Sloop]
Author: Ann
Once upon a Monday morning, Monday 13 June, 19 crazy keen cyclists set out from Waimate North Showgrounds. The night before the winds blew and the rains came down, and I swear there was hail too. But morning dawned fine and calm and we set off feeling lucky that the weather was on our side. A heavy downpour later that morning was the only rain of the day.
We knew this was our longest day, and we set off in 2 groups so as to be safer on some of the busier roads. Biking around Lake Omapere was our mission and we got to see the large and picturesque lake early on. From then on it was hidden from us. However the countryside was green and lush, nosey cows came to see us and tuis sang in the beautiful Totara, Kahikatea and Puriri trees that thrive in this area.
As always the coffee stop was welcome – this time at Okaihau. Being a cold day, many swooped on the hot pies. (Some more disciplined individuals kept these till the lunch stop!) Myself and others can vouch for the 'best' cheese scones freshly made that morning. Being in two groups helped this small café to cope with our numbers.
During the afternoon the wind got up and we were into more hills, on Waiare, Puketotara and Wairapa roads to Kerikeri. The Stone Store, shallow rapids and native bush looked a picture as we approached the Kerikeri inlet and across the footbridge to the landing. Outdoor tables and chairs by the restaurant provided a perfect lunch spot.
The second group arrived and we were able to have a group photo in front of the Stone Store.
The home stretch was reasonably short back to Waimate North with some down hills, but also some steep 'upy upies' which were not so welcome at that stage of the day by the 'muscle bikers' amongst us. Let alone the strong head wind that the non e-bikers had to battle against.
At Waimate North we picked up vehicles and headed to Waitangi Camp Ground – a beautiful spot on the estuary and looking out to Waitangi Grounds and the bridge to Waitangi not so far away.
Thank you to Carol, Reg, Marlene and John who were our leaders and tail-end charlies, and to John again for his local knowledge.
Day Two. Paihia, Puketona, Opua, Paihia — 58km, 53% gravel, 690m climbing
Leaders: John McL & John B [Sloop]
Author: Maria
Early morning start and on what a morning! Full tide and still as a millpond! The beautiful Bay of Islands at its best.
Cycled past WAITANGI  treaty grounds, golf course and up the road to Bledisloe hill.  Short walk to see the view and group photo looking down on Paihia. Continued down a gravel road to HARURU falls, recent rain making the view spectacular.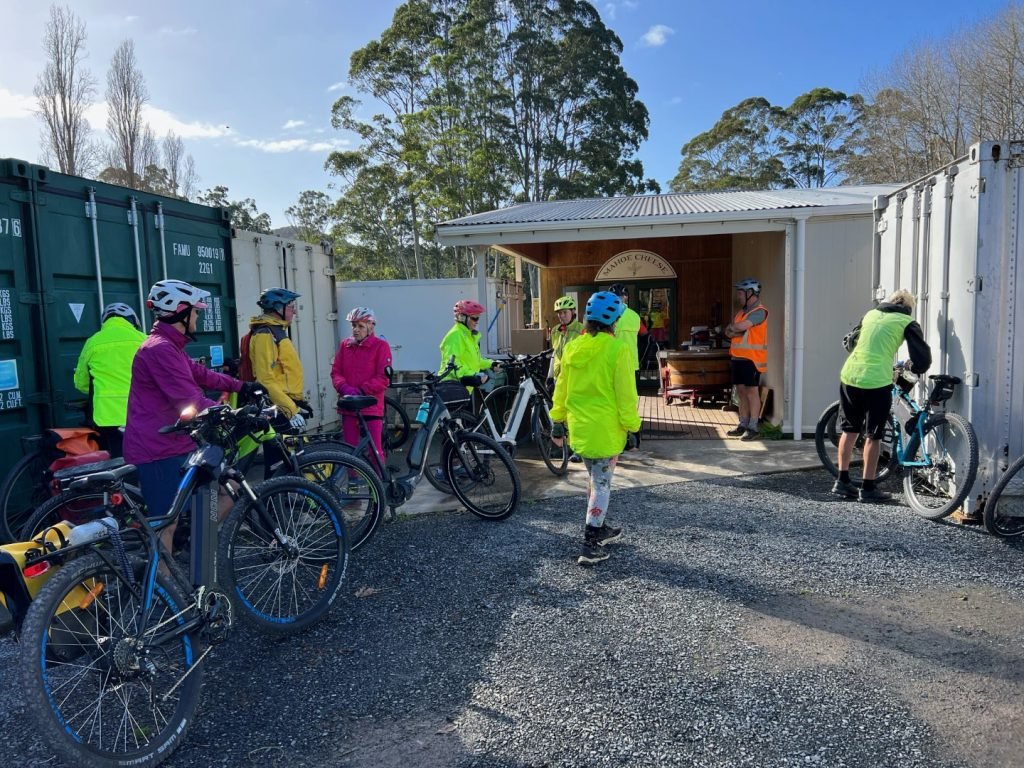 Highway 11 to JUNCTION CAFE Puketona for morning tea. Reg didn't make it. Double puncture and hitchhiked back to a Paihia for repairs. He later rode 16km up a nasty gravel road to rejoin us just shy of lunch. How's that for commitment and on an ordinary bike as well.
State highway one southwards to MAHON cheese factory for some yummy purchases. Continued down the track to come onto Oramahoe road.
McIntyre road, Whangae road and down and up the long windy gravel road. Lunch on the corner literally! Beautiful bush, great vistas, but also lots of challenging gravel corners with steep cambers.
Back to PAIHIA 3.30. Approx 50kms depending on whose speedo one reads.
Group dinner at the Legends RSA and a great night of hilarity with quizzing.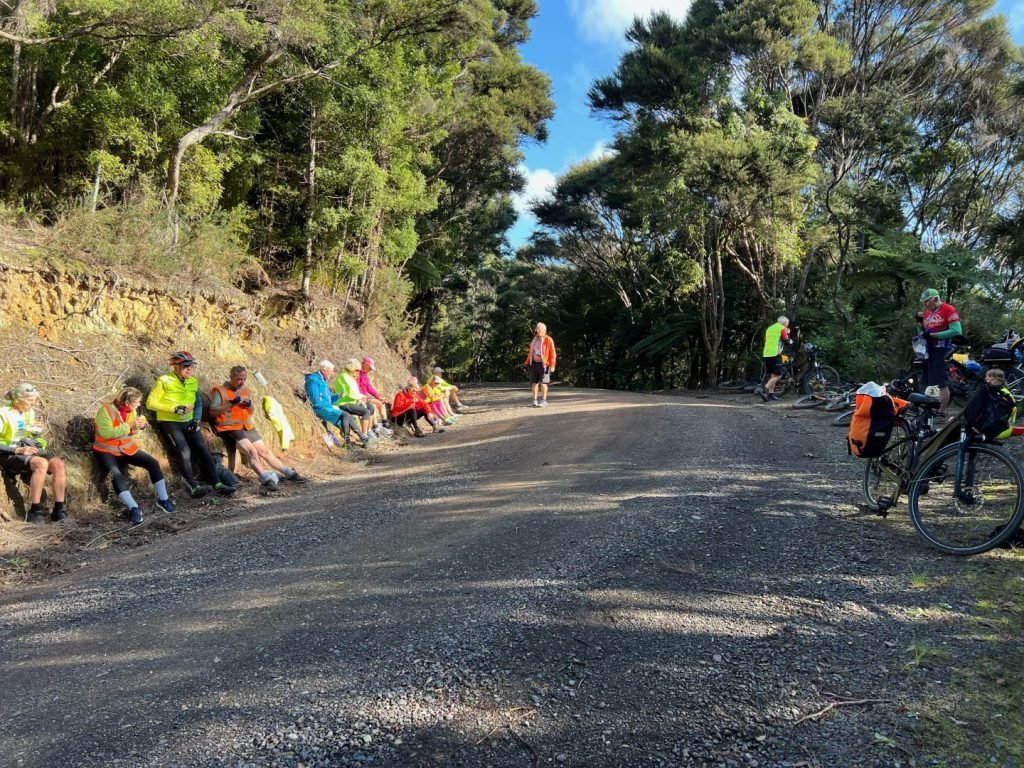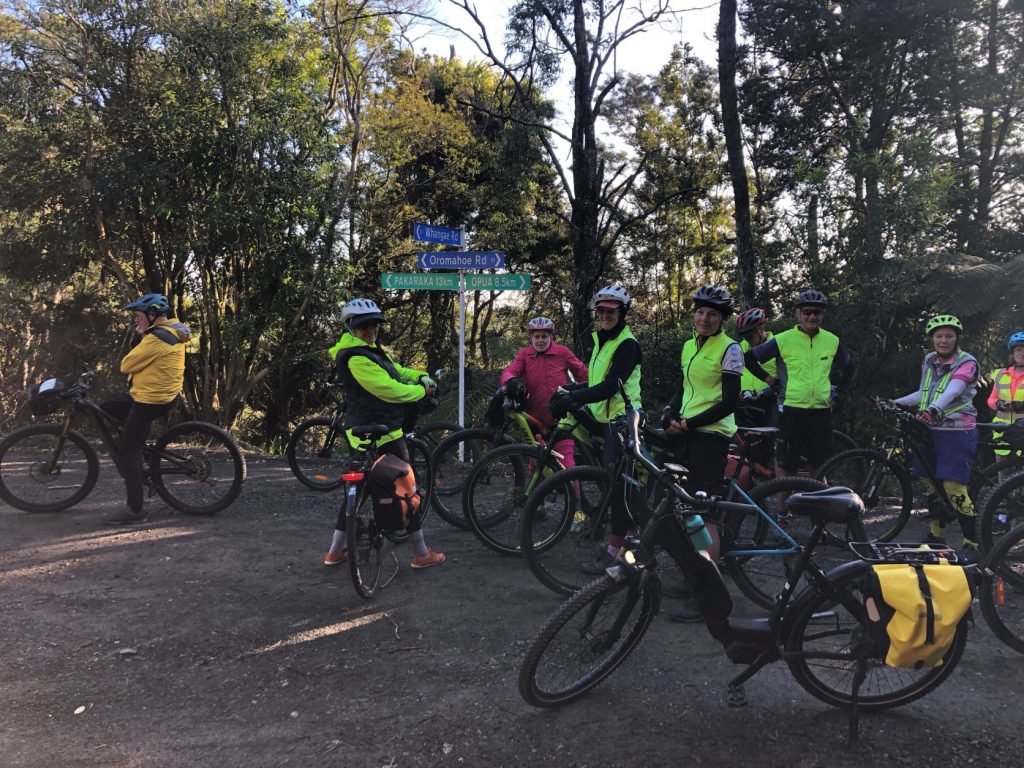 Day Three. Opua, Kawakawa, Waikare, Okiato, Opua — 57km, 59% gravel, 928m climbing
Leaders: Dave W & John B [Sloop]
Author: Reg
This was a 57 km ride from Opua to Okaito via Kawakawa and Waikare with 929 metres of climbing.
We were without Jeff who had caught covid and JB who was a close contact. For me not having JB there was good because the pressure was not on me to try and not be embarrassed by being beaten up a hill by an octogenarian.
We left the cars in Opua and started with a steep climb on the tarmac followed by many kilometers on gravel.
After what was just 17 kms which took close to two hours we arrived in Kawakawa famous in NZ for the railway line through town and the flash toilets. A stop at the railway station for coffee and food we then followed a cycle path for a few kms followed by more gravel roads and more hills.
It started as a most beautiful day but at Kawakawa we could see a rainbow stretching over the horizon. Sure enough over a big hill the rain started . At the bottom of the hill was a shelter that seated the faster riders and the rest of us got wet. Fortunately the rain stopped and the sun came out. Again not a cloud in the sky. Fortunately the sun dried our clothes and after more hills we reached Okaito and got the ferry back to Opua and our cars. The ferry fare was just a dollar for each of us and our bikes which great.
Maria found that when you stop on gravel you are careful where you put your feet and she's learnt without this care you'll end up with your foot in a brace. It did not help that Wendy came to very quick stop with a sideways slide in front of Maria, with Carol dodging the both of them.
Jude learnt that you take your keys with you in a very secure position otherwise you will end up having to get your car towed and wait for the spare key to be sent North to you via courier.
We were so lucky to have Sloops study and knowledge of the area to have a very enjoyable ride.
Day Four . Waitangi, KeriKeri, Puketona, Paihia — 55km, 25% gravel, 782m climbing
Leader: Carol G and John B [Sloop]
Author: Wendy
Another great sunny day. 58 km. We left from the Waitangi holiday park and headed across the Waitangi Bridge and up to top of hill for a quick stop and look at views before starting on the gravel. 8 km into ride we entered the Wakelins farm station, which John had organised. A great ride through farm tracks and very steep climb to the top, some walking with bikes. What great views of the Northland area.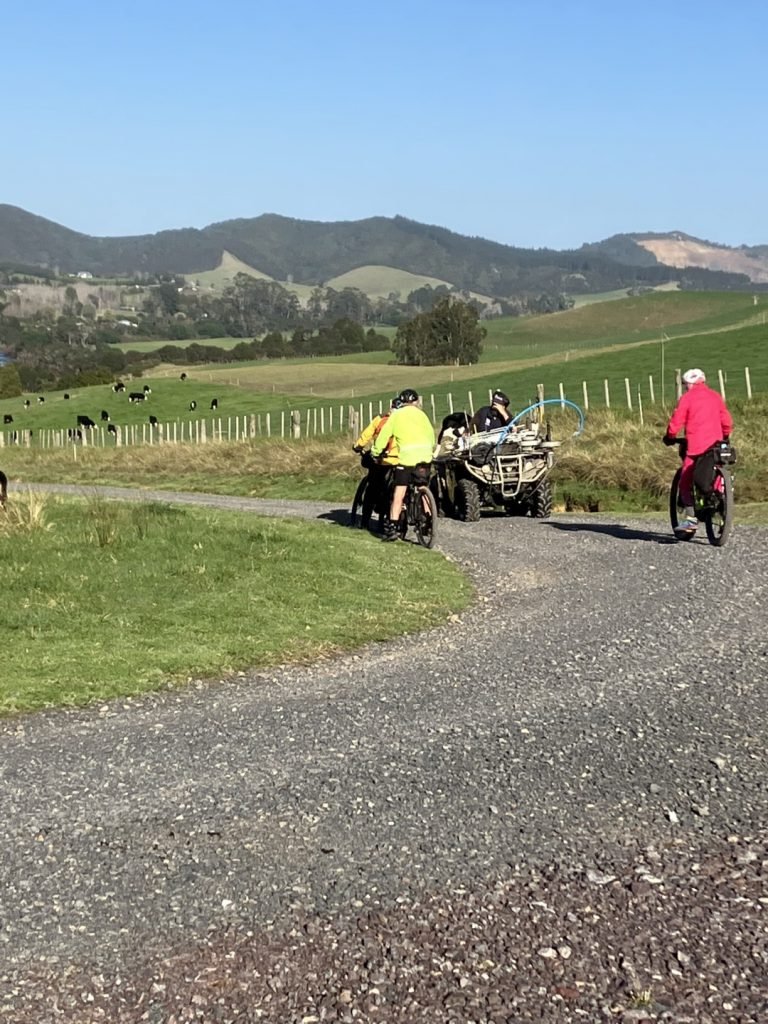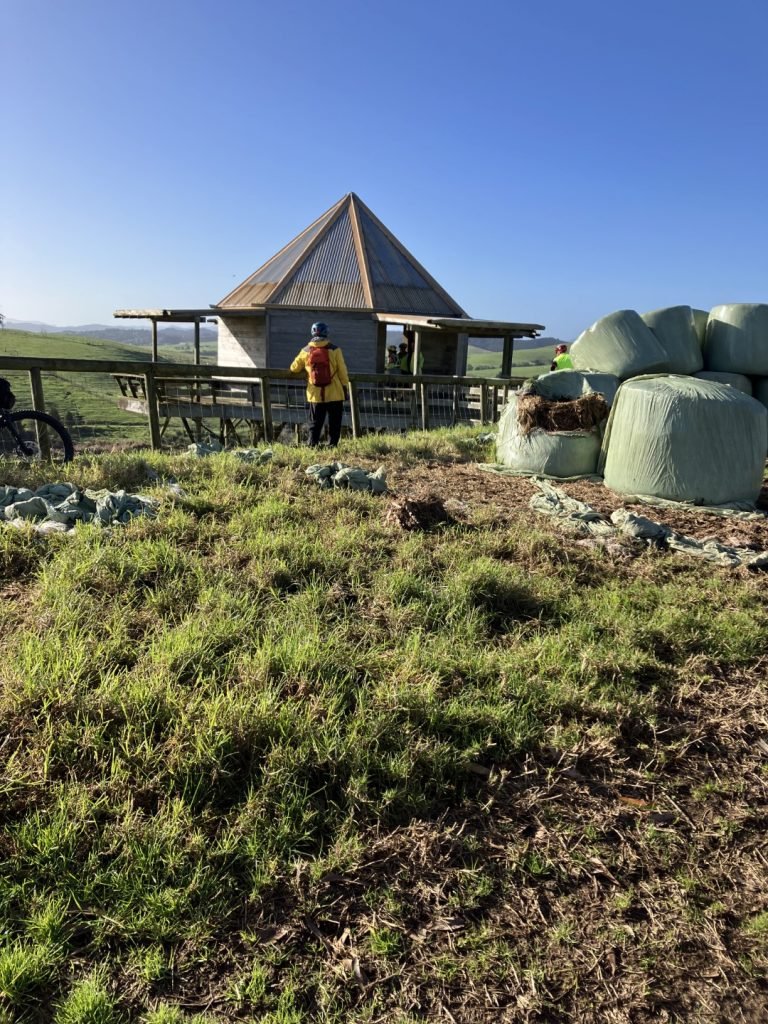 We connected back with SH 10 with a quick stint along the road to the coffee stop at Waimate north. We returned back to camp via Puketona junction and on to Haruru falls for lunch, where Reg was able to do quick puncture repair. A big thank you to all tail end Charlies and the leaders.
Day Five. Opua, Otiako, Russell & back. 20km. No gravel. 368m Climbing
Leader: Bob M
Author: Jude
A freezing morning as every day had been for starters! We were 14 of us, Reg having come to farewell us at departure for the Opua ferry. Marlene & Chris rode from Paihia, the rest of us by cars, trucks, campervan!
The ferry ride costing the big sum of a dollar! And the fun begins … hm! … I had forgotten the hills to get to Russell. On a personal note I found it very difficult, and everyone constantly harping on to me re Ebikes … advising me on all the various brands! But I suppose they were fed up of waiting for me! And I am sorry! Especially to the Tail End Charlie's!
When we finally arrived to our destination Russell, we were too early for coffee so the group minus me set off up Flagstaff Hill. I gathered it was hugely hard! The 4 who bravely went up on manual bike, had to stop for a breather except for 'Woolly Susan' the fittest, managed the whole thing! Incredible!
Coffee on the lawn at the Montpellier Coffee House in the sunshine, was lovely! And photos of the view from Flagstaff were gorgeous.
Back to the ferry but not before cycling round the streets of Russell and visiting the op shop so Marlene could feed her pink addiction …
So finally more hills back to the ferry to take us to Opua.
Winter Bay of Islands HUB- 13th to 17th June 2022