Leader: Maureen MacRae
Cyclists: Louise, Simon B, Ron J, David P [up from Wellington], Allen S, Ken, Annette, Steve, Marianne, Sue W, Margaret
E-bikers: Liz, Susan J, Marlene, Marianne, Peter A, Gaye, Roz [from Hamilton]
Authors: Maureen and David
Monday afternoon people start arriving at Maureen and Peters place, which soon looked like a motorhome park. Many thanks to Liz and Ken Phillips who took the overflow in town. We had a couple of newer members one of whom had traveled up from Wellington. Tonight, an enjoyable "gourmet" potluck dinner was enjoyed by all. Thank you very much to everyone's generous contributions. It was lovely catching up with people whom we haven't seen for quite some time.
Tuesday 10th. Waitomo – Piopio loop 82km. (1400 odd meters of climbing)
Today's ride is the hardest of them all. We drove down to Waitomo village to the starting point. Heading up and over Fullerton Road, turning right along Oparure road which, we had to share with quarry trucks for a short time. From here we headed up to Mairoa enjoying some nice Limestone outcrops along the way. Before arriving at the Fat Pigeon café at Piopio. Some of us arrived a bit damp, thanks to the regular showers along the way, while others arrived completely soaked, leaving large puddles of water under the table. Due to a fair bit of climbing today the group arrived spread out. Which is what I had planned to try to spread the workload for the café. The café had a very impressive selection of food in the cabinets. Although Piopio is a small rural village it is on a SH3, and the café have a very good reputation. From here we headed off out past the school onto Kahuwera and Tikitiki roads, being easy rolling farmland to avoid as much of the main road as possible.. After a brief time on SH3 we shot up Troopers Road, which re-joins back onto Oparure road for us to backtrack to our vehicles. Tonight, we enjoyed a meal at Jasmine Thai restaurant, which could have been very interesting as they had misplaced my booking, but luckily, they quickly arranged a table for us.
Wednesday 11th. Korakonui school to Arapuni
Korakonui school to Arapuni via the planned route 75km and a shorter version of 60km. Gentle undulating rural roads with a few more turn offs, requiring us to stop and regroup along the way. Warm weather with intermittent short showers requiring coats on and off. We rode Lethbridge and Seafund roads then past Wharepapa school, Waipapa and Rorongata roads on our way to Rhuharb café. I had clearly announced the "café rules" before hand and we were "model customers" being rewarded with very well organised service. There is a lot to be said for writing down customers names. David ordered a milkshake which arrived in a real milkshake container along with the old enamel jugs used to hold the cutlery.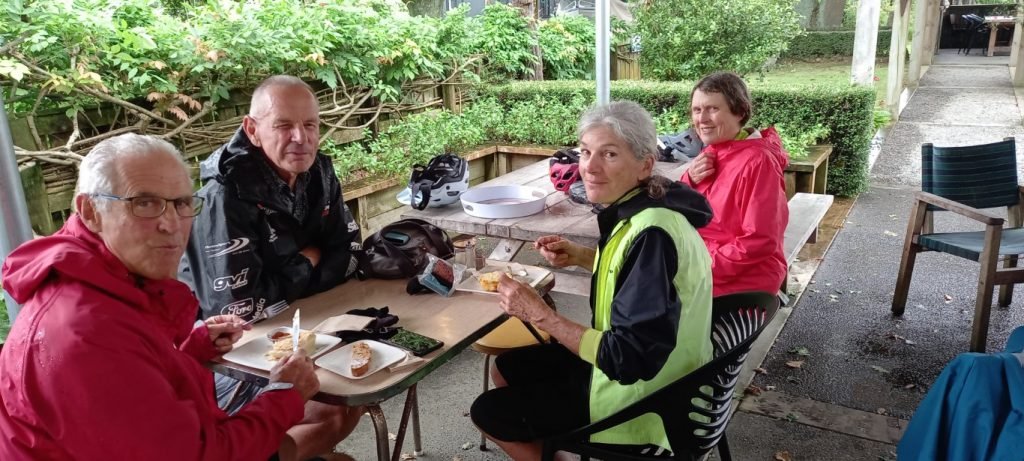 After the café, we broke into two groups (planned route and a shorter way back). Most of us rode down Powerhouse Road, to view the swing bridge looking up from the Power Station.
The others walked over the swing bridge. Then we rode a short distance up a private road which brought us out between the two on one-way bridges on the dam. From here we back tracked to the end of Seafund road where there were the options of doing the short or longer ride. Taking us up to Wharepuhunga via Hingaia road. Pretty much after here it was mostly downhill following the flow of the river all the way back to the school. This was a great ride and enjoyed by all. A short drive back to Maureen and Peters for a shared afternoon tea, chat, relax, rest or sleep. Before heading off to a shared BBQ dinner at Liz and Ken Phillips home. Luckily the weather cleared long enough for us to dine outside on their huge deck where we could enjoy the views and chat with likeminded people. No one left hungry as there was an excellent array of all types of food.
Thursday 12th. Around Otorohanga 35kms
A shorter loop ride around Otorohanga 35 kms. Due to wet weather the route has been shortened from the railway station, heading out onto the Otewa road, then out and around Whawharua district, heading for Haurua road which is off Waitomo Road. We hadn't gone far before someone got a flat tyre, in the pouring rain. This turned out to be very educational. The person was riding a newly acquired bike, and thought he had a tube. But after battling to break the bead, it was revealed he was tubeless. Eventually a new tube was inserted, and an informative discussion was had for those of us, already running a tubeless setup, or thinking about changing over. We arrived back in Otorohanga for morning tea at the Fat Kiwi Café. and half of the group have disappeared. Eight of us hardy souls, set off in pouring rain
Some shot back to their cars, to change into dry clothes in the public toilets where there was a bench for changing, while others dripped dry at the café. It was very nice that a few, who had kept their hair dry (e.g., hadn't ridden) re-joined us. Unfortunately, the café was rather busy, and new staff in training and there was a delay. By the time we were ready to leave, there was hardly a sole to be seen. In all fairness who, would want to run a café. It must be hard to know how much food and staff to have on hand and, in recent times with Covid, I think we should be very grateful they have survived for us still to enjoy. I do hope everyone enjoyed their Three-day touring around Otorohanga and surrounding districts.
Thanks for coming well prepared, with raincoats and warm clothes, (no such thing as bad weather, just poor clothes choice). Anyhow what's the point owning a raincoat if you don't use it. It's a shame we didn't see much sun. But at least everyone arrived back from the rides safely which is the main thing. The next day after everyone has gone home, it is a beautiful fine day here. Which is so jolly annoying. Also, a big thank you to Peter McRae who followed, in the car to the cafes and was able to assist a few cyclists to shorten up their rides and take them back to the starting point early.
Otorohanga "Three Country Cafes" Tour – 9th to 12th January 2023