By Maureen McRae and Ann Anderson
Day 1, Friday 11 June
Woke up this morning to perfect mild and dry weather. Being such a large group, we were split into two. Then off out the gate a couple of twists and turns, putting us onto a cycle pathway through back streets heading towards Paradise Valley Springs Wildlife & Lion Park. We passed "Black Bear Angus" cattle stud gateway. (Quite like the unusual name). Followed by a short stint back down to the main road before turning left onto Dansey road. Which gave us a long but gradually climb up to the Mamaku district. Having a quick stop in at Mamaku Rail Cruising where they run a 19 km return journey to Tarukenga. Arriving soon afterwards at our destination Mamaku Blueberry Café/farm. Where beautiful freshly baked muffins overflowing with berries were enjoyed along with freshly brewed coffee.
Time was spent here chatting and browsing through their shop. Where they sold all manner of things made from Blueberries of course, including wine, jams, chutney, and even gooseberry jams which are also grown on the property. From here it was a quite easy ride down to Ngongotaha for our lunch. Back on our bikes for the final stint on the old railway line track back to town. Arriving back with plenty of time to spare. The lovely hot pools at our Top 10 Holiday Park accommodation proofed to be extremely popular. What a great way to unwind after a day's cycling. In fact, I would have to say everything at the camping ground was tip top and I would high recommend staying here.
Day 2, Saturday 12th June
There is no better way to begin a ride in Rotorua than cycling around the lake through the thermal region. Who says, 'nothing comes free?'!! I always enjoy this trail, whether walking it or biking.
On to the Mountain Bike centre via a lovely off-road trail – Bruce's favourite he says. From the bike park we followed the main road for a bit then branched off to do the Waikite loop. The weather was misty, giving an ethereal feel. We had a stop at the Ngakuru Marae and a look around the beautifully kept 'urupa'. A new word to add to my Maori vocabulary. (Cemetery) The little country school gave us a place to have our morning tea and view the sacred stone in its grounds
Following on from this the mists cleared and opened up to reveal steep cliff faces which were quite majestic.
More rolling countryside and a stop for lunch beside Lake Ohakuri, which looking at the map seems to be part of the Waikato River, but very slow moving.
From here we made our way back 'up hill and down dale' to enjoy the hot pools at the Rotorua Top 10. Most of us were staying here, in either motorhomes or cabins, except for Intrepid Pieter in a tent and also Catherine in her brand-new tent! A few were at the Thermal Campground about 4 km's away. Happy Hour in the lounge each night was a popular drawcard.
Day 3, Sunday 13 June
Another rainless morning, so we can forgive the drab low cloud and mist. From the camp we meandered through the town centre where, yet another market was being set up. Oh, the money we save cycling!!
We headed out to the Mountain Bike Park and then continued on the main road South to Taupo. The concrete cycling path continued through to the turn off to Waimungu. As we cycled beside the main highway, I pondered why those road vehicles were all in such a hurry. Don't they know the joys of cycle power? I am sure cycling has its own circadian rhythms and must be good for us.
An articulated truck and trailer almost upside down and hardly visible from the road caused a stir as we cycled past this recent accident. We left the main road and made our way to the Waimangu Volcanic Valley. This part was hilly, but the smell of coffee fired our bikes up the last 6ks. The café provided a lovely vista over bush clad valleys, and the food and hot drinks were very welcome. (Bruce always gave a clear guidance of the road ahead.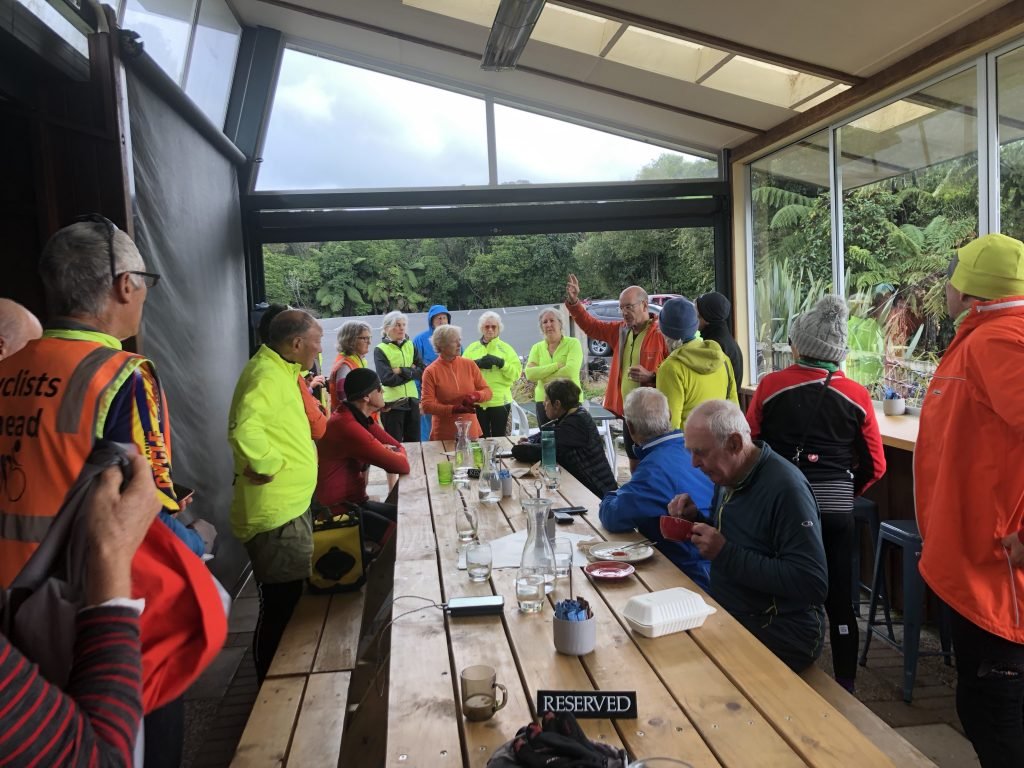 I left here promising myself to come back and see more of this unique thermal wonder. A spot of 'off road' on a bush clad track demanded a different skill set. Steep gnarly rises in parts, squishy mud in others. Loved this variety.
While another smaller group took the main road option and had time to stop and view the Waiotapu Hot Mud Pools which were boiling away with great fury. From there it was more 'uppies', and beautiful 'downies', yelling woohooo at the top of our lungs – well some of us did anyway! Love those downhills! Waikite Hot Pools was our lunch stop. Again, a new experience for me, and I noted it was a good spot to come back to in my motorhome. The pools looked inviting and the eco trail through the thermal area was magical. The Te Manaroa Spring is the largest single source of 100% pure geothermal water in NZ.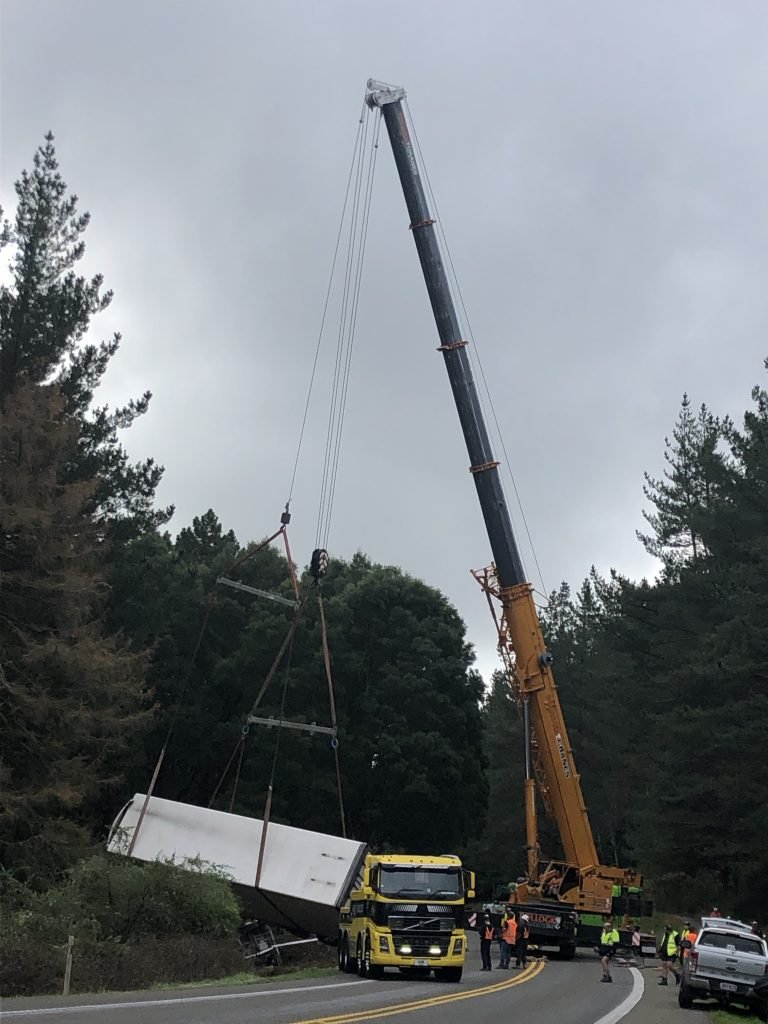 From here it was an eventful ride home. The minor roads were busy and after a time we heard the main highway was closed due to cranes recovering the truck and trailer unit mentioned earlier. On reaching the main road we were let through to the cycle path while those noisy cars had to detour. Choice!! Travelling along without the cars was bliss. And we came to the accident scene just as the humungous crane was lifting the trailer unit back up to the road. I felt appreciation for the skilled work involved.
Who knows about the Secret Spot Hot Tubs at the Mountain Bike Park? They are worth a visit. A beer in hand, feet in a hot tub and the sun shining through native fronds.
While others enjoyed sitting outside having a coffee or ice cream at the nearby Trail Kitchen Cafe which has some very impressive art work on display. A perfect close to Day 3.
But wait there is more. Our Team Dinner out at the Pig and Whistle. Excellent food, great service and lots of chit chat and tales told.
Day 4, Monday 14th June
30 km on MT bike trails. Unfortunately, the fine weather has come to an end. We initially were a group of 30 odd but have dwindle down this morning either due to the weather or the fact we are mountain biking today or people just wanting to get home. Those of us left, drove out to the start at Waipa Mountain bike Carpark. We even had one keen couple who hired Mt bikes for the day. Then the two experienced mountain bikers Andrew and Bruce gave us tips on how to handle our bikes off road. Before Andrew leads us off on the Kid's Loop. After a couple of km's those who wished not to continue, departed, leaving eight hardy souls to ride around the Forest Loop over past the Blue Lake and around.
The coffee and food carts were open at Te Putake O Tawa where they have recently put in a huge new car park, toilets, and shower block.
We learnt there are plans to put in a Gondola here for downhill Mt Bikers. (I don't think there will be too many ACTA member's queuing up for this). But this must be great for Rotorua being the Mountain Bike Capital of NZ. By this time, a gentle rain has set in for the day. What a great trail it was even in the wet. What is the point of carrying a raincoat if you not going to use it? We all managed to stay up right except for one who somehow manged to topple over, bad luck Bruce
After a fair few twists and turns we arrived back out on the concrete pathway we had ridden the day before. All downhill back to the cars. Upon arriving back, the heavens really decided to open up.
A huge thanks to Bruce for organizing and coordinating the weekend. Also to all the leaders, Tail end Charlies, route planners and everyone else who helped to make it a fantastic long weekend.
Rotorua Hub Tour- 11th to 14th June 2021