By Sarah Ley-Bucherer
Our first tour since getting out of lockdown saw us all excited to be out and about again. Unfortunately, the weather started with storms and gale force winds the Thursday night we all arrived. In the morning we learned that a large tree was ripped out of the ground at the camping ground, a roof had ended up in a paddock nearby but thankfully everyone was safe. The howling wind, driving rain and electric storm with news of an earthquake overnight were just some of the weather conditions experienced. And this happened at the campground, the tree falling next to a cabin with a young family sleeping inside. Some ACTA members were staying here in campervans!
Day 1 – Pukehina Beach to hills loop – 66km or 83km longer option
Nothing dented our enthusiasm to the extent that we were all out (not) bright and early to start off with Margaret for our tour into the hills behind Pukehina.
Due to constant rain, most people chose the shortest option. Whilst it only rained once – that is all day, it wasn't exactly cold so there was some benefits. A local farmer said the area was in the midst of a green drought – green grass but no growth so he at least, was pretty pleased with the weather. There were very few photos taken today – only when the group stopped.

Some hardy people went on to do the longer loop at this point whilst others sheltered in a farmer's garage whilst we pulled out hot drinks and snacks and chatted to the owners. As we wended our way homeward we came across a herd of inquisitive cows. Note the puddles and general soggy look of the countryside.
At another stop Sloop pulled out his harmonica and tried to divert us from the rain with a competition to guess the song, movie and actors from the tune he was playing. Once played twice through we eventually came up with Titanic before we then moved off on our journey homeward.
Day 2 Saturday 63km from McLoughlin Park, Te Puke into the hills
Today saw some people not getting out of bed, others arriving at our meeting place in Te Puke before deciding to give it a miss and retire to the local Marigold Café, whilst the remaining ride of 63km went ahead with a diminished group. The forecast was for rain all day again and there was no shorter option available.
Most of us were able to participate in a shared dinner that night thanks to Margaret's organizing at Uncle Tom's Cabin. Marlene went to great lengths to provide a mid-winter Christmas theme and feel for the night. She really did make a tremendous effort was greatly appreciated.
Day 3 Sunday 37km – Paengaroa School to Maketu, Little Waihi and return
A shorter ride was planned to finish early for those wishing to head back home afterwards. We met at Old Coach Rd aptly named by the icon in the garden and next to Paengaroa School where a yoga session was about to start. The locals were amazed to find so many cars and bikes already parked where normally it is very quiet spot. Clad in rain gear once again we headed out for a very pleasant but wet circuitous ride of the day.
The Kaituna River looked very full after so much rain locally. It was then off to a very pleasant coffee stop which Margaret had organized.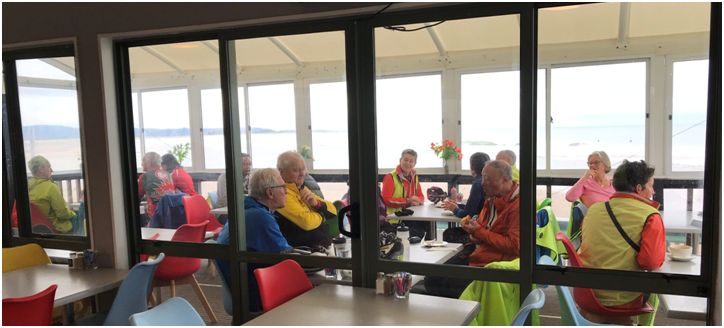 I am told the mussel pies as well as meat pies were very tasty – all freshly baked in Maketu. We had stunning views of the stormy surf beach, surfers, outrigger canoe paddlers and Mount Maunganui in the distance.
There were a number of interesting historic points at Maketu Spit well worth a longer look around for those with more time on their hands or planning a return visit.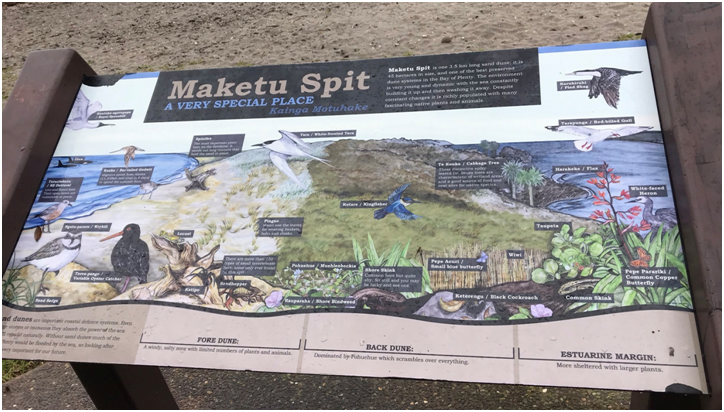 Then it was on up and over the hills to our planned lunch spot at Little Waihi. It was difficult to get too excited about the scenery as the rain started pelting down once again. The Jandal Wall was an interesting diversion for a quick snap before the phone got too soaking wet.

As the weather was so inclement we decided not to hang around and break out our sandwiches but instead head on back up the hill and return to Paengaroa School and vehicles before heading home.
Thank you Margaret for your time and patience to organize these 3 days of riding in the Bay of Plenty. Thank you ACTA members for your interesting conversations and Marlene for the way you go the extra mile to entertain us off the bike!!
Winter Solstice Rides Pukehina June 19-21 2020