By Lyn Jobbins and Maureen McRae
It has been June since the last organized tour and with the Auckland August lockdown many ACTA cyclists were 'chomping at the bit' to get out and about again. Simon Bucherer, our tour coordinator, had planned an 8 day Hub tour around the Manawatu area and this proved a new and popular idea. 3 nights based in Cheltenham, 3 nights in Palmerston North and the final 2 nights in Feilding.
Cheltenham is a small rural community with the hotel 'The Chelty' being one of the areas main attractions. This historic building was established in 1876. The hotel has been destroyed by fire twice, firstly in 1908 and again in 1926. Publican Pauline, was very accommodating to our large group.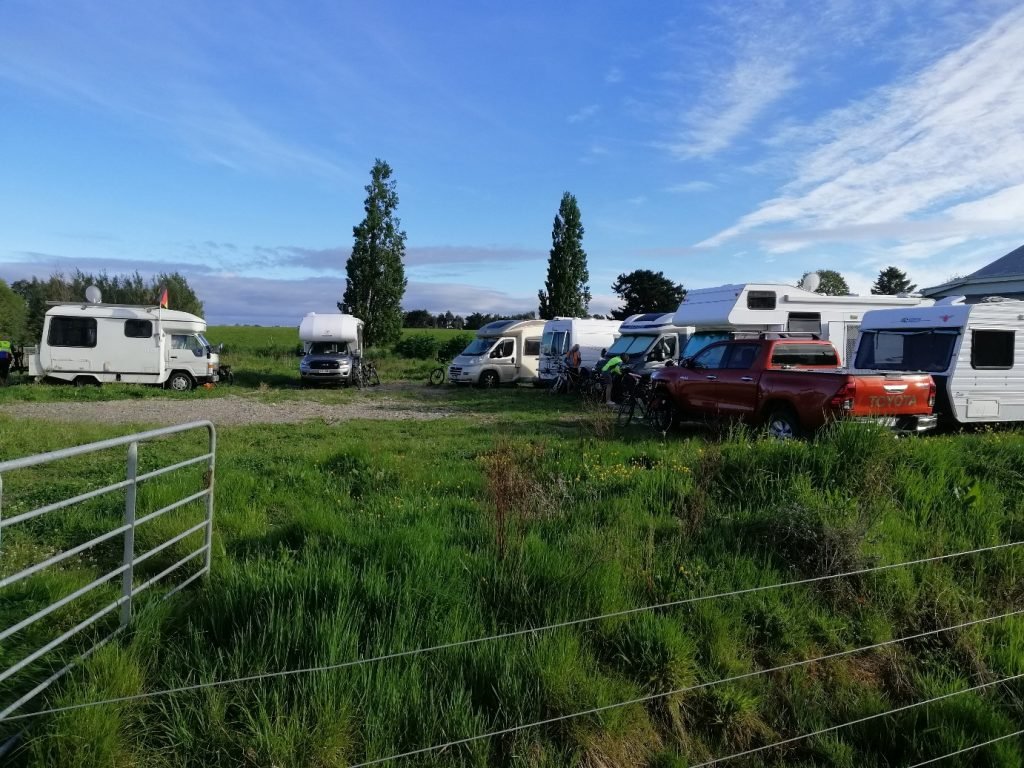 28 cyclists, a couple more joining later in the week, arrived in Cheltenham on Sunday 25th October. The group took over available hotel accommodation, 7 RV's parked in the adjacent paddock and more cyclists occupied local B & B's.
That evening all gathered in the bar at 6.30pm for Simon to brief us on the coming week of cycling. Following the meeting we adjourned to the dining room to enjoy a meal of fried fish, new potatoes and salads.
Day 1 – Cheltenham North Loop. Distance 72kms
The day dawned cloudy with some sun breaking through. At 8.30am 28 keen cyclists gathered outside the Cheltenham Hotel for a Labour Day photo.
Turning off the main road we rolled along through lush, green countryside admiring interesting old villas, blossom and rhododendrons in full bloom. A recently graded gravel road proved quite challenging so after 20kms we were all pleased to arrive in Kimbolton. The area is a hub for the local farming community and named after a village in England, site of Kimbolton Castle.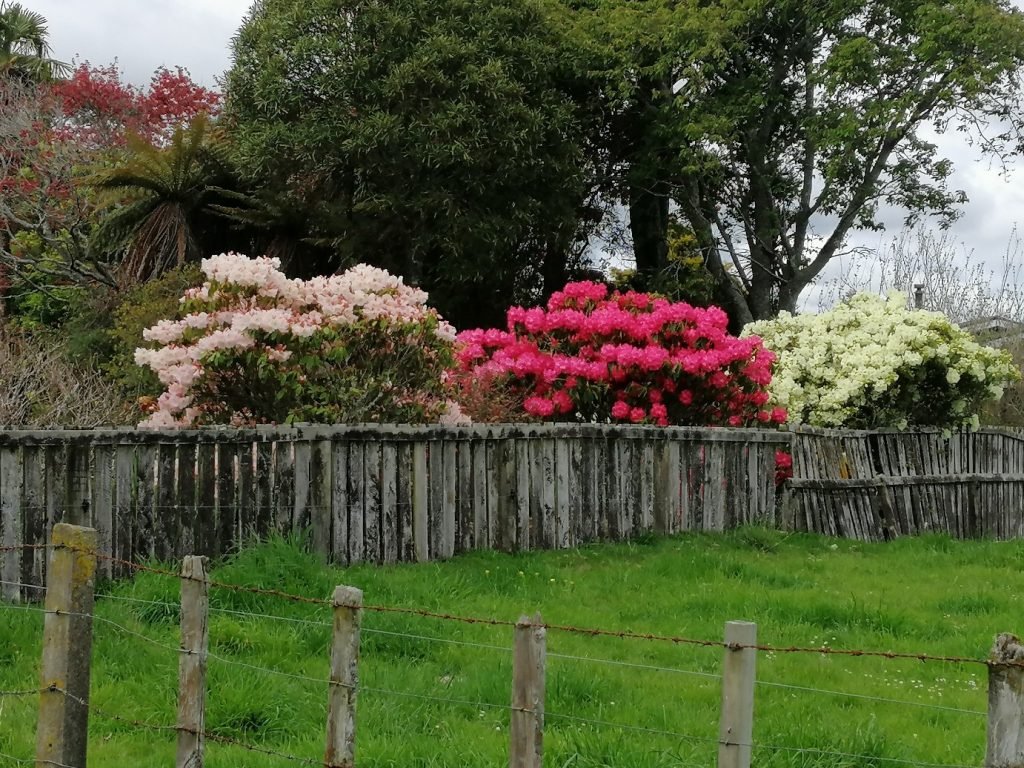 Hansen's Cafe and Store opened especially on Labour Day to refuel our group. Hot drinks, muffins and scones a plenty with great friendly service.
Several of our group visited the renowned Heritage Gardens while the rest continued onto Apiti. This small township, gateway to the Ruahines, is close to the Oroua River and gorge. We perched outside the Apiti museum for lunch, explored the town, admired the sculptures and chatted to the new publicans.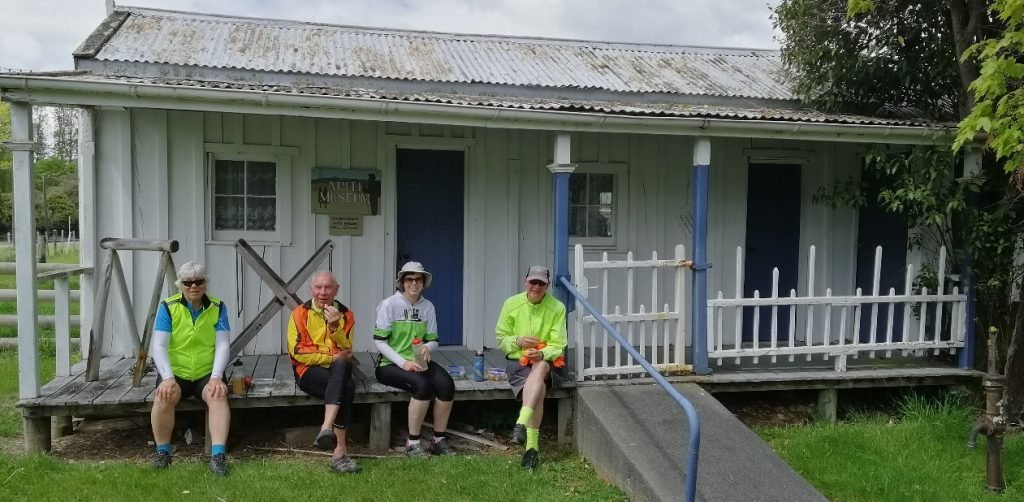 After lunch our group split up again, some returning to Cheltenham via the sealed road with the majority keen to tackle Ridge Road. A further 25kms of recently graded gravel proved challenging but we had plenty of stops and were rewarded with awesome views across to the spectacular Ruahine Ranges.
The motorhomers gathered in the paddock for happy hour, before a lovely pub meal at 7pm refueled our engines for the following day – roast beef, mash, pumpkin, carrots, peas and vegetable gratin. A few also enjoyed an extra reward of fruit salad, ice cream and cream.
Day 2 – Cheltenham West Loop. Distance 72kms
After an 8.30am briefing outlining a possible shorter option should rain eventuate, 28 cyclists set off in a westerly direction towards Feilding. The picturesque Makino valley has a number of historic homesteads, some near the roadside, others hidden down tree lined driveways.
After 18kms we were amongst new subdivisions on the outskirts of Feilding then down the main street to the Rosebowl Bakery & Cafe, where several of our large group scoffed cream doughnuts with chocolate, caramel or raspberry topping from the large selection of baked goods.
On leaving the bakery it started to drizzle, which was a shame as we cycled through parks, alongside the Makino stream, then onto a boardwalk winding through the Awahuri Forest park, a podocarp swamp forest.
Climbing again we headed west through lush farmland to Mount Lees Reserve. The historic homestead, Mt. Lees B & B, is set amongst a scenic reserve of native bush, beautiful gardens and walking trails. There are also adjacent camping facilities.
From here the group split up, a larger group completing the planned 70km loop with several other riders taking a shorter route back to Cheltenham. A planned break at Te Hiiri Marae & church did not work out so the group headed down the hill towards the Rangitikei river and found roadside stop for lunch.
As we climbed back up onto the tablelands driving rain closed in, temperatures dropped to 9 degrees, so after an unpleasant 20kms we were all very pleased to arrive back in Cheltenham for warm showers and dry clothing. Drinks in the bar before another enjoyable hotel meal.
Day 3 – Cheltenham East Loop. Distance gravel route 48km, bush ride 28kms.
By morning the steady rain had turned to intermittent drizzle. It was suggested we cycle to the cafe in 2 groups – the 'adventurous bush trekkers' or 'stick to the seal group' all meeting up at Ginger Bird Cafe for more coffee, gourmet pies and another interesting selection of baked goods.
On leaving Colyton the adventurous gravel group set off to the east. This interesting route followed Ridge Road, climbed several hills, navigated 9kms of gravel and we again enjoyed wonderful views across to the Ruahine ranges. On the return to Cheltenham about 1pm, the group enjoyed a well deserved tail wind. Meantime 7 ladies returned via the picturesque Almadale Recreation reserve – towering redwoods and a raised bridge across the swollen Oroua river.
After lunch there was a procession 40kms south to the Palmerston North Holiday Park where cyclists occupied cabins, parked RV's and pitched tents for the next 3 nights. In the kitchen/lounge area we all congregated for happy hour before preparing our own dinners.
Day 4 – Palmerston North South Loop. Distance 72kms
Bright and early at 8.30am we all gathered beside the He Ara Kotahi bridge. Again the 28 riders split into 2 groups then headed along the 6 km Manawatu River pathway. This well formed, wide, scenic, gravel track follows the fast flowing river, meandering through bush, farmland and along boardwalks. The Palmerston North council have certainly catered for cyclists and walkers with many kilometers of developed pathways all around the city.
After winding our way through Linton Military Camp housing area we turned onto SH 57. The next 20 odd kilometers south were busy with limited shoulder in places so it was pleasing to reach Shannon and The Horseman's Cafe for a much needed caffeine fix.
Some of our groups checked out the shops and we all called in to appreciate the historic Shannon railway station.
The return to Palmerston North was along quiet back country roads and a section of SH 56 before turning onto the cycle pathway on the opposite side of the Manawatu River. We were all pleased to reach the camp ground after some drizzle and wind had arrived during the afternoon.
Simon Bucherer had arranged for the group to dine at the Cosmopolitan Club so we gathered there at 6.30pm for happy hour then a buffet meal of roast beef with trimmings, chocolate pudding, fruit salad and cream.
Day Five Friday 30th October, Palmerston North
What am amazing day, a bit of everything. A day of two halves doing basically a figure eight. First off out the gate and onto the Manawatu River Pathway heading out towards Summerhill Drive, to get us out of the city. Then up Turitea road heading up towards Palmerston Norths water supply. A climb was required before reaching part of the Te Araroa walking track which we rode through. This was very scenic, bringing us out the other end onto another no exit road. Followed by a short stint on the main road before arriving at Linton military camp. The first group just rode straight on in, heading to their Fernleaf Cafe. The other group were not quite as lucky and ended up having a wee hold up regarding the Military security policy. We had arrived via the back gate, which was unmanned, so we just sailed straight through. The other group had to wait to be allowed entry, it pays not to ask for directions. After morning tea, we returned via the amazing new trails back to our camp. Here we had time to eat our lunch before the second excursion around the city parameters. What an interesting ride along the river paths then here there and everywhere via the Mangaone Stream Pathways. This city has an extensive array of cycling paths taking us around the outskirts of the city, the back of the Racecourse and Water treatment Plant and through some industrial areas. This afternoon we enjoyed sunshine for the first time on tour.
Day Six. Palmerston North to Ashhurst and back via a visit into Massey University Campus, 60 odd km.
Before today's ride began, I quickly rode down to the newly installed Eel feeding place, which was remarkably interesting, we had already ridden pass it a couple of times.
Out along following the river and around the back of the golf course then out to Te Matai road. Today we were on and off bits of the official NZ Cycle Trail with their little marker posts. Nice easy riding within view of the many Wind turbines up in the hills. Morning tea stop at Fusion Cafe and Bakery at Ashhurst. Where there was plenty of area for us all to spread out, even space to park all our bikes in their garden. From here we had a wee tiki tour around the back streets and crossing over someone else's cycle race finishing line. Before turning back and heading to the Manawatu Gorge to the point where the road is presently permanently closed. Then onwards to Massey University where we ate our lunch. An interesting tour was led by Louise, who was probably the most recent person to have studied there out of our group. It also brought back old memories for some of the other riders. Another brilliant day on the bike, great company, roads, and good weather. Returning to our cars at Palmerston North just before the rain arrived, loaded up our bikes and moving onto Fielding.
Day Seven 80km Fielding – Palmerston North circuit.
Well the wind may have blown the rain away but, unfortunately the wind is still with us. We are heading out to Kairanga district then into Palmerston North. Passing a very colourful Jonathan's Little Library, beside a donated bench in loving memory of a three-year-old child.
Morning tea stopping at the Elm cafe and restaurant at Palmy where it was nice to be able to shelter from the now cold wind. From here we had yet more interesting riding pass the Hokowhitu Lagoon making our way out of the city on the western side, heading back to Ashhurst domain, to eat our lunch on the picnic tables while the second group were more practical and sat in the bus shelter. Today there has been no shortage of wind, predominantly tail and cross winds, although the closer we got to Feilding the more into our faces. Five km out of Ashhurst we enjoyed our first real climb of the day up Spurs Road. Once at the top we enjoyed magnificent 360-degree views. From here we headed back down to Colyton. Stopping at the Ginger Bird Cafe again (we had been here a few days before) where ice creams went down a real treat with the first group while the second group had a more leisurely time here with coffees. From here on just another ten km to go, heads down, bums up into a strong head wind. Another magnificent day riding, sadly only one more day remaining. Tonight, was pizzas night for those who wanted, enjoyed in the camp kitchen where a lot of conversation was had.
Day eight 58km, all good things must come to an end.
What another great day, it may have started out a bit cool first thing, but it warmed up beautifully. Today we are heading over to Sanson. Passing Holcombe and Mount Biggs schools. As we neared Sanson there were lots of new houses built on lifestyle blocks. On the end of View road there were over 25 rural mailboxes which is rare to see. We passed a lady out walking two dogs of which one was enjoying riding in a push chair, a friendly bloke out walking surprised to see so many bikes, a bunch of Cabbage trees planted on the road verge and a line of bras hanging out in front of someone's front lawn. At Sanson we were in for a real treat at Viv's Kitchen famous for their Cream Horns, where they have sold over 200,000 of them and still counting
They not only had a great selection of delicious food, but it was also served quickly and efficiently, (a lot to be said for taking people's names). They had seven staff working today of the seventeen they employ. The Cafe had an amazing retro fit out, beautifully done, bright and cheerful which even spilled out into the playground.
Once everyone's bellies were full another 20 odd km and we arrived back at Feilding township to ride through Kitchener Park, pass the Mansfeild Race Track again and thought Kowhai Park where some who got off their bike to literally smell the roses. A short stint and we arrived back at camp to say our farewells.
The End of another amazing ACTA tour. Many thanks to Simon and everyone else involved, including leaders, tail end Charlie and everyone else in between. I thoroughly enjoyed the benefits of the hub tour, whereby we were able to take our motorhomes which not only extended accommodation options but also having the added bonus of perhaps taking a day off the bike and doing other things and catching up with friends or family living in the area.
A bit of information on the He Ara Kotahi Bridge and cycle trail at Palmerston North.
Compiled by Maureen McRae
The He Ara Kotahi Bridge just outside the Palmerston North Holiday park where we stayed. This is truly a fascinating structure where there is even a counter collecting information of the number of users. It has become quite an attraction and was well worth viewing at night when it lit up. There are not many walkways in New Zealand where you traverse dairy farms, forests, pā sites, a military camp, streams, and a river in less than nine kilometres.
The name means a pathway that brings people together, and that is what it does. A 7 km track connects Palmerston North city directly to Linton Military Camp. A 2 km route connects the city to Massey University and FoodHQ. The pathway was created as a commuter link to the almost 18,000 people that live or work near these facilities.
What did it all cost and who paid for it? $19 million was funded by the New Zealand Government Urban Cycleways programme, NZ Transport Agency, Palmerston North City Council, Central Energy Trust and Powerco, Rangitāne, Massey University, Horizons Regional Council and the New Zealand Defence Force.
What an amazing asset to the city.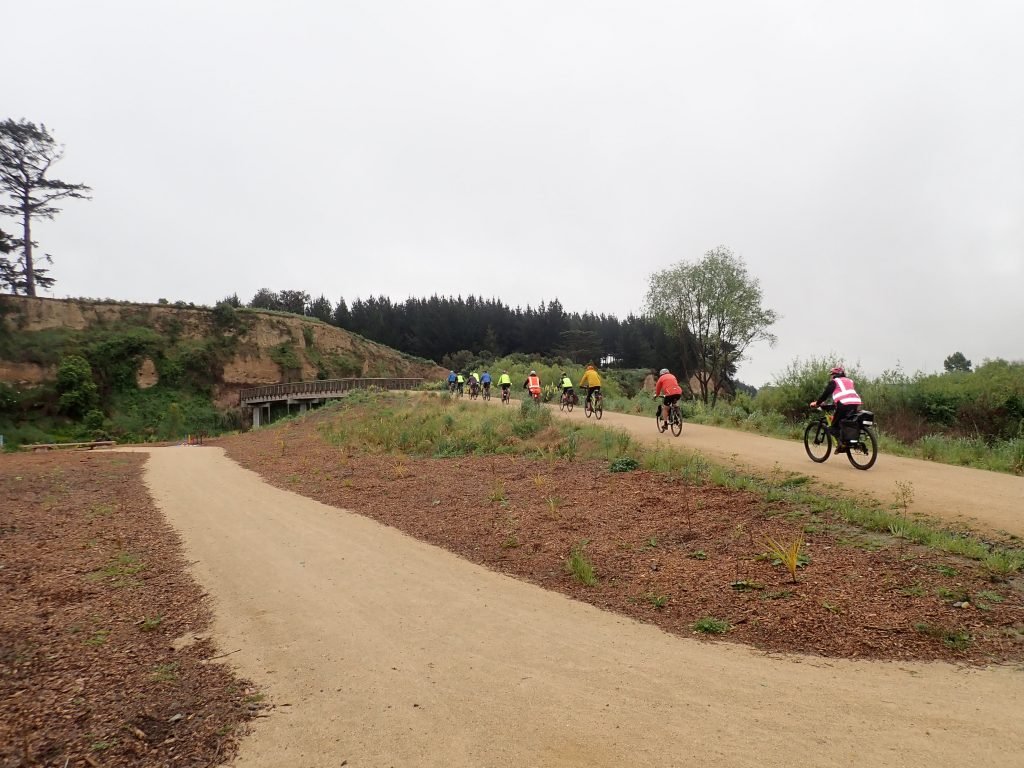 Hub Tour of Manawatu. October 25th to November 2nd, 2020