By Deb Payne & Alan Small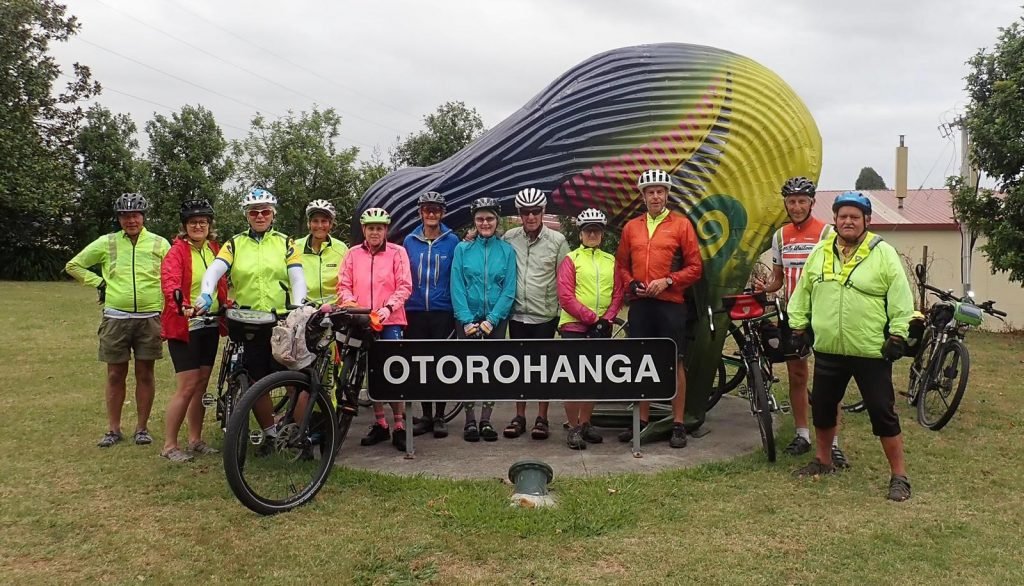 Day One: Monday 8th March – Otorohanga to Kawhia. 70 kms. 1078 m climbing
https://ridewithgps.com/routes/35326539
Due to Auckland going into lockdown for a week, our trip was pushed out by two days which required Margaret to rearrange our accommodation. She did a sterling job and was supported by Maureen in setting up the supplies and gear that we needed. All in all, there were 13 of us: Margaret, Maureen, Marlene, Sarah, Simon, Maurice, Wolfgang, Janette, Liz, Ken, Catherine, Allen and Deb.
Our first day took us from Otorohanga to Kawhia. We set out on a grey morning and before leaving Otorohanga we stopped at the corrugated iron kiwi for a group photo. Led by Ken, we headed west going up over Honekiwi hill – a bit of a climb to start the day followed by more ups and downs. At times we had excellent views to Pirongia and then Kawhia harbour. At Oparau we stopped at the general store which has a colourful, and sometimes rusty, bike fence that rivals the Wanaka bra fence. Our accommodation that night was the Kawhia Seascape Holiday Park and dinner at the Kawhia Hotel.
Day Two: Tuesday 9th March – Kawhia to Marokopa. 74km. 1450m climbing.
https://ridewithgps.com/routes/35326445
Another overcast day. In the morning we followed the coastline, seeing limestone hills and ducking inland and then out past harbour inlets. Before heading to our accommodation, we detoured up to the Marokopa Falls and Mangapohue.
The latter was quite stunning and worthwhile. On the road heading out to Marokopa beach there was a small welcoming committee of three children for Liz and Ken, who are known to the family (and also to the Kainui Lodge owners).
Our accommodation that night was at Kainui Lodge which is situated atop of a hill with fabulous views and out to the Tasman Sea. http://www.kainuilodge.nz/About-Us/
Accessing the lodge required a white-knuckle drive up a steep and winding dirt road on a farm ATV and a dodgy looking vehicle that could have come out of anywhere in South East Asia. Our hosts put on a delicious BBQ dinner.
Day Three: Wednesday 10th March – Marokopa to Mokau. 84Km. 1635m climbing.
https://ridewithgps.com/routes/35326400
Yet another overcast day. At first we detoured to view Marokopa Beach and its surrounds before heading over the first of three hill climbs of the day. Our second detour recommended by Margaret was to see the Waikawau Beach stock tunnel that had been built in 1911 which allowed the Nukuhakare farm stock to be loaded directly on to boats. Apparently, this was quite a tricky process with the tides and wild West Coast waves. We were lucky initially to have light traffic until we got to to Awakino Gorge and SH3. As this highway is the main route to the west coast towns and New Plymouth, it is busy with trucks and trailers.
Our accommodations were at the Mokau Motel and Camping Ground. At 4pm most of the group were clustered around television sets to watch the first of the America's Cup races.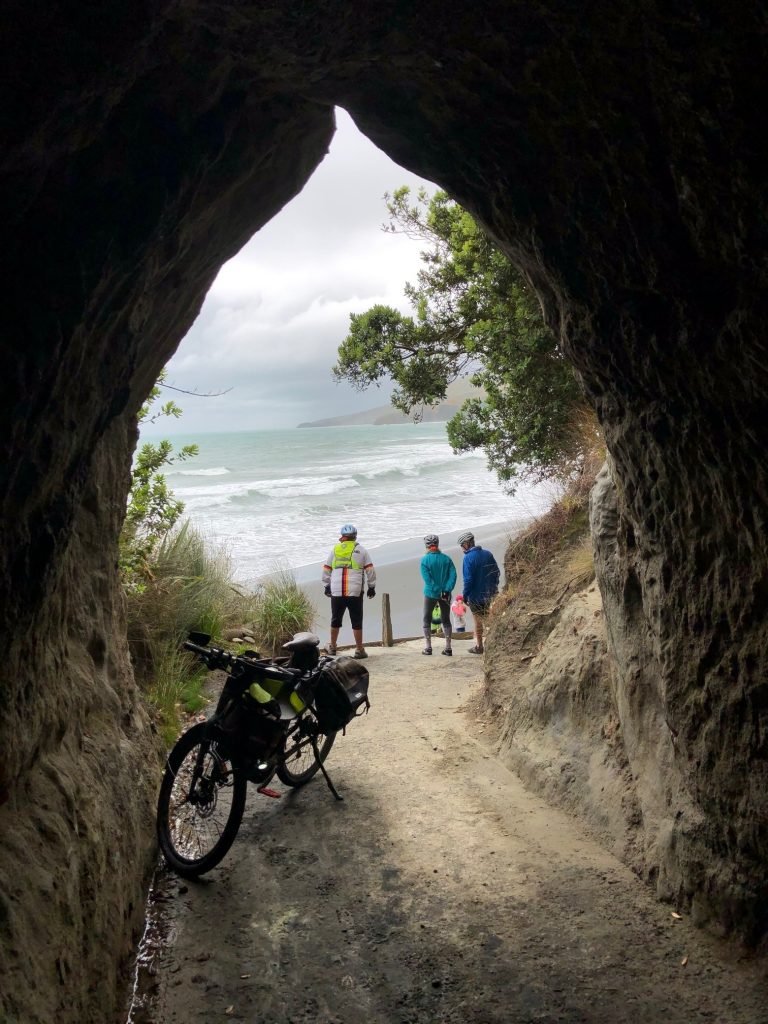 Day Four: Thursday 11th March Mokau to Urenui. 70 kms. 847m climbing
https://ridewithgps.com/routes/35326390

Another overcast day. Our route took us on SH3 and past pretty scenic inlets as well as a glimpse of the Three Sisters rocks. Going through the Mt Messenger tunnel was easier than anticipated as there was no oncoming traffic. Afterwards we turned into Uruti Rd which followed a pretty valley and passed by a small community and church. This quiet route took us through one of the Taranaki region's 20 tunnels but did include two decent hill climbs.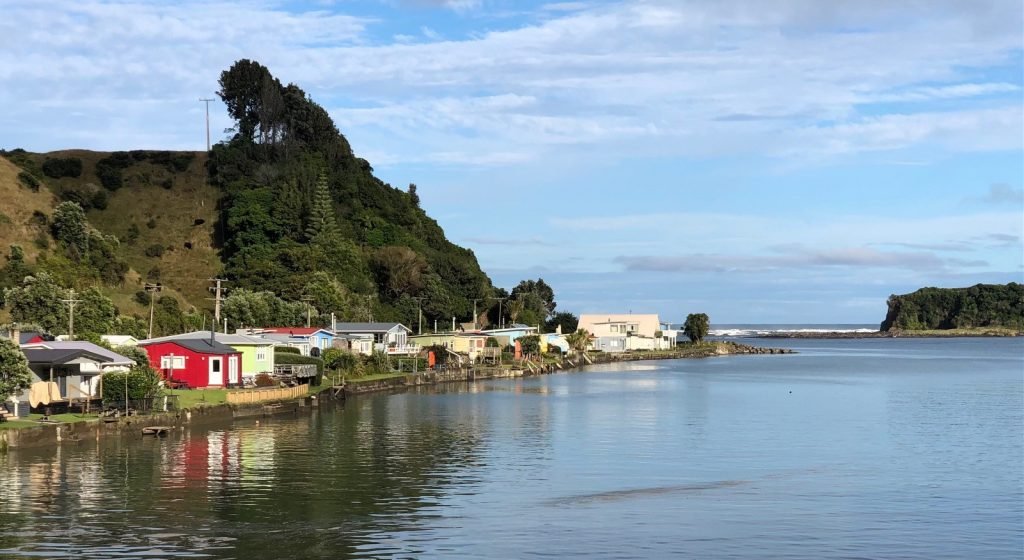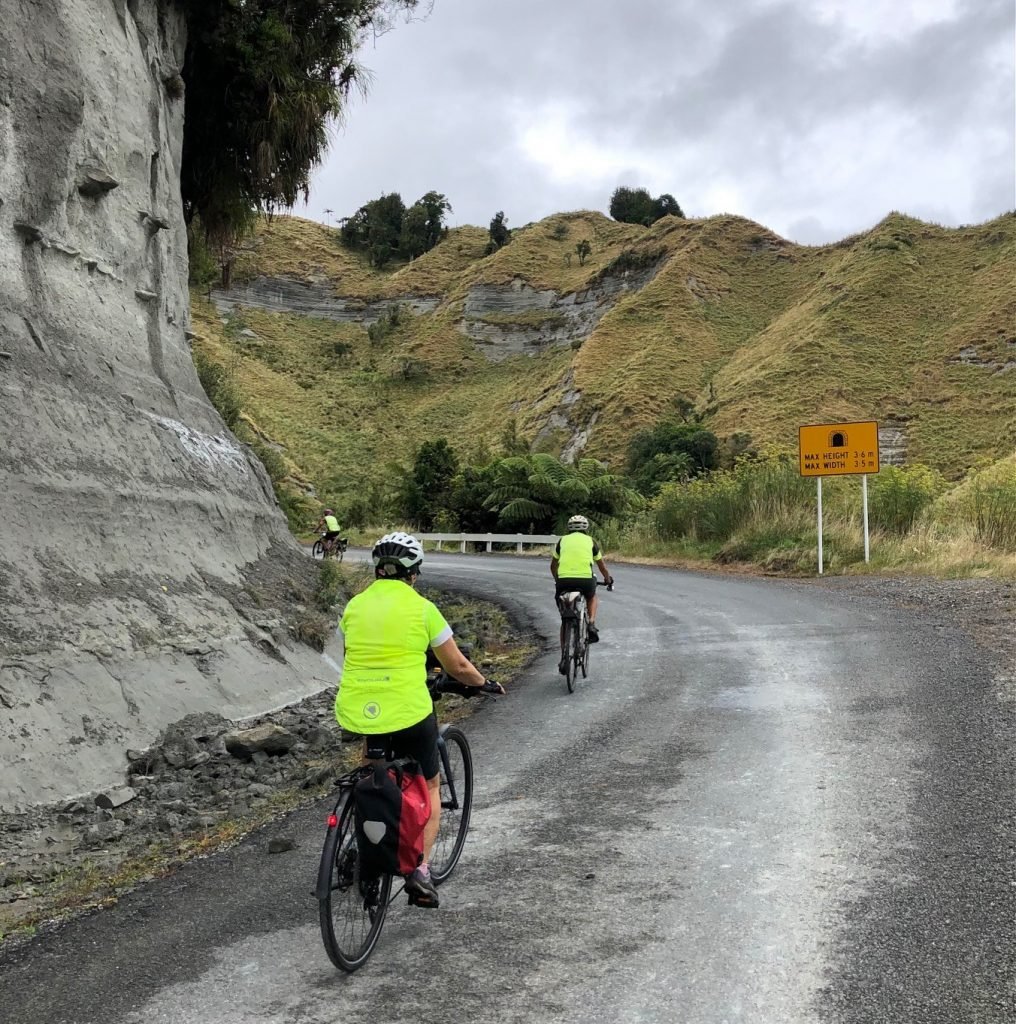 Unfortunately, after lunch Maureen got a bee sting in her ear and began showing signs of an allergic reaction. Fortunately, she carries an Epi Pen, which took effect quite quickly and dramatically after it was given to her. There were some communication breaks amongst the group as we were split into about 3 bunches, but eventually we came together, and Maureen's quick recovery allowed her to ride the rest of the way. In returning to SH3 and on to Urenui, the onslaught of large trucks and trailers resumed.
Day Five: Friday 12th March Urenui to Stratford. 64km. 1087 climbing.
https://ridewithgps.com/routes/35326383
A sunny day which afforded us great views of a snowless Mt Taranaki. After leaving SH3 we followed a relatively quiet route inland. We had a strong head wind for most of the day, which made the rollercoaster going up and down of hills hard work. We had lunch beside Ratapiko lake before heading towards Stratford. Once again 4pm saw most of the group drawn to the Stratford Holiday Park's TV to watch the second day of the America's Cup.
Day Six: Saturday 13th March Day Off. O kms. 0 climbing.
Our day off was spent walking or cycling around Stratford, stocking up on supplies, visiting the local gin distillery and art gallery or watching the Taranaki Masters games. In the morning Allen and Catherine took their bikes to New Plymouth's (very accommodating and efficient) Mitchell's Bike shop to get their respective gear issues repaired. We again followed the losses and wins of America's Cup. Wolfgang cooked us a delicious meal, which was a break from the pub meals we'd been having.
Day Seven: Sunday 14th March Stratford to Whangamomona , (via Forgotten Highway 43) 75km, 850m climbing
https://ridewithgps.com/routes/35326644
It was a cool start to the morning but once the cloud cleared it was a beautiful day on The Forgotten World Highway. Being a Sunday there were no logging trucks to terrorise us, thank goodness. We made a short diversion to bag another tunnel then on to lunch at the Te Wera outdoor centre where the club has stayed previously. Two more saddles saw us in Whangamomona where the group were split up between the Butchers House, the Bridge House and the Cells House.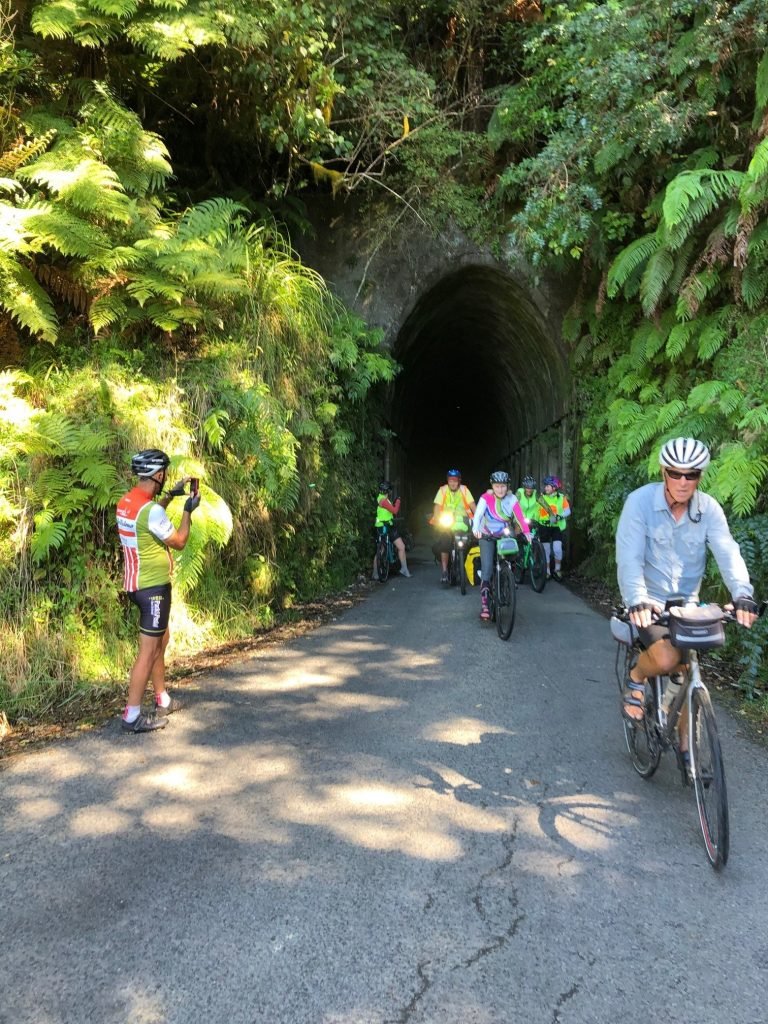 Day Eight: Monday 15th March Whangamomona to Ohura. 61km. 863m climbing.
https://ridewithgps.com/routes/35326653
While it was a short day we still had 3 saddles to climb and a bumpy gravel road through the Tangarakau Gorge. We diverted off Highway 43 to Ohura for the night staying in the Memorial Hall. Ohura has lost all its shops and looks a bit of a ghost town, however, the Cosmopolitian Club opened at 4pm, so we enjoyed a beer and watching the America's Cup racing. Dinner was at the Mexican cart where Michelle provided a lovely array of dishes topped off with apple and feijoa crumble all in an alfresco setting.
Day Nine: Tuesday 16th March Ohura to Waimiha. 94km. 1654m climbing
https://ridewithgps.com/routes/35326666
Some light showers as we cycled the 10kms back onto Highway 43 then over a number of hills including the long and steep Tunnel hill (no tunnel though) and onto the only "flat white" coffee stop of the tour at the Lavender Café. We rode alongside the Wanganui River for a short time then into Taumarunui for some shopping. We rode the Ongarue Back Road, a quiet gravel road, for 8kms to Ongarue with the main highway, railway line and Ongarue River all on our left. Our farm stay house was at the end of a hard 5km climb that tested the legs and finished off two of the e bike batteries.
Day Ten: Wednesday 17th March Waimiha to Otorohanga. 74km, 752m climbing.
https://ridewithgps.com/routes/35326686
We were all reminded it was St Patrick's Day by Marlene, complete in tinsel and green tutu, dressing for the occasion. A crisp clear morning with lovely views over to Mt Pureora and on the last big climb of the tour. We had Mt Ruapehu in the distance. Lunch was in Te Kuiti in a park near the Shearer's statue then the back road to Otorohanga finished the tour.
Our sincere thanks to Margaret for all her time and effort in organising this trip (twice!!) and for sharing the highlights of the Waitomo, Taranaki, King Country and Ruapehu regions. Our thanks too to Maureen for the use of her campervan and the support she gave Margaret.
Forgotten World Highway Tour March 8 – 17 2021