Leaders: Neale and Carol
Cyclist included:
EBikers: Maria, Wendy, Vicki, Carol T, Chris P, Marlene, Dave W
'Normal' bikes: Sue W, Neale, Lyn, Carol G, Reg
Four others went home due to Covid
Day One: Waipawa Loop
Written by Ken
57.57 km, 300 metres elevation gain, 2 hours 49 minutes riding time, 4 hours 13 minutes elapsed time
Meeting up at 8.30 am at the entrance to the Rivers Edge Holiday park a group of ACTA riders headed over the Tuki Tuki river towards Waipukurau along a very nice concrete path. We were expecting it to turn to Custard when we got to Waipukurau and ride briefly along the river side. The previous week the pathway had been destroyed by flood waters but work had been done on the path and it was restored to its former ridable self. When we got to Waipukurau, Neale managed to get us to ride along a cycle path where we then had to crawl under an iron rail, to go any further. Thanks Neale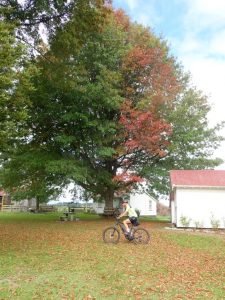 After leaving Waipukurau behind, we headed generally North West climbing very slightly all the way to Onga Onga where the usual ACTA morning tea was had. Present in the small town were a number of old buildings that had been preserved and acted as an outside museum to buildings of the past. We then headed North East for a few km and then turned back for Waipawa heading mainly South East and slightly downhill through beautiful country side. We were back at camp by 12.30 pm so most of the group had lunch back at camp or in Waipawa itself. It was a very pleasant start for the Group and everyone got a feel for the pace they would like to ride.
Day Two – Waipawa and Waipukarau
Written by Maria
8.30 start again on a very foggy and cool morning.
Headed south over the Waipawa bridge, turned right and then headed along the river, in and out of fog pockets. A Great view looking down onto the stop banks of the Tukituki trail from the top of a hill ,before a fast descent down to the stop banks and 21 km later cycled into Waipukarau for morning tea at Zinc.
We continued on along beautiful rolling and flat countryside, so green after recent heavy rains. Past Hatuma, "tiny- so blink",and the stunning Woodburn homestead of 1893.
Carried on to see the Tawera swing bridge that was! This was washed away in the recent devastating floods in the area, and has disrupted access for locals and cycle visitors alike. It will be rebuilt once fundraising is complete. The power of the river!
Notable along the stop bank trail was NZs oldest pair of oak trees planted in 1856.
We Arrived back to Waipawa campground at 1pm after an easy 55km.
Showers were hit , bikes on cars and off to Napier for the second part of the adventure.
Day Three – Napier including Puketapu Hotel
Written by Chris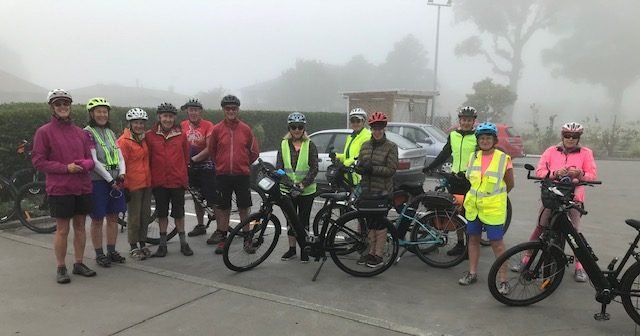 Meeting @ Campground gate @ 8.30. We headed for the waterfront only to have the lovely view covered in with fog which cleared to a gorgeous day.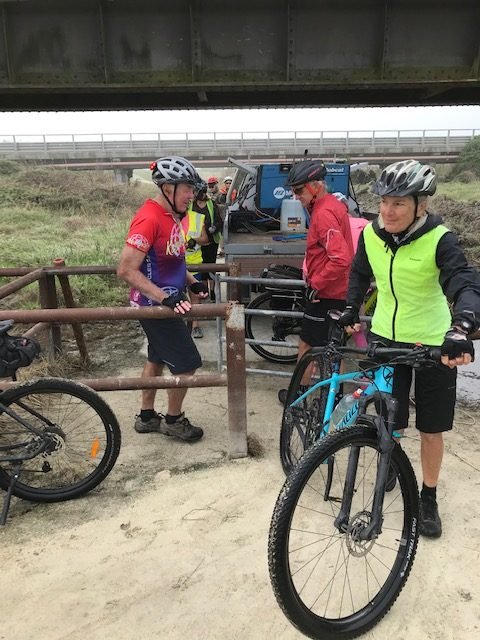 Sue cruised thru the cattle sorting gates which some of us made a
Marlene (or was it the skinny old ewe) navigating the first of the cattle yard gates. We gradually worked out the best system for negotiating these beasts it's definitely team work!!!
We crossed Pakowhai Bridge & headed to Bay Espresso
Sitting under lovely trees for the morning fix.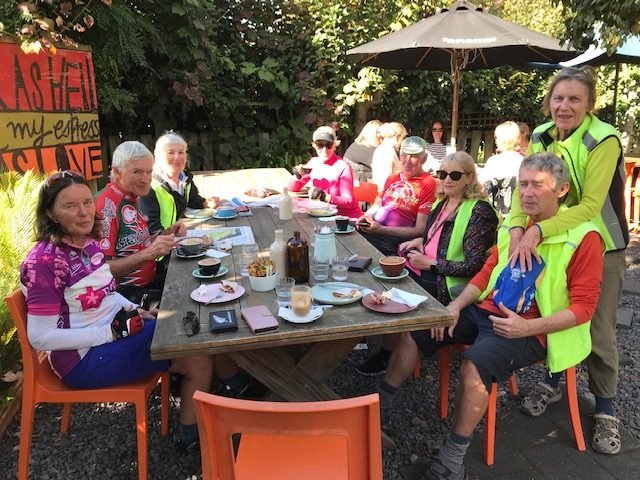 We then followed the stopbank up the Ngararoa River, plus a stint on the road, eventually arriving @ Puketapu Pub.
Some are packed lunches under a tree while some chose to sample the local culinary delights which were very tasty indeed & washed down with a cool beer, Delicious.
Mounting up we headed back to town on trails & a few roads.
Another great ride thanks to our trusty leaders Neal & Carol
Day 4 – Napier to Te Mata Peak. Return: 62km
By Lyn
Day 4 started outside Kennedy Park resort again. Twelve keen cyclists were looking forward to a day of climbing then rewarding views across Hawkes Bay. The forecast for Wednesday afternoon was 27 degrees so it was a warm start as we headed along the Napier foreshore towards Clive. Back roads and onroad cycle lanes took us through to Havelock North and morning coffee at The Village Cafe.
After we had consumed coffee, tea, cake and scones a bike shop across the road proved a distraction. Then it was about 7kms up the winding road to Te Mata Peak at 399metres. Firstly houses and farmland before reaching the mountain bike park. From there the last kilometre was steep, navigating around several tights corners with Reg, Neale and Lyn bringing up the rear.
After numerous photographs and a rest to catch our breathe we all enjoyed the downhill into a slight headwind. The route then took us through the outskirts of Hastings, past the showgrounds, apple and pear orchards for lunch at The Black Shed. Being a very warm autumn afternoon, milkshakes, salmon fritatta or toasted sandwiches were the order of the day.
Stop at The Filter Room (beer, cider & lunch) did not happen – closed for the next week with Covid issues. Fortunately Dave spotted The Black Shed a little further along the road. It was then a short ride back along the foreshore to our accommodation, Sue and Reg had not had enough cycling for the day so headed off to explore Bluff Hill.
Day 5 – Napier, Clive, Wimarama Bridge
By Vicki
We had swapped the previous day which was the ride up to Te Mata Peak as the weather forecast for today was expected to be windy.
We headed off from the campground in Napier and met up with those staying at Erikson Road NZMCA Park. After morning greetings, we rode off along the foreshore toward Clive, where we turned a little before the actual village and followed the bike path until we arrived a Haumoana. Heading into the wind we commented that we would have a tail wind going home. A stop to regroup and then continued on along the beach front taking in the settlements of Te Awanga and along to Clifton. Some of the riders checked out the campground but I hung around outside remembering being told off as a child going through the campground when I wasn't a paid camper – must have been some telling off as I still remember the occasion.
We stopped at the Clifton Café for morning tea now named Hygge at Clifton Bay. A lovely setting. Once we were replenished, we all set off and biked up the Tukituki Road to follow the river. I made the comment to our erstwhile leader that we were heading into the hills – with a very straight face he said, "there are no hills". Upon our arrival at our next stop by the Waimarama Bridge – Red Bridge Coffee stop I said, "I thought you said no hills", his reply; "Oh those are undulations"!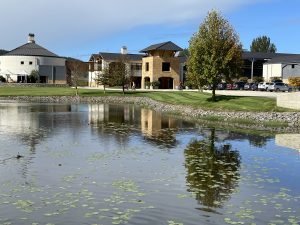 After coffee we started to head back across the bridge and along past Craggy Range winery – a fabulous setting. No one partook of a wine tasting – serious riders in this group. We followed the bike path on the western side of the river all the way to Clive and then back the way we had come to the Napier camping ground.
This was one of our longest rides and those of us having to rely on electric bikes as our muscle bikes aren't quite up to it, stretched the limits of our battery power – especially me on a hire bike. That's another story – I now have multiple keys for my bike hidden away. Another fabulous enjoyable day and a big thank you to Neil our leader and Lynn who looked after all the little ducks by being tail end Charlie.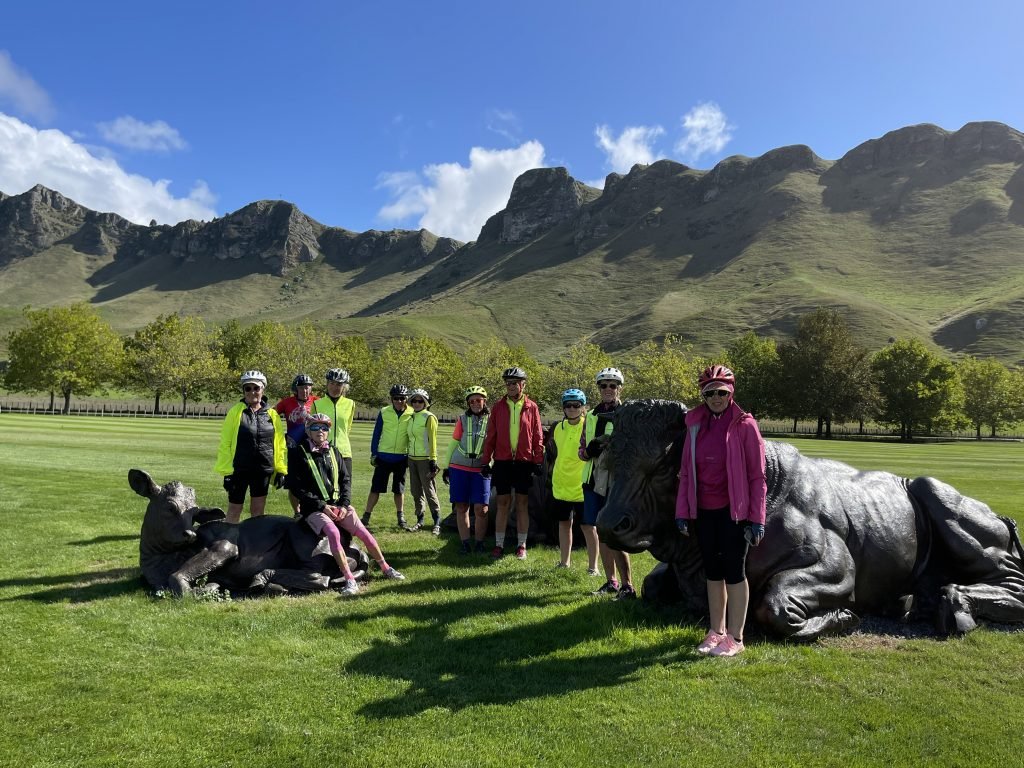 Day 6 – Napier, BayView, back over the hills
By ??? where are you?
Pictures from day 6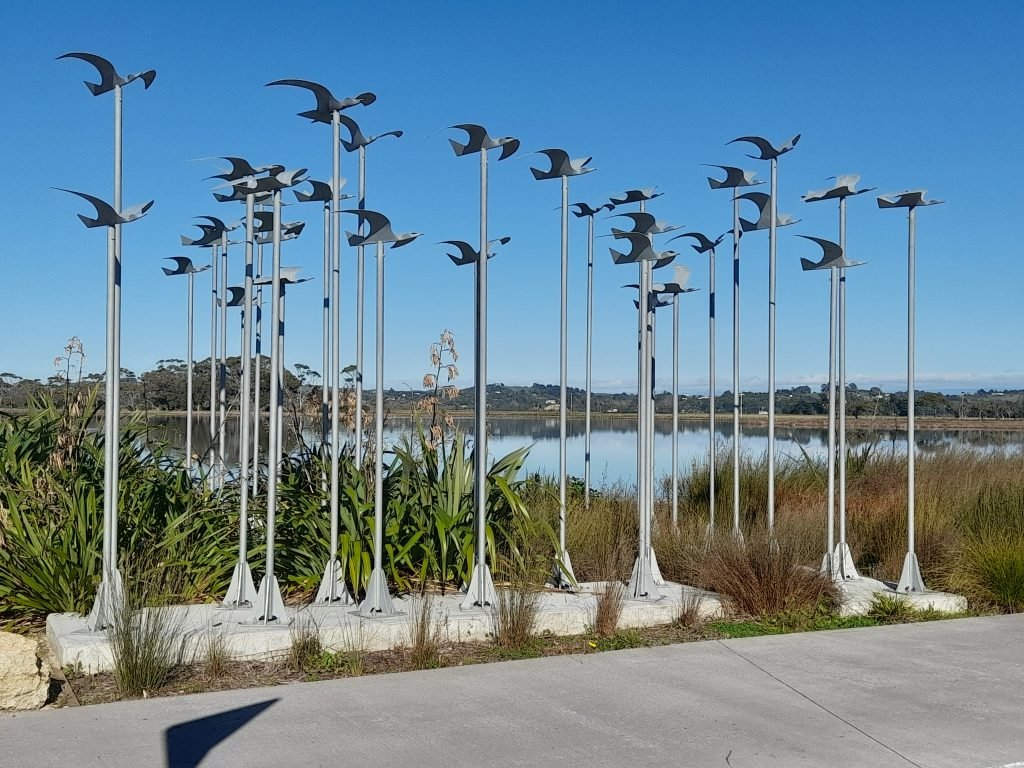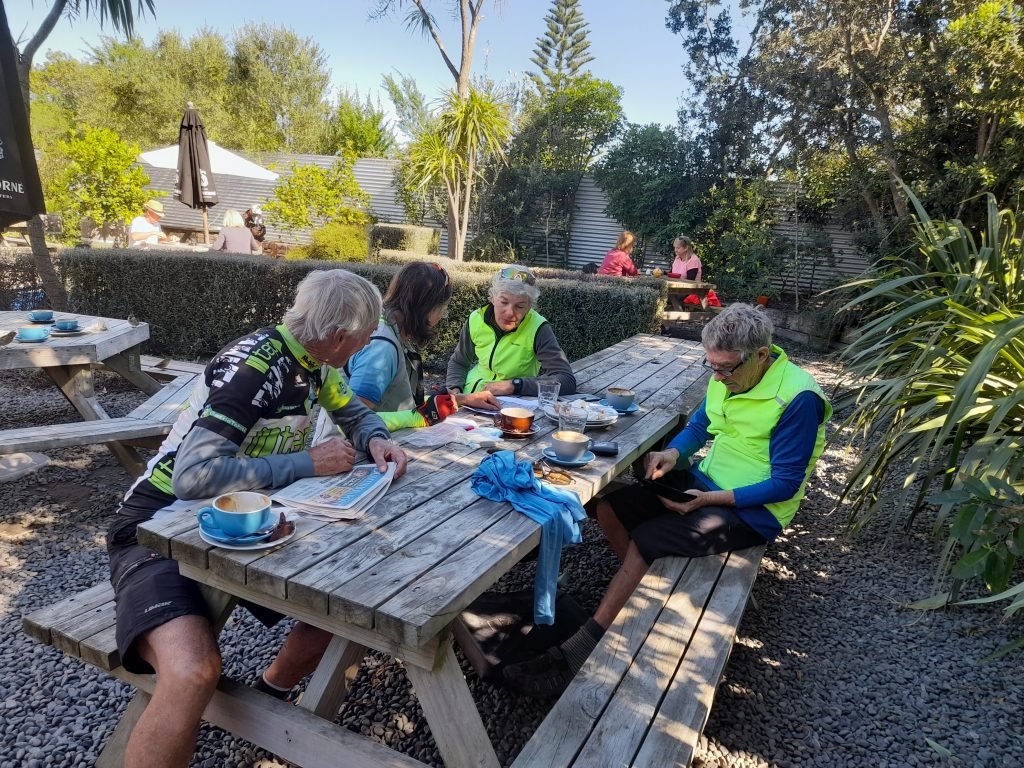 Waipawa/Napier HUB tour 2 – 2nd to 8th April 2022