Leader: Margaret Law
Rides: Graeme M, Luitgard S, Janette L, Louise S, Lyn J, Neale S, Liz P, Ken P, Bruce R, Nancy R, Catherine D, Marelene H, Barry C, Carol G
Day One – Monday 9th May. Ohakune to Matahiwi
By Liz and Ken
Our group of 15 riders met up and stayed overnight at Ohakune Top 10. On Monday 9th May we left camp to have a group photo at the Big Carrot before setting off towards Raetihi. We took a lovely country back road and were fortunate to dodge a few showers. In places the cloud cleared and we had great views of Mt Ruapehu. We arrived in Raetihi in time for morning tea and spread ourselves between two cafes on either side of the main street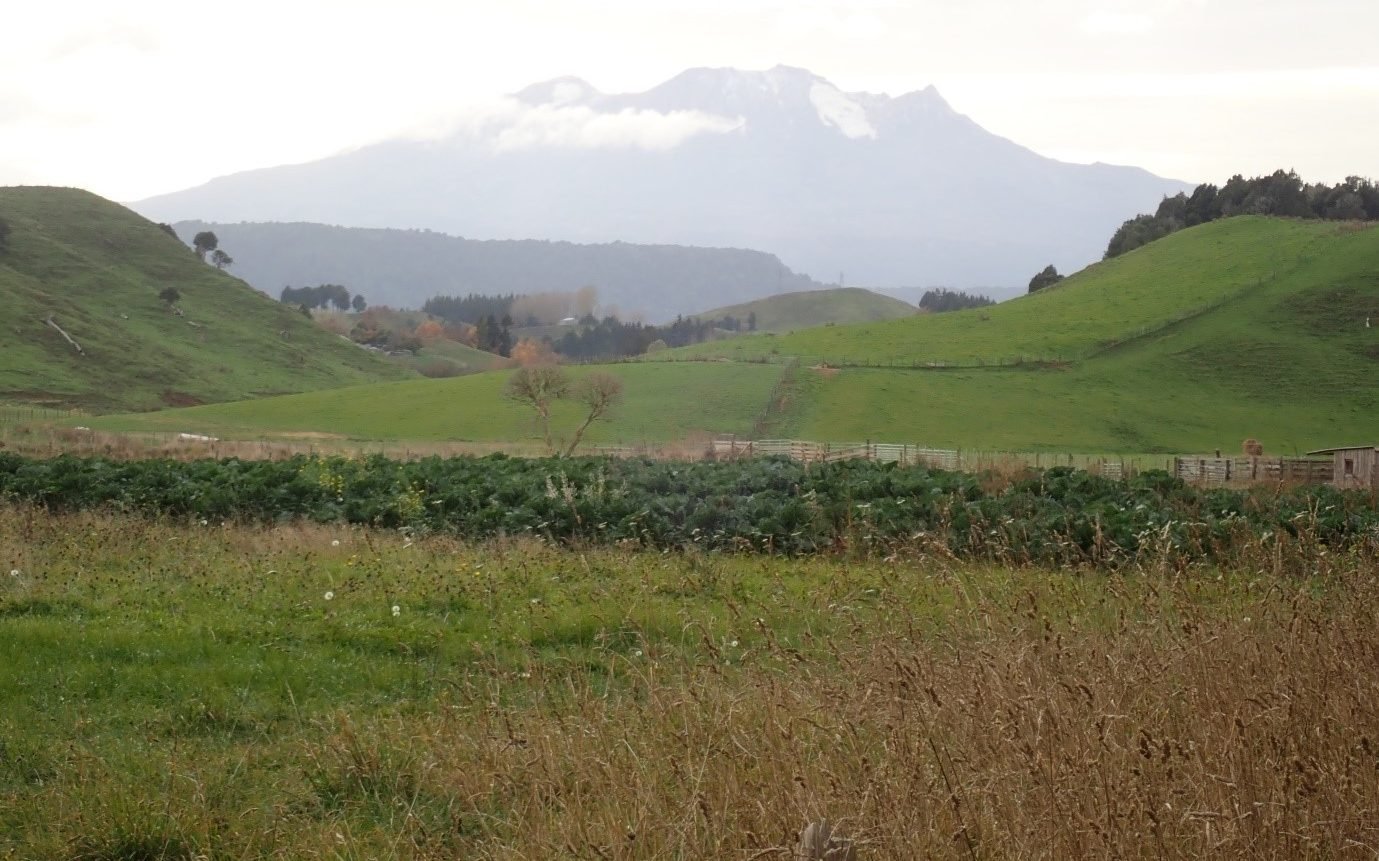 We then followed the road on to Pipiriki, a lovely ride, a few good climbs but also lots of wonderful downhills, 700 metres of climbing, 1200 metres of descent! A good shelter, tables and a toilet made for a great lunch stop at Pipiriki. We followed the Whanganui River from there with ups and downs and some lovely views of the river. We stopped briefly at Jerusalem but sadly were unable to enter the Church or grounds which were closed due to Covid 19. A little further down the road we visited Kawana Flour Mill which was built in 1854 and has been lovingly, partially restored, an interesting visit. The large water wheel & mill stone with some of the old machinery still in place makes it look like it would have been very hard work!
A few kilometres further on, we arrived at our accommodation at Matahiwi Café and Road Side Cabins, where we received a warm welcome and a lovely roast lamb dinner. Great timing as we arrived about 20 minutes before the rain set in!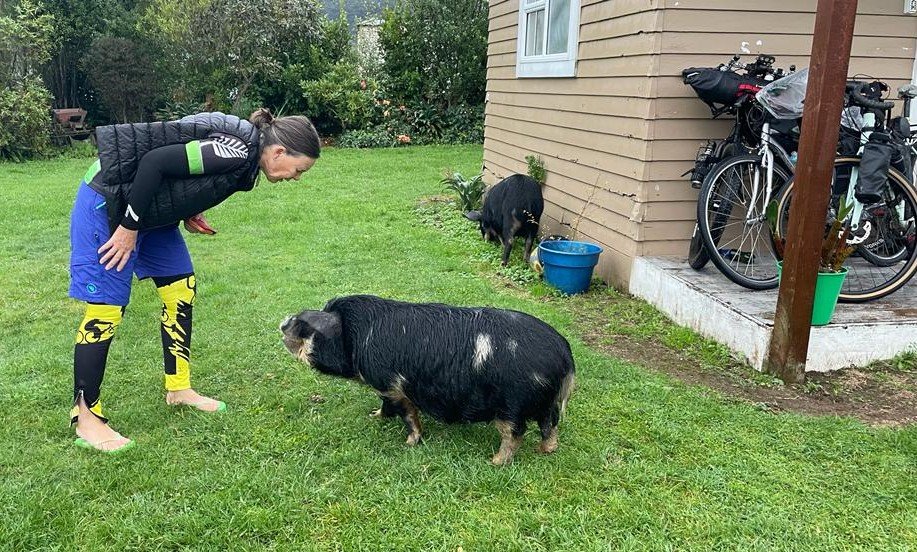 Day Two – Tuesday 10th May. Matahiwi, Whanganui River Road to Holiday Park
Day Three – Wednesday 11th May.
By Graeme
Today was set aside to explore Whanganui. We set off at 9.00 am on a chilly but sunny day ( that later became overcast and windy) and rode the 9 km to the i site in central town, partly on road and then wide concrete shared path alongside the river.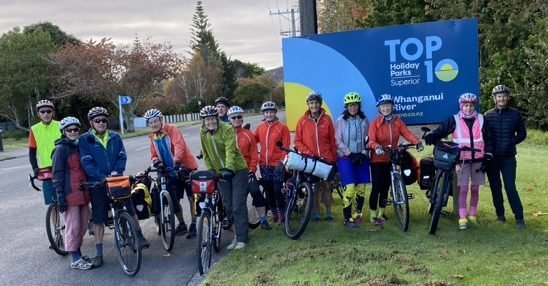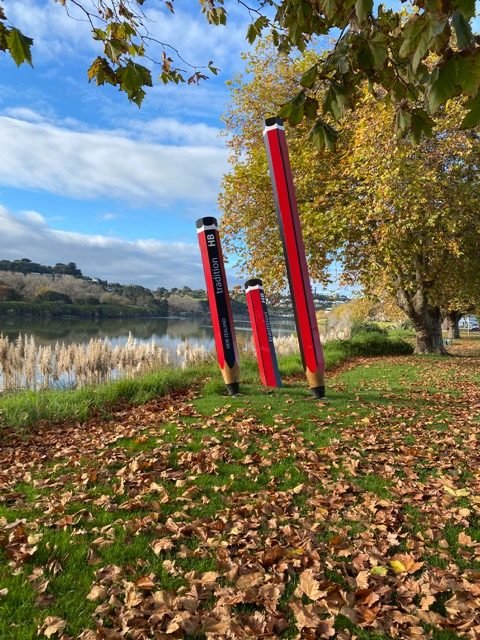 The i site really caters for cyclists and outside are plenty of bike posts and a "deluxe repair station " with tools and air pump
After gathering information and enjoying a coffee at Mud Ducks Cafe everyone headed in various directions to glassblowing, art at Sarjeant gallery, museum, shops, including of course bike shops.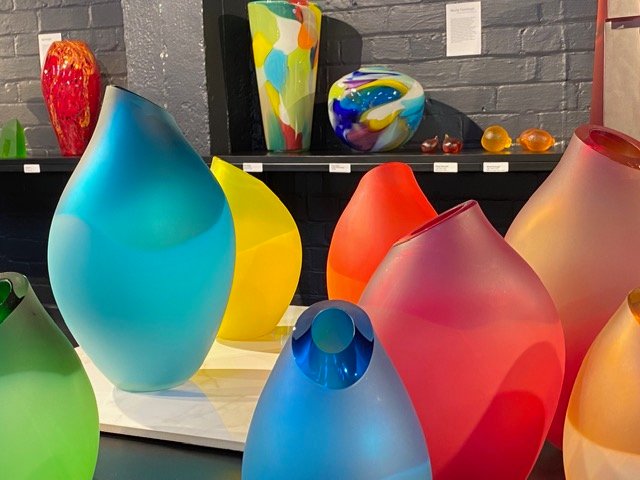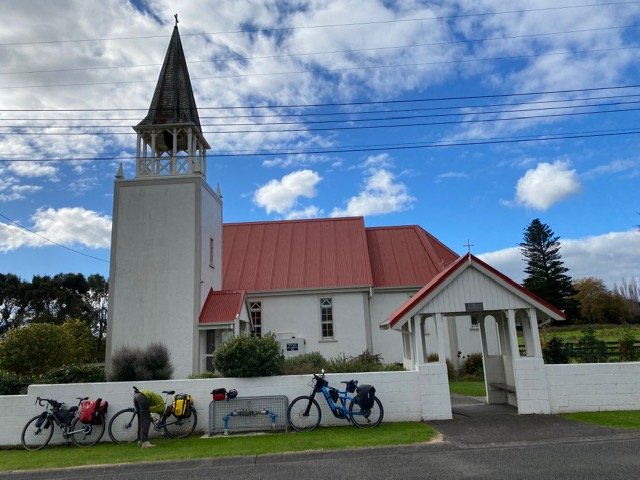 A few of the group booked an afternoon tour of the historic Putiki church which proved to be a unique building adorned with Maori tukutuku and carvings.( no photos allowed inside) Photo 8 The Yellow House cafe proved to be a popular lunch spot and in the afternoon we all made our own way (8km) out to Whanganui Seaside Holiday Park for overnight.
Not a big cycle day for the group except for Barry who decided to head for the hills and knocked off 110 km while the rest of us enjoyed the "Highlights of Whanganui"
Day Four- Thursday 12th May. Whanganui Seaside Holiday Park to Rangiteikei Farm Stay (63kms)
By Nancy
A very crisp 2degree morning greeted us as we departed from our cabins. This was followed with a beautiful warm sunny clear day allowing for some great views. . After leaving our holiday park Bruce led us to the mouth of the Whanganui river where we had a great view of Mt Taranaki. Our ride into the city centre was via a tranquil river path and then on to the tunnel at the base of Durie Hill . The tunnel was well lit with an ancient elevator built in 1919 for groups of 3 at a time with their bikes to take the short cut up the 65metre hill ( Ken was the only one to volunteer to ride up the steep 65metre hill). Views of Whanganui and its surrounds could be seen after we all took our turn to climb to the top of the viewing platform. Ken upstaged the group by climbing the 355 steps up the nearby memorial tower and back down again while we took a quick toilet stop. Back out onto the road again and coffee was first and foremost on our mind as time was ticking on . Fordell was the welcome stop where bikes were propped along a farm fence and thermos's emerged from paniers. Pies and chocolate were sourced from the nearby dairy and 20minutes later an energised bunch hit the road again for a continuation of the days adventure. Now the climbing began but there were great rewards at the top with views over undulating farms and even the blue haze of the Marlborough sounds emerged in the distance. With every energy sapping uphill comes a welcome exhilarating downhill passing green pastures,old neglected farm buildings, a marae, colourful autumn trees, crossing bridges and then a 10km prearranged regroup stop. Margaret explained our next stop was the beautiful arch bridge at the Mangamahu junction and then on to a sunny roadside spot for a welcome lunch. We continued along the beautiful Turakina valley road until our night stop at our charming Rangiteikei farm-stay where 15 hungry cyclists tucked into a beautiful dinner which was provided by a local caterer.
Day Five – Friday 13th May.
By Barry
Day Six – Saturday 14th May.
By Janette
Hunterville to bells junction farm stay A lot warmer start from Hunterville ride about 20ks along nice sheep and beef farming country then morning tea on roadside most let down pressure here for our 30ks on gravel. Turakina Valley Road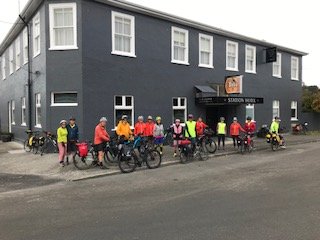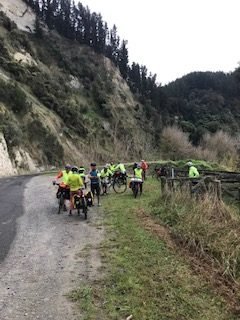 A frightened cattle beast jumped the fence on to the road in front of us we were lucky to have Ken to herd it back into a farmers open gate further up the road.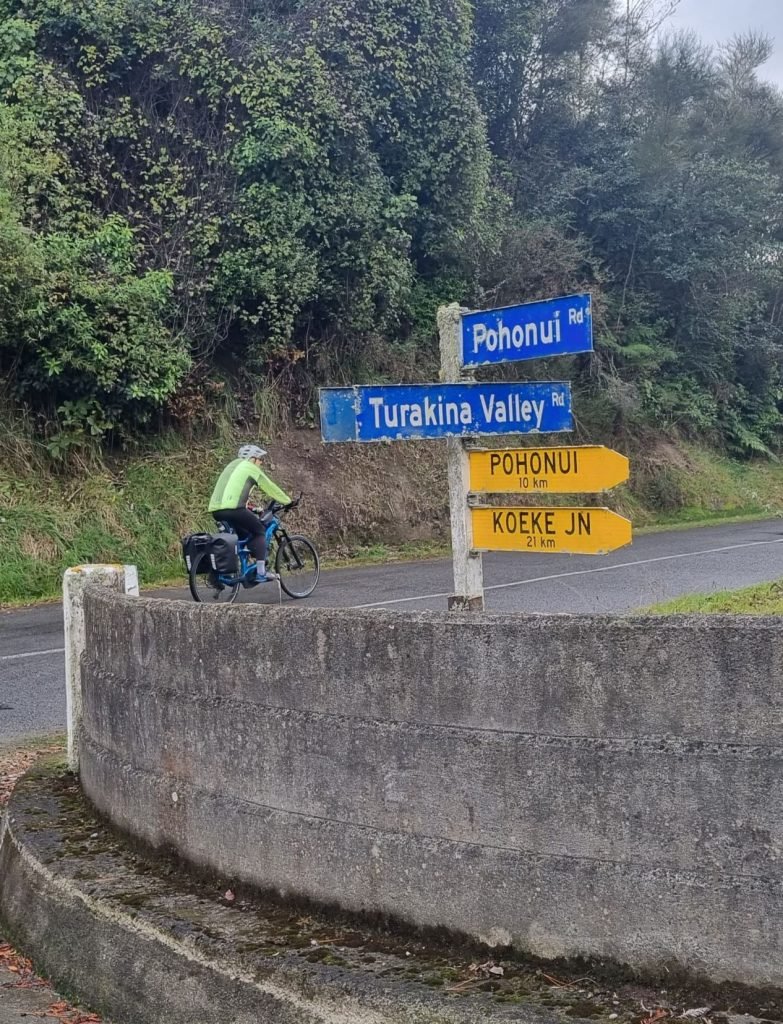 Papanui junction school had left their hall open for us for toilets and a nice deck to sit on for a lunch stop.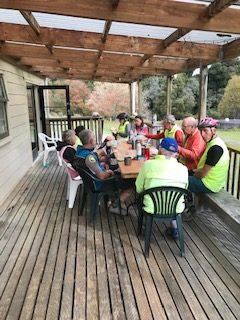 About 68k ride with 1,252 m elevation gain to our cool farm stay and lovely host Lloyd who gave us a truck to shuttle over to shearing quarters for showers then back again at night to there local club premises for a barbecue dinner and great back country hospitality.
Day Seven – Sunday 15th May. Bells Junction farm stay back to Ohakune. Distance 35kms.
By Lyn
All slept well on the 15 mattresses scattered between the 5 rooms in the farmhouse. The cute mice we had seen the previous evening didn't disturb anyone though we could hear them rustling around in the roof cavities. Maybe the warm fire kept the critters at bay. Lloyd our farm stay host had provided items for breakfast – milk, fruit juice, water, toast bread, muesli, fruit and he popped up to the house to farewell our group.
The overnight rain had cleared for our 8.15am departure and 35km cycle to Ohakune. Turning right out of the gate we faced a slow 2km slog uphill on a very wet road with mud in places. After reaching the woolshed at the top, 650m elevation, we cycled 8km down the bush clad gravel road to the intersection with the sealed Whangaehu Valley road.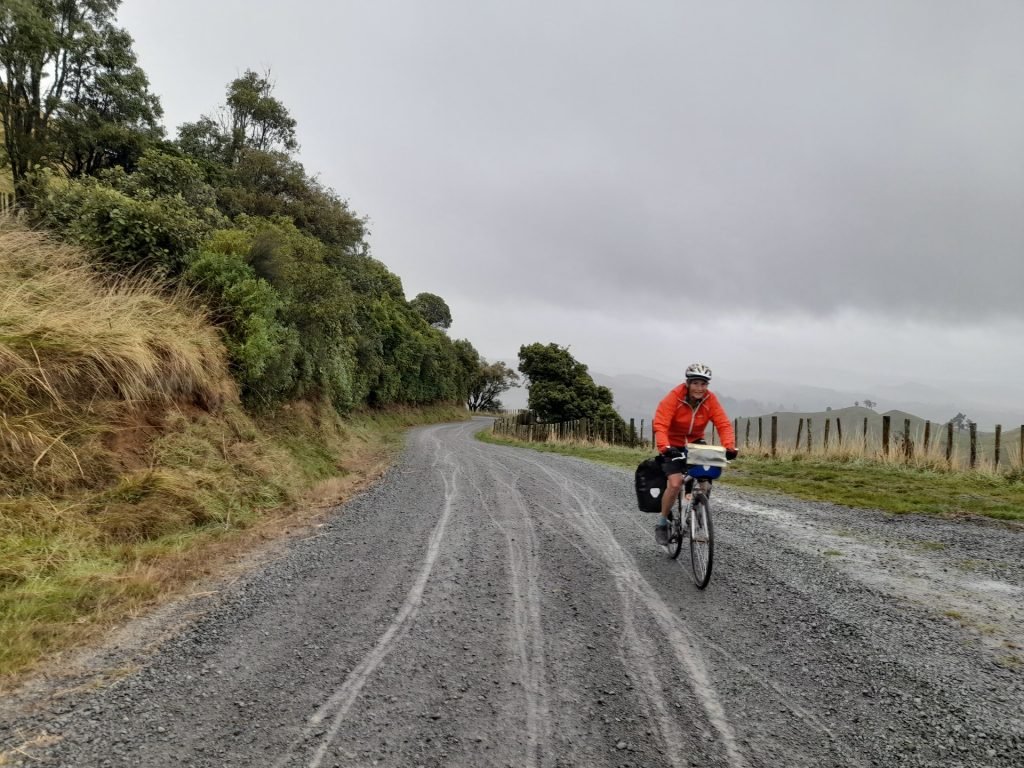 Unfortunately today Mt. Ruapehu was dressed in cloud and mist the only view being the base. After turning off SH 49 we cycled along a back road through Rangataua. On the outskirts of Ohakune Ken guided us on a walkway then through to the shopping centre.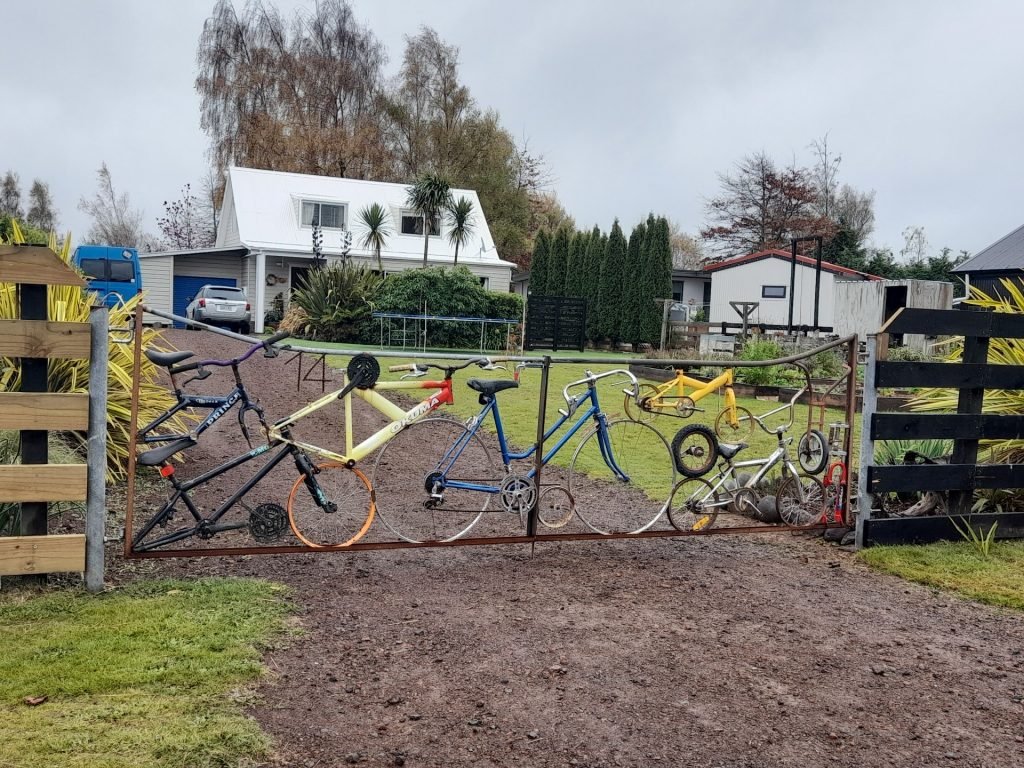 Drizzle had started and we were pleased to descend on 'The Mountain Rocks café and bar' for coffee, tea, pies, cakes and savouries. Then a short hop to the Ohakune Top 10 where we showered, loaded bikes onto vehicles and headed off to our various destinations.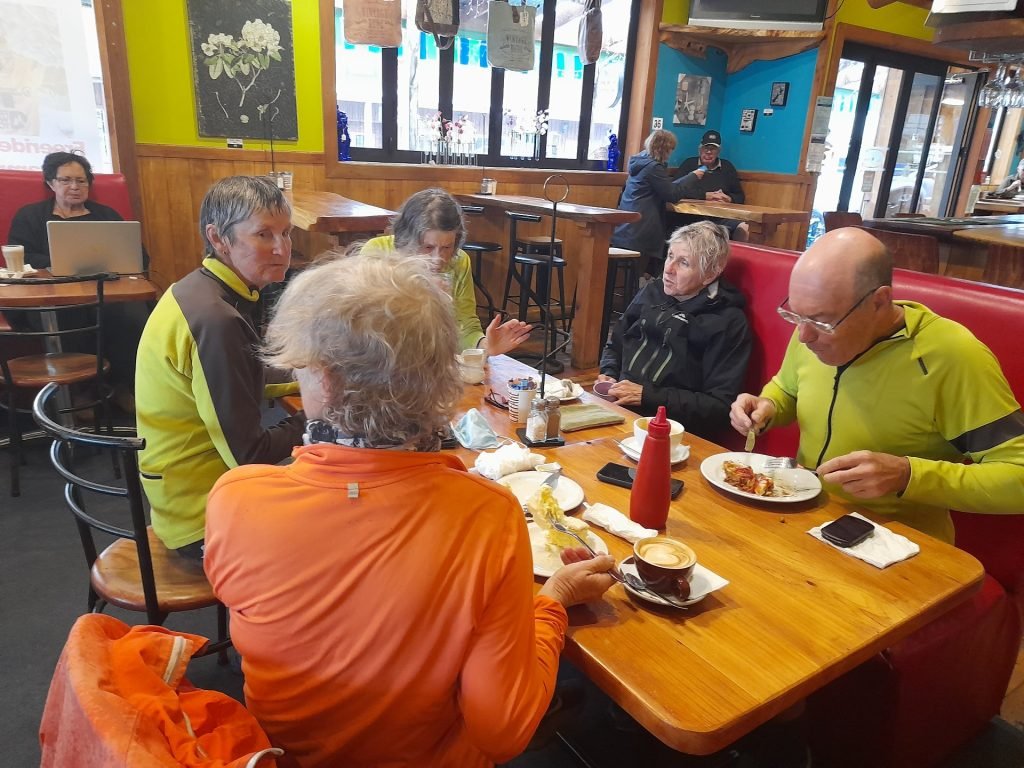 A huge thank you to Margaret for her planning and organization. All 15 cyclists agreed we had a most enjoyable tour – great accommodation, meals, awesome scenery on mostly quiet country roads, friendship and kind weather.
Whanganui Area unsupported Tour. 8th to 15th May 2022