Leaders: Sue Woolnough & Carol Gilbertson
Present: All Three Days: Carol G, Dave W, Sue W, Marlene H, Lyn J, Neal S, Nancy R, Bruce R Saturday and Sunday: Bob M, Greer M, Derek B, Marion K, Sue J, Ron J, Ann Anderson, Carol T
The Tanekaha Tracks: Bill D & Robyn D
Saturday 28th – Tanekaha Tracks — walking NOT cycling
By Ann Anderson
A short 7 km car ride from Mangawhai Heads took us to the start of the Tanekaha Tracks.
We were fortunate to have a local with us, Kevin – a friend of Carol and Dave's – but also a member of the Charitable Trust group who have built the tracks over the years. This group members are affectionately known as 'Trackies'. Kevin knew this area like the back of his hand, so there was no chance of getting lost – although the tracks were very well signposted and marked.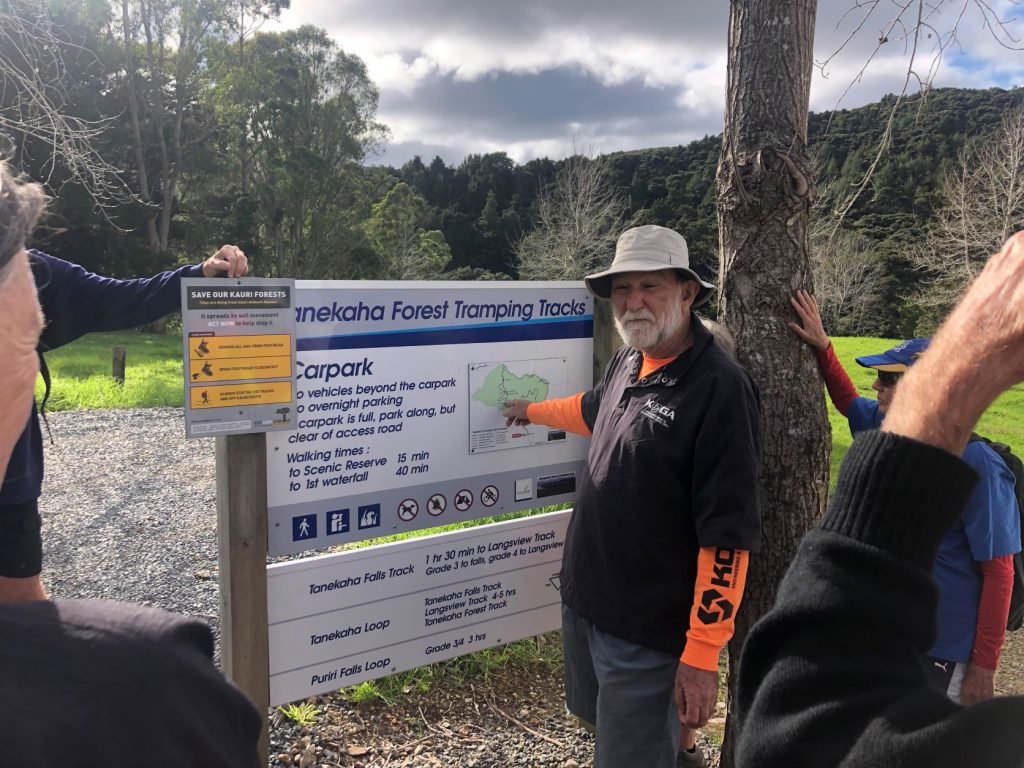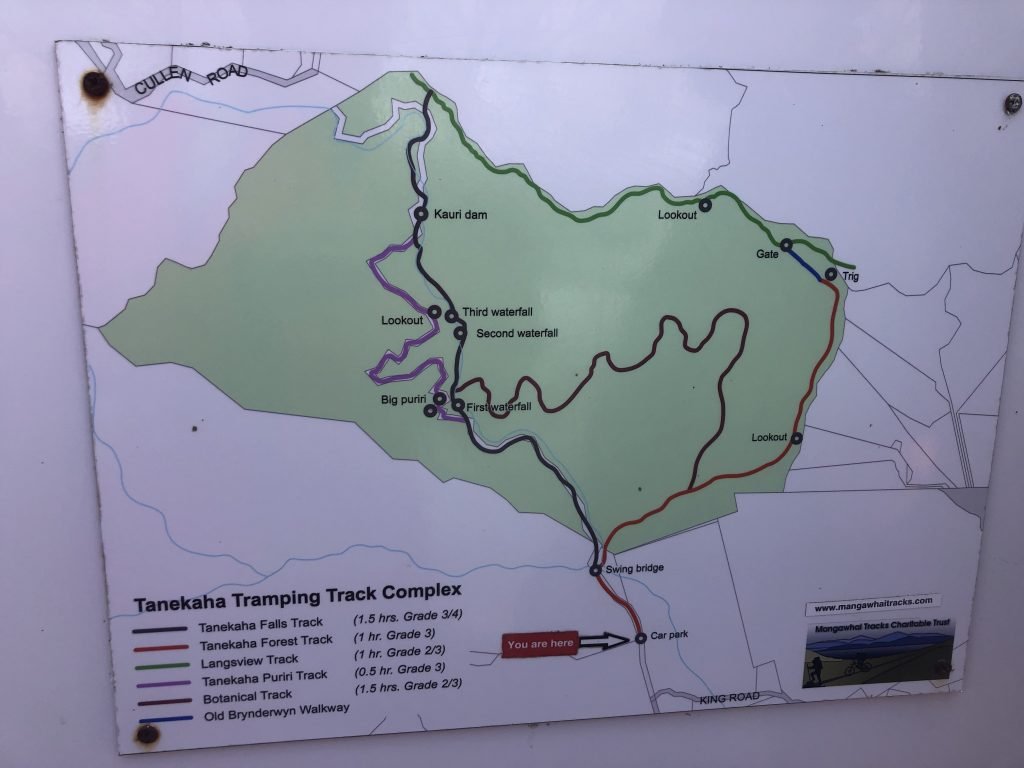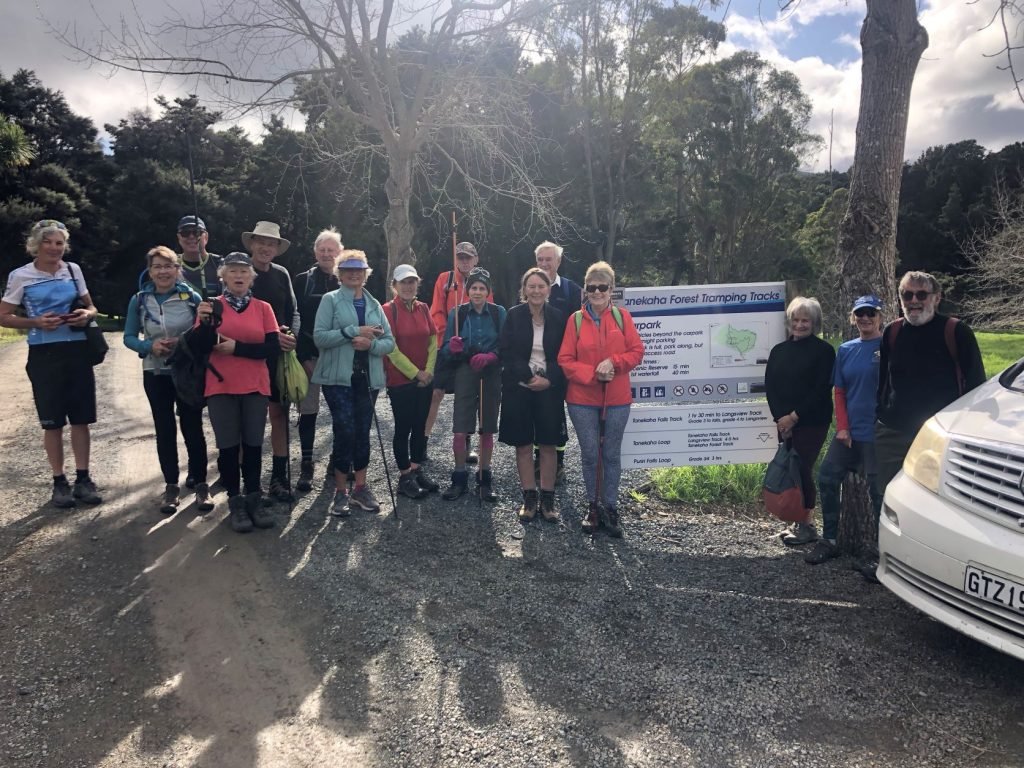 The tracks get their name from the myriad of Tanekaha trees throughout the bush, with their leaves littering underfoot. Although secondary growth bush, after the area became deplete of kauri in the 1800's, it has regenerated with nikau palms, puriri, supplejack, rimu, lacebarks, kanuka, tree ferns and a host of other natives, all looking extremely healthy, and no nasty weeds in sight. Two old grandaddy Puriri trees well over 1000 years old were a highlight. The sun filtering down through the trees showed off the beautiful greens of our native bush. The area is trapped by dedicated locals and we even came across one with a dead rat inside. Good job done.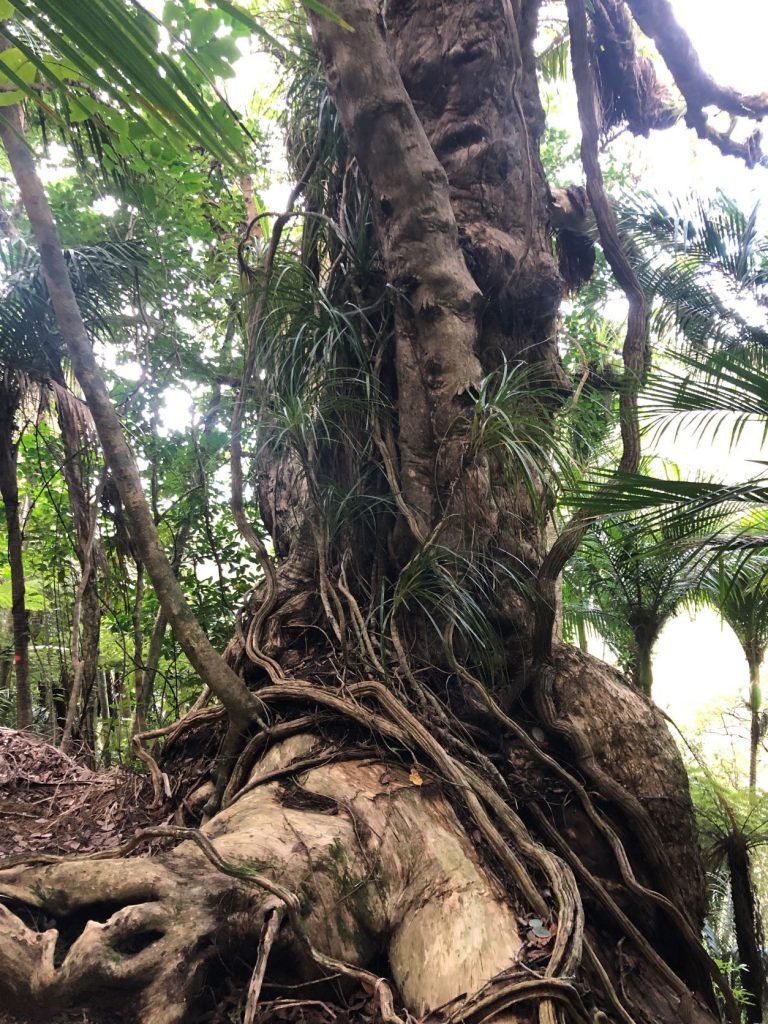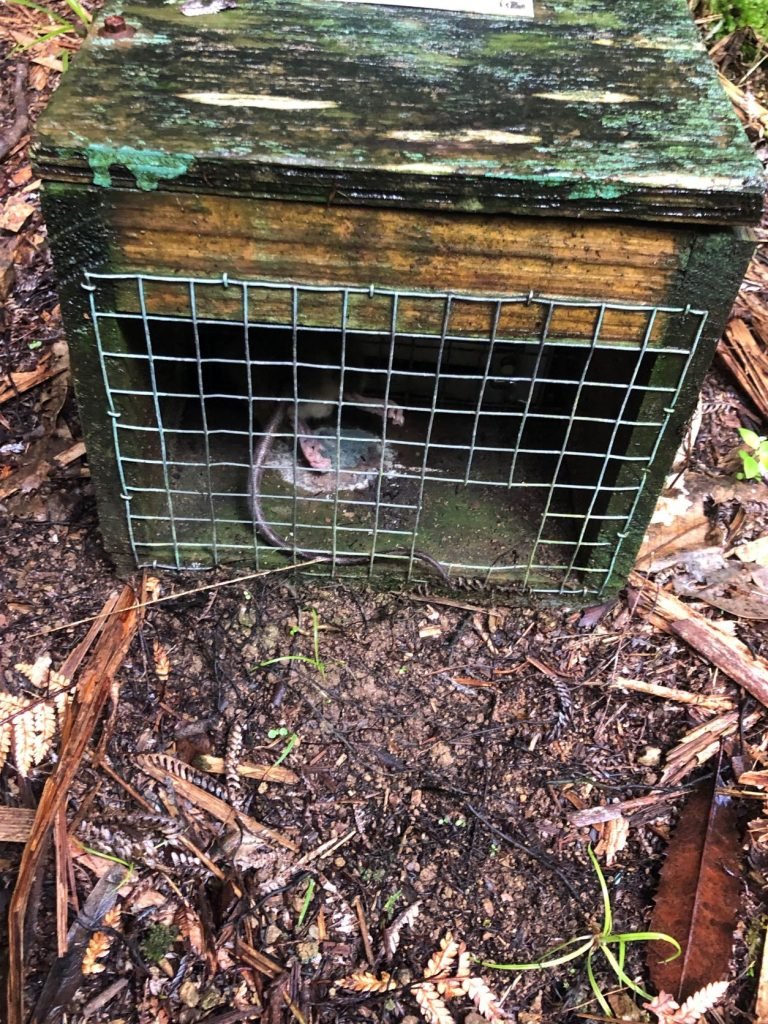 A pristine clean stream runs through the valley and the main track follows this much of the way. We branched off onto the steeper Puriri Track which took us higher up above the main waterfall, and to the remains of a Kauri dam.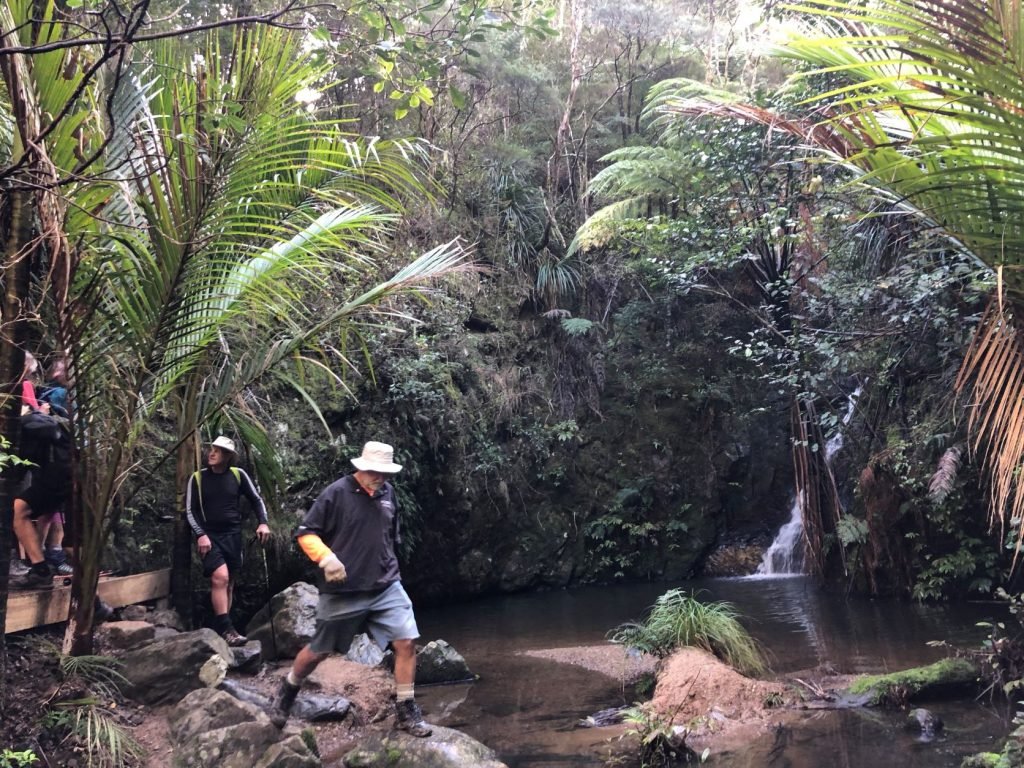 Drink stops (water!) and lunch along the way kept us nourished, lots of banter and camaraderie, made for a group of very happy and well exercised people.
Once back at our baches, cabins, and motorhomes there was time for a rest before the pot luck at Carol and Dave's. What a spread it was with delicious comforting Winter food, and the pot belly stove and wine warming us inside and out.
Thank you, Carol and Dave, for your hospitality and a fun, well planned day.
Sunday 29th – Mangawhai Heads to Kaiwaka and back — cycling – 53.92kms
By Bob Mawdsley
Leader: Carol Gilbertson
Weather on the Sunday was a bit dodgy with strong to gale force ENE winds. We had a few light showers but fortunately the rain held off for most of the day. It bucketed down on Sunday night!
Some riders had difficulty controlling their bikes in strong cross winds on ridge lines, with many opting to dismount and walk at times.
During the morning we followed a generally east to west route along the foothills of the Brynderwyns with the wind mostly at our backs so made good progress to Kaiwaka where we stopped for late morning coffee at Eutopia Café and bought lunches at La Nonna Italian bakery.
Route Details
Mangawhai Heads to Kaiwaka and return.
Surface – Mix of seal and lots of gravel
Distance 53.92 km
Total Climb 862 m
Total Time 6:16
Moving Time 3:59
Temperature 17°C
Wind ENE 39km/hr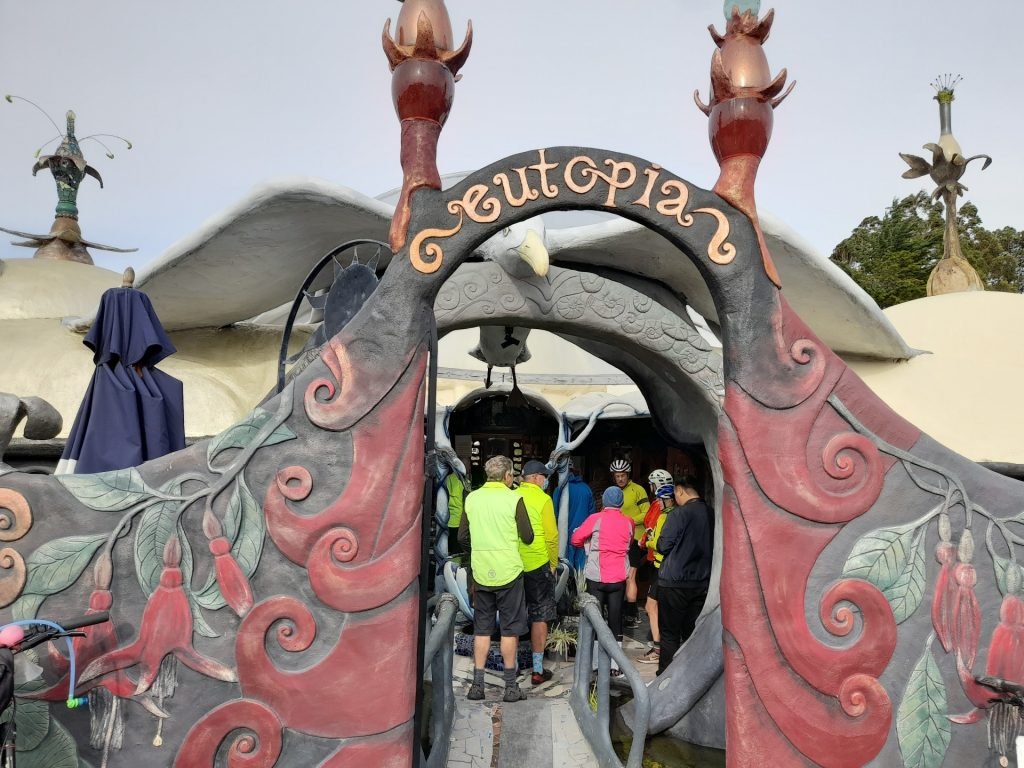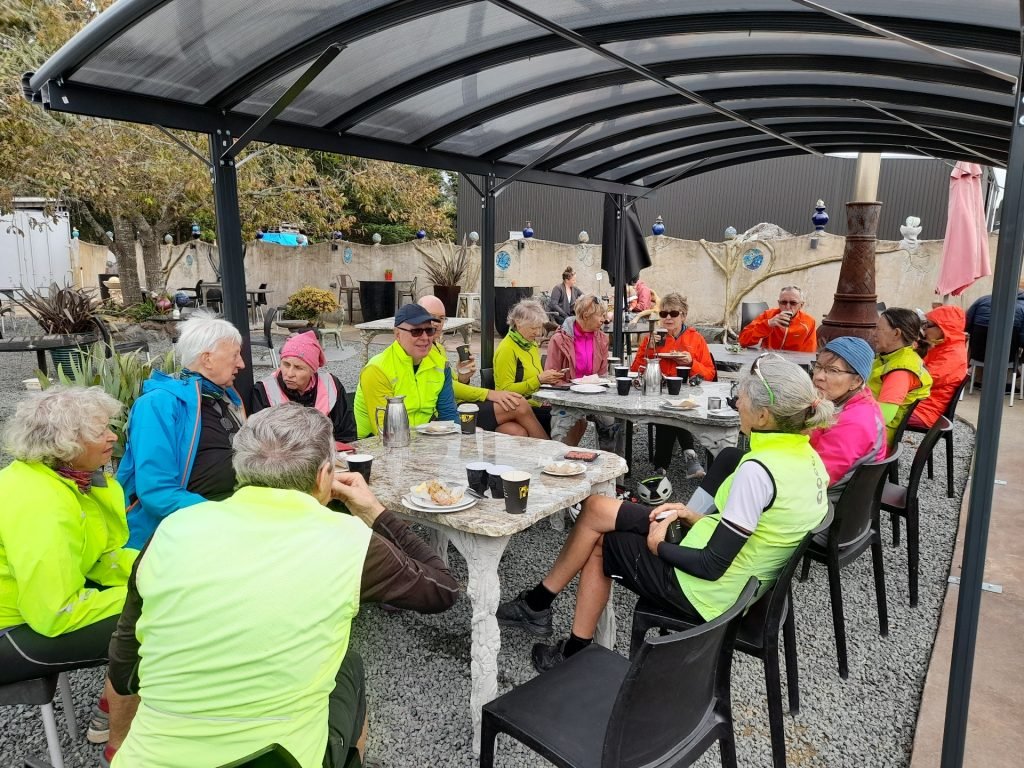 After the coffee break, we headed back toward Mangawhai following a more southerly route along Settlement Road, enjoying the challenging combination of hill climbs and head winds.
One E-bike malfunctioned over last 10 km. Despite having plenty of charge remaining in battery the bike would not respond to power controls. The rider rode last 10 km without power assist and walked some hills but completed the ride OK.
Once we reached Mangawhai village we followed a route along the edge of estuary, riding on footpaths and boardwalks through the mangroves before joining Molesworth Drive back to Mangawhai Heads.
Lesson's Learned
E-bike riders should always carry a key to enable battery to be removed and contacts checked. Also, many E-bikes rely on a speed sensor system which often comprises a magnet attached to one of the rear wheel spokes and a sensor on the frame. This system can malfunction if the magnet becomes misaligned or the sensor cover in mud, and the bike won't run without it.
Monday 29th – Mangawhai Heads Tiki Tour – 17kms
Leader: Dave Winter
With torrential rain and strong winds during Sunday night, Monday's cycling programme was revised. Several of our group opted instead to travel home. By 9.30am the rain had abated and 8 hardy cyclists embarked on a tour of Mangawhai Heads.
Dave led our group stopping at various vantage points to give us some of the local history. We cycled a loop around Moirs Point passing substantial houses perched beside the estuary or along the cliff tops. A lot of new subdivisions opening up along the way.
On heading back north we called in behind the Museum to see the hull of the 'Daring'. The remains of this wreck was found in the Kaipara Harbour in 2017, salvaged then transported back home to Mangawhai.
Late morning and coffee time at 'Brewed As' before cycling further north to check out the surf beach and challenging bar crossing. Then it was back to base, stowing bikes and heading home.
Carol and Sue, many thanks from us all for planning and organizing a great weekend.
Mangawhai Long Weekend – 28th, 29th, 30th May 2022