Leader: Simon Bucherer
Cyclists: Non E-bikes: Sarah L, Louise, Andrew, Ron J, Sue J, Sandra, Athol, Erica, Marianne, Catherine                 E-bikers: John [Sloop], Paul C, Deb P,  Christine, Maurice, Roz, Graeme McG   
Route Planners:  Simon, Paul C & John [Sloop]  – Same as for the Winter Bay of Islands Hub Tour
Day One – Monday 20th June
Author: Louise
Everyone gathered with excited chatter at the picturesque Te Waimate Mission house – some had stayed overnight in camper vans, but the majority arrived bright and early from Pahia/Waitangi.
Simon ran through the plan for the day and then we were off. Paul Cook has family and farming connections in the district so he was our leader as he knows the area well. The weather was looking a bit ominous, but we enjoyed great riding on quiet roads and the rail trail around Lake Omapere on our way to Okaihau for coffee. We had spilt into two groups at the start of the ride so coffee was a good spot to regroup. Some decided to take a shorter route home while the rest of us headed off to Kerikeri. The rolling countryside reminded us that Northland was a hilly place and a landscape made unique with lots of regenerating Totara and more 'Watch out for Kiwi' signs than just about any other region in NZ. This sign was a favourite with Andrew.
Paul led us safely into a bustling Kerikeri and to a picturesque reserve near the stone house for lunch. We were joined by two 'friendly' Muscovy ducks who then persisted in lunch stealing antics resulting in lost muffins and bad language from Louise. Not so sure about saving these birds.
The rain finally caught up with us on the way home but still a very enjoyable day out. Thanks to Paul for leading and the local information and to Simon for arranging the opportunity to look through the Mission house.
Day Two –

Tuesday 21

st

June (50km

)
Author: Christine
Day 3 – Wednesday 22nd June. Opua – Kawakawa – Okiato – Opua. 57 kms. 928m climbing
Author: Deb
Leaders: Simon and John [Sloop]
A sunny but cold day. With the cars having been left at Opua, the group began the days's ride at the English Bay Reserve. We followed Oromahoe Rd in reverse back up to the junction of Whangae Rd. Cycling the gravel uphill seemed easier than the previous day. We did note the posters stating the the road would be closed on July 3rd for road racing and could see how the gravelled and steep cambered twists and turns would be an excellent challenge for such racers.
At the Whangae Rd junction we joined up with Katherine and Sandra who had been dropped off by Erica and Athol. From there we cycled down and through to the Railway Café at Kawakawa. The staff there were ably assisted by Erica who showed her wonderful café skills in dealing with the group's coffee orders. Thanks Erica. After coffee, took a short path to the new Kawakawa Public Library. This was built by the local council as a memorial to Hundertwasser and opened in 2020. It reflects the style of his famous Kawakawa public toilets.
From there we followed the Twin Coast Cycle Trail back to where the trail meets the road leading into Paihia. A few biked to the Taumarere Station where the trail is now closed for the railway to Opua to be reinstated. From the various conversations had, the closure and what will happen regarding this section and creating another link to Opua seems to be a local hot topic.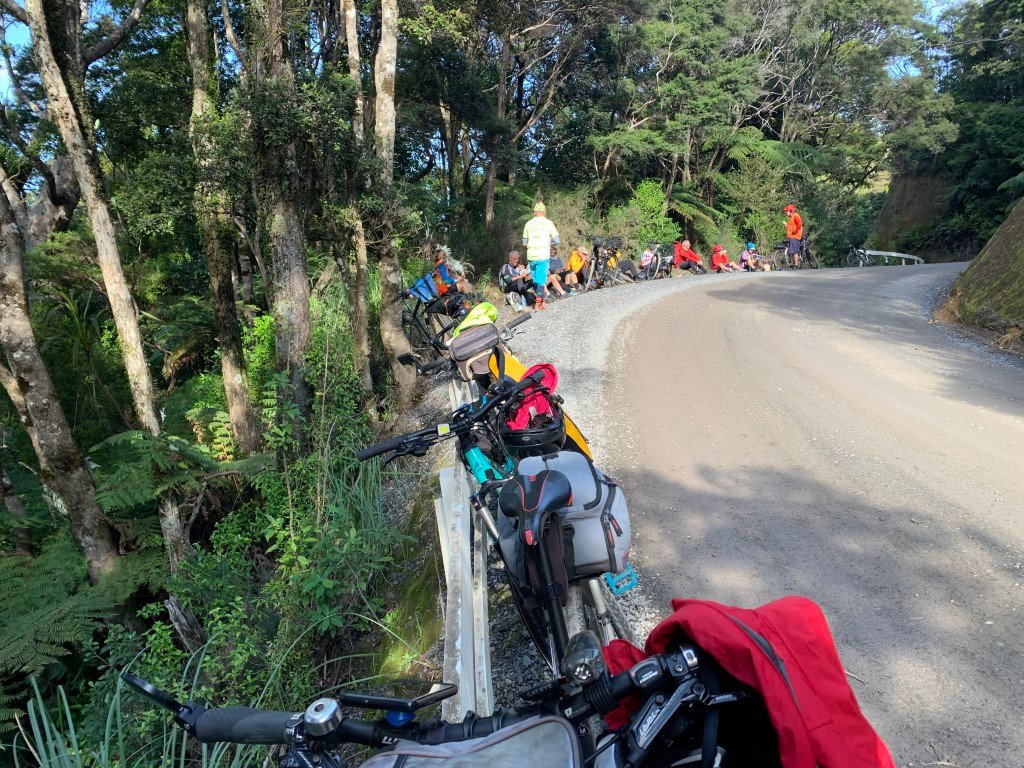 We crossed to Waikere Rd and followed this relatively quiet route for the bulk of the day, stopping for lunch on the roadside. Here Paul had to retrieve Sloop's woollen hat, which he had casually tossed into the bush having assumed that it had been dropped by a passing car.
Then on, down hills and up hills, avoiding a few serious potholes and onto the road to Okiato to catch the ferry across to Opua. Overall, a good day, neither too hot nor cold. Thanks to leaders Sloop & Simon and Ron for being our tail end for the day.
Day 4 – Thursday 23rd June. Paihia-Kerikeri-Paihia
Author: Erica
Just as Tuesday- a briefing at Waitangi campground, this time led by Sloop who of course started with a warm-up joke!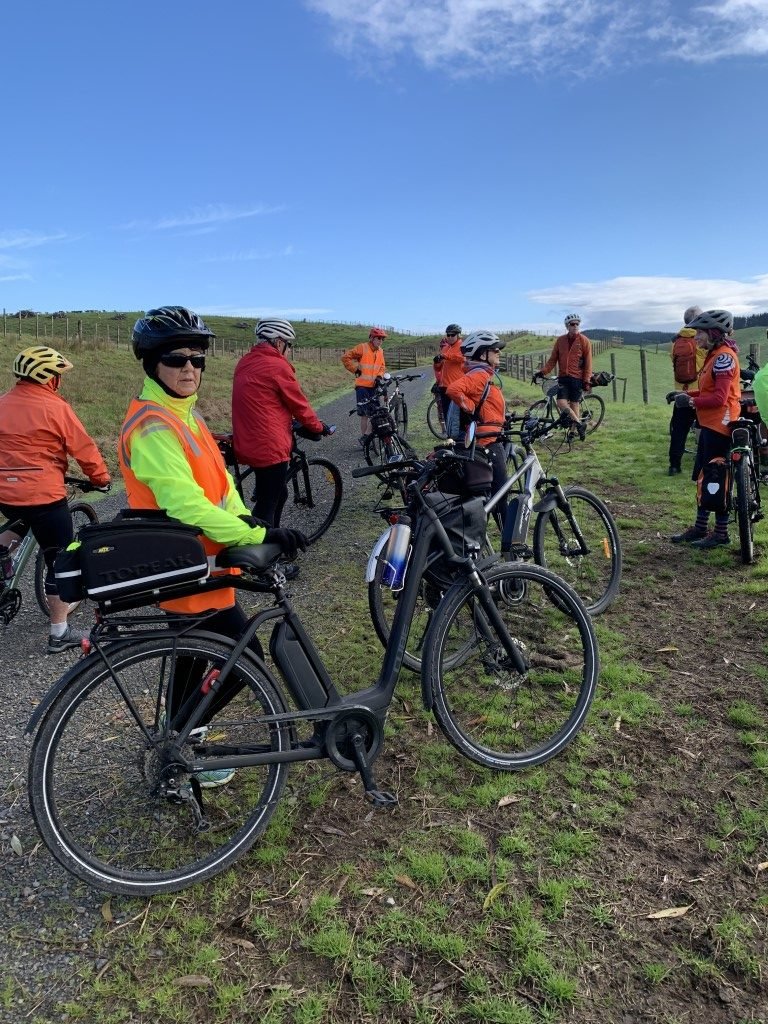 Again up past the Treaty Grounds and Golf course with beautiful views out to North East towards the Black Rocks. Straight onto Haruru Falls Road- an unsealed but good surface.
Right into Tui Glen Road and with Sloops local knowledge and contacts we made a very lucky left turn onto the now privatised end of Wakelin Road.
No traffic and a good surface through farmland giving fabulous views – sometimes out to sea and always across rolling farm hills also a couple of opportunities to push our bikes uphill where the farm road got both steep and rutted.
We stopped and milled around a curious disused 'folly' which looked out over the same country but no particularly obvious focus and which a few of the brave explored cautiously around obviously rotting boards.
Nice riding on out to the still public end of Wakelin Road and on to junction with Kerikeri Road.
Here 3 of us broke away to the left and headed back to Paihia via coffee again at the Junction cafe giving us about a 32km ride overall.
We were joined quite smartly by Athol who had taken fright/flight at the site of the first hill and turned around.
For the four of us – not a bad ride back to Paihia. A fast Road and limited shoulder but good traffic as far as Haruru Falls then onto a cycle path all the way back to the waterfront. Back to our digs in time for lunch in the sun. A very enjoyable ride .
The rest of the group coffeed in Kerikeri where , apparently, Paul Cook shared his considerable knowledge of cafe muffins nation wide. They then continued on an undulating ride (plenty of ups and downs)with a highlight being lunch at the Haruru Falls campground giving them a great look at the Falls from below. A great spot according to Bill Peppler.
That group reached Paihia again mid afternoon after about 50km.
I think all agreed that the Wakelin Road extension through farmland was the most memorable part of the cycle.
Sarah Ley and I took the chance to return to the treaty house grounds to see the museum which we had not had enough time to see the previous afternoon. (Entry tickets give you access on two consecutive days).
We both thought it excellent – great exhibits in a super building and somewhat sobering to get a much fuller version of our history than I was ever taught at school. We thoroughly recommend it.
Day 5 – Friday 24th June. Paihia-Russell
Author: Sandra and Marianne
Eight of us (Sarah, Simon, Athol, Erica, Bill, Christine, Marianne and Sandra) met on the rather cool, windy Matariki Holiday, at the Paihia Ferry Terminal for the 9.30 am passenger ferry to Russell/Kororareka. Fortunately, the Bay Belle was able to accommodate eight bikes (normally only four allowed – well done Simon). After disembarking we had a group photo under the gateway, taken by Rangi a local Kuia, who had been out on the Cream Boat to the Hole in the Rock to view the Matariki sky.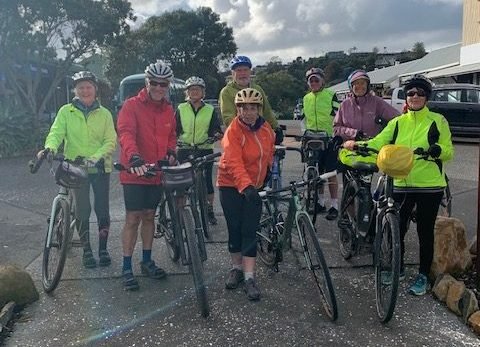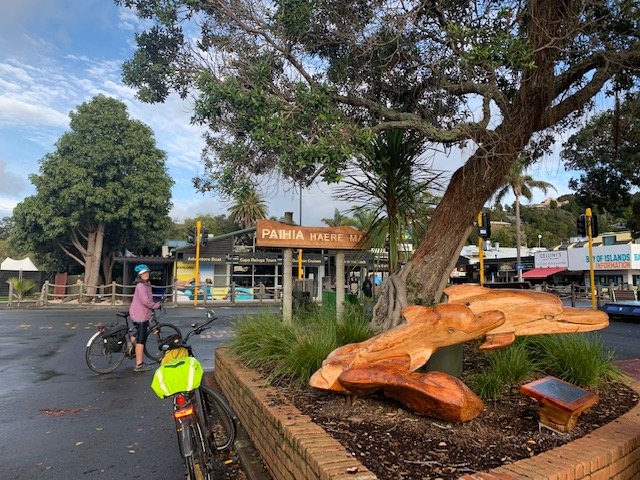 We set off along the Strand, into Wellington Street en route to Maiki/Flagstaff Hill. Up the windy, narrow road we pedal of the road, where some of us were grateful to leave our bikes and stretch our walking muscles up the steps for the final metres to be rewarded with 360o views. The descent had its own challenges, a good test for the brakes.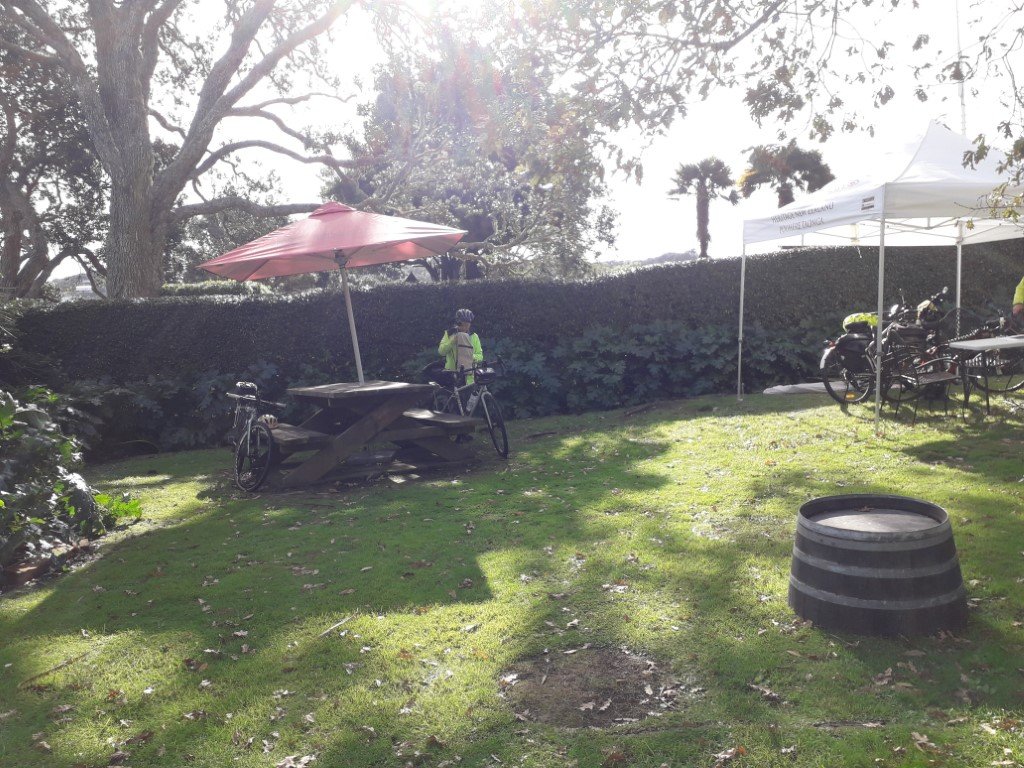 Pedalling through the back street of Russell, we ogled at immaculately kept houses and cottages. On reaching Matauwhi Bay, another steep hill came into view. There was a consensus to abandon the ride toward Okiato, in favour of returning to Pompallier House for coffee. The heavens opened briefly to confirm our decision. The French Patisserie sated our appetites before we headed back to board the midday ferry.
A wonderful finale to the week's Winter Solstice Tour.
Northern Solstice Hub Tour – 19th to 24th June 2022