Written by Janette Lloyd, photos from Sarah Ley-Bucherer
Day 1 – 2nd February 69.3k, +254m
Everyone decided on a 7.30 start because of the hot weather – there were 24 riders so we broke up into two bunches. First puncture was at 10ks (Reg) he sorted it and caught us up. Morning tea stop was Morrinsville cafe and bakery.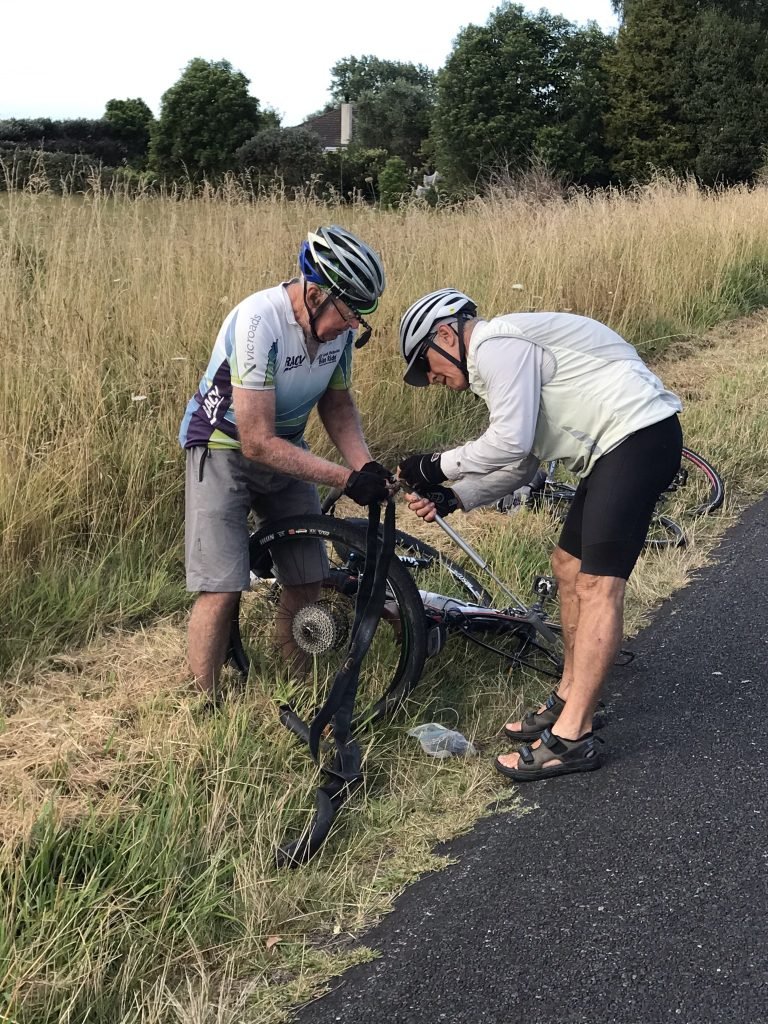 Lunch stop was at friends of Annette and Steve's at a beautiful old villa. Everyone brought their own lunch and we sat out under trees in the shade in the garden. We then had a tour through the villa. On way back Carol and Sue found a peach tree on side of the road. The peaches were yummy. Some rode into Te Aroha for a look around whilst others had a swim back at camp. Dinner was at Grand Tavern in Te Aroha.
Day 2 – 3rd February 80.6k, +333m
Another early start at 7.30 – we headed along a concrete cycle way to Matamata. We stopped for morning tea at Wairekau at an old dairy factory converted into a cafe, heritage museum, climbing wall and overnight campervan parking out the back. We then headed off cycle way to Old Te Aroha road past the Kaimai air crash monument and Wairere falls which only had a trickle of water.
Lunch was in Matamata in a park under trees then we rode through memorial gardens heading back to Te Aroha following an all sealed cycle way with a stop at the Forge kitchen for a well earned cold drink or ice cream. Dinner was at the Te Aroha RSA.
Day 3 – 4th February 66.1k, +642m
This was another early start leaving camping ground at 7am and driving to Morrinsville for 7.30 start. Today was our hottest day and was going to be a few hills. Morning tea stop was at Goodwood School, a great country school for years 1 to 6. We were made very welcome and could even make our own coffee. They had a great bike track on the neighbouring farm and had 45 donated bikes and helmets for the kids to use. We then headed into Scotsman Valley for our lunch stop at Te Miro Mountain Bike Park then back to Morrinsville to our cars after which everyone headed off back home.
It was a great hot 3 days enjoyed by all
Te Aroha Hub Tour 2-4 February 2021