Leader: Athol
Real bikers: Athol Berry, Terry Chubb, Matthew Crozier, Erica Gilchrist, Pieter Holl, Bill Pepler, Bruce & Nancy Rankine.
E-bikers: Marlene Hiestand, Christine Lawson, Graeme McGowan, Liz Phillips, Paddy & Brian Stafford-Bush.
5th March – Pongaroa
Author Christine
History of Pongaroa
Settled in the 1890s, the town initially supported a timber mill. Once the bush was cleared, the land became sheep and beef cattle country. Pongaroa was the birthplace of Maurice Hugh Frederick Wilkins (1916–2004), who won a Nobel Prize in 1962 for his contribution to the discovery of the structure of DNA.
Everyone made their own way down to Pongaroa on Route 52, staying at Puketoi Lodge which is run by the Pongaroa Hotel where we all walked for dinner at 7pm that evening.
6th March – Pongaroa to Masterton – 91 km, 835m of climbing
Author: Christine
All fourteen cyclists were ready at 8.30am to start our 91km journey, this was the most kilometres cycled in a day on the tour. The weather was a bit overcast and quite windy. Athol managed to get our panniers carried for the first 45km to Alfredton School which was greatly appreciated by us all.
We had morning tea at Tiraumea Hall where we found shelter and an open toilet. Our next stop was picking up our panniers at the school after completing 45km! We then cycled across the road to Alfredton Domain where we had lunch.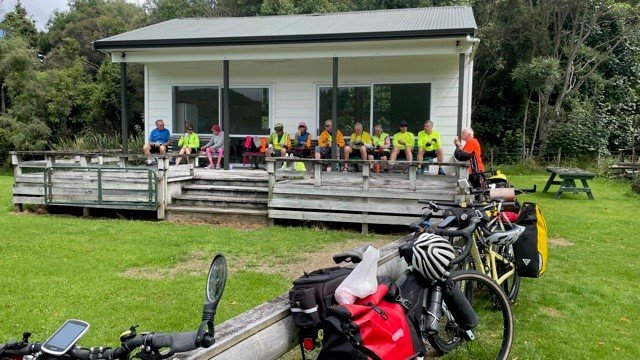 After lunch we headed on towards Masterton when Bruce discovered he had to stop and pump up his back tyre. Thanks, Terry, for the pump you carried it was so useful. Just had to stop and take a photo of this amazing quince tree along the way. Another highlight of the day was stopping for a well-earned ice-cream after cycling 90km as we came into Masterton. We stayed the night at Mawley Holiday park. A great day cycling and my first unsupported tour. A very enjoyable day.
7th March – Masterton to Martinborough – 52km, 330m of climbing
Author Pieter
After our big day yesterday, we were all looking forward to a much easier day today. In keeping with this ethos, we took our first break after 1km. Initially intended as stop to purchase lunch, it soon became our coffee stop when we learned that the Gladstone Inn, where we planned to have morning tea, was closed today.
From there, we were soon peddling through beautiful lush-green countryside in brilliant sunshine. A perfect day!
Stopping at the intersection of Te Whiti and Gladstone Roads for morning tea, we somehow (still a mystery to me) ended up talking to Greg Lane who was, until recently, the Mayor of Carterton. He is also NZ's only wheelwright, repairing wagons and railway carriages using traditional materials and methods. Greg very generously gave us a tour of his workshop, which we all found fascinating. An unplanned and unexpected highlight of the tour!
From there, we continued on to Martinborough and our accommodation at the Martinborough Top 10 Holiday Park, passing the picturesque Gladstone Church on the way, and stopping for lunch in the shade of a driveway, accompanied as we ate by a wayward Martian.
That evening we headed to the Martinborough Hotel, where we had a very enjoyable meal.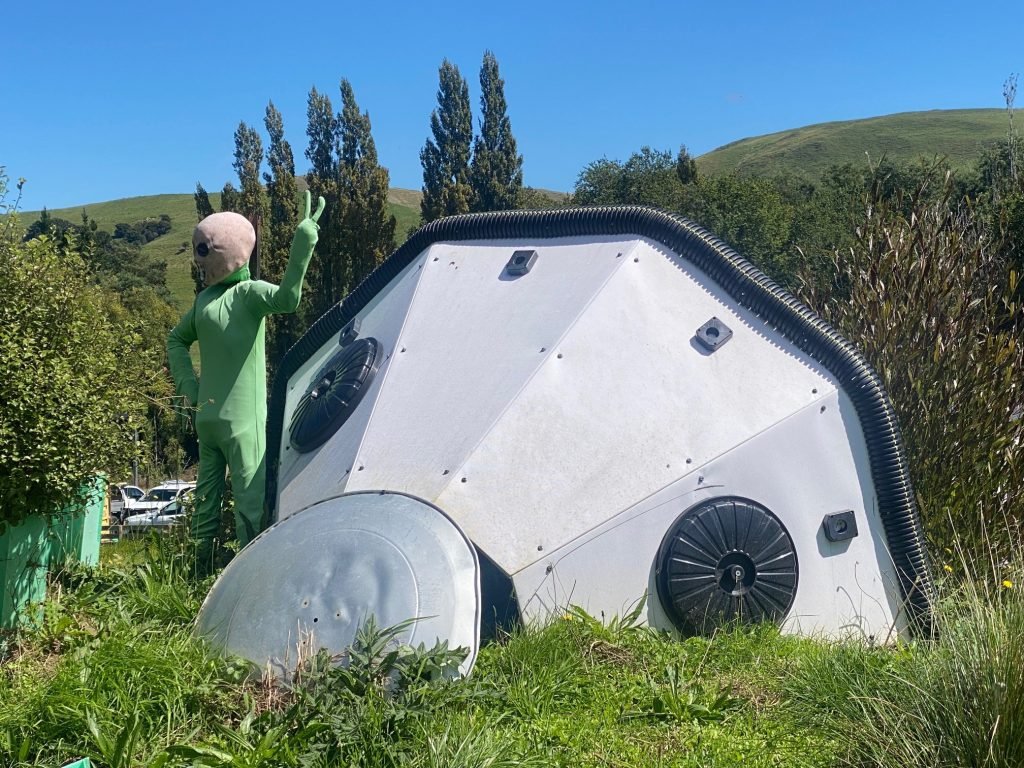 8th March – Martinborough to Featherston – 69km, 350m of climbing
Author: Graeme
We left at 9am to take the scenic route to Featherston, cycling around Lake Wairarapa. First stop of course was coffee at 9.05am and to buy lunch. Terry was so engrossed in reading the newspaper he missed the final call and we accidentally left him behind!! Fortunately, he quickly realised he was alone and raced to catch the peloton.
In was a fine sunny morning making South Wairarapa picture perfect with lush green pastures dotted with sheep.
Traffic was light and the first hour or so the road was undulating but after turning towards the lake it was a flat run. To keep us honest, a north-west wind gradually intensified to let us know we were in Wellington territory. We stopped for morning tea at an old disused dairy factory which more recently was used as the "Village Garage" on a movie set.
At the bottom of the lake we turned north and were blasted by very strong side winds funnelling off the Rimutakas, so 20 minutes later we took a respite for lunch in the Rimutaka Forest Park, sheltering behind a tree covered bank. It proved to be a good decision as after lunch the wind had abated and we enjoyed a pleasant ride with good views of the lake and surrounding countryside.
Our accommodation was in a splendid 1900 stately manor, "Farnham House", formerly the Barton family residence, then a Māori girl's school, complete with a swimming pool.
Nancy and Erica had taken the direct route to Featherston to check out our accommodation and purchase food for dinner. They and the other ladies in the party prepared an amazing evening meal, while the men relaxed in the lounge. But it wasn't all one-sided, in keeping with tradition, the men did the dishes.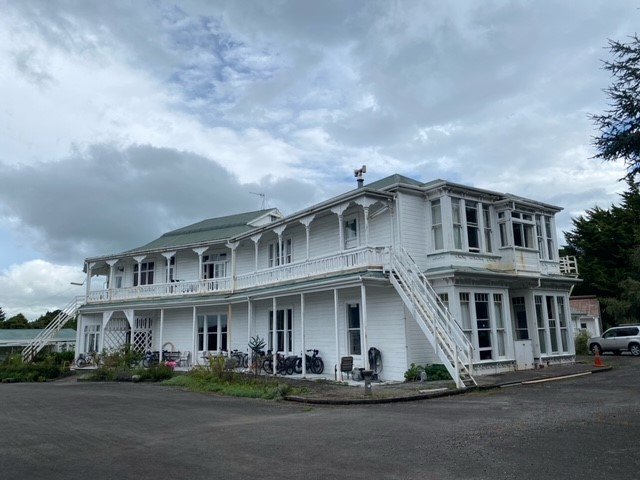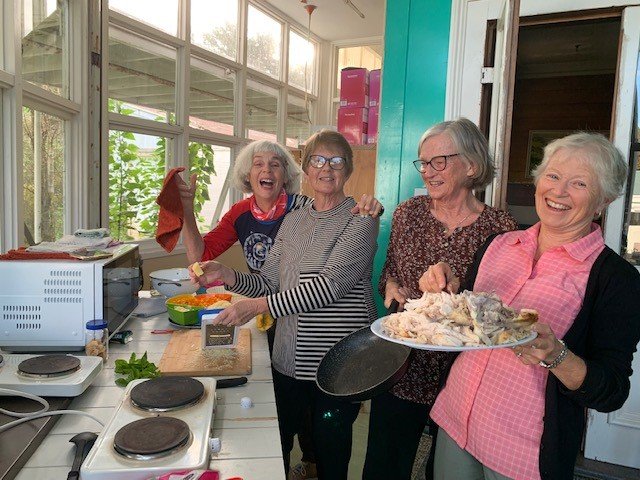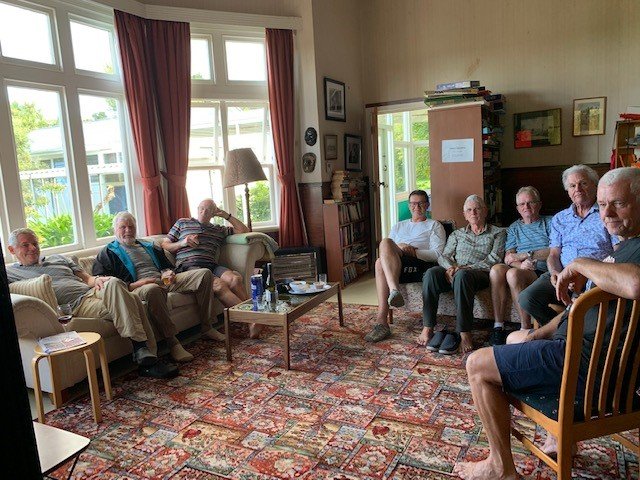 9th March – Featherston to Lower Hutt, Baring Head Loop – 57km, 560m of climbing
Author : Nancy
We were up early to catch the 7.30am train to Lower Hutt, with a special bike carriage added just for us. A 50-minute trip to Waterloo Station was followed by a short cycle ride to drop our panniers off at the Wellington Top 10 Holiday Park, our accommodation for the next two nights.
Then, with Bruce leading, we cycled the picturesque Eastbourne coast with coffee at the Hive Cafe. On the way Bruce showed us the vast bush in York Bay where he spent his childhood with the local boys acting out scenes from "Tom Sawyer" and "Huckleberry Finn" using swords made from bush resources.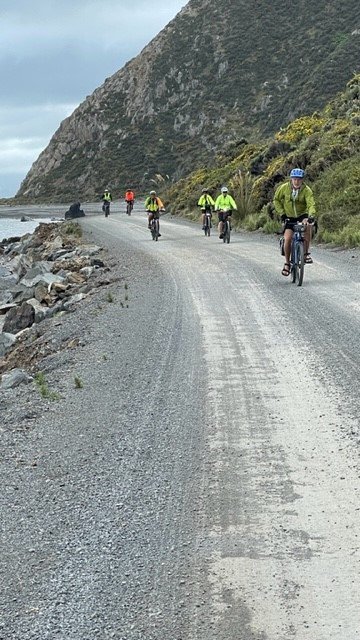 After coffee, we stopped to pick pears at a friend's house and then, with a tail wind, sailed along the scenic dirt road towards Pencarrow Lighthouse.
With 25 knot winds to deal with as we climbed up the hill to Baring Head, it was time to find a sheltered spot behind some shingle mounds for lunch.
Our return slog into head winds took us back through Wainuiomata where we picked up takeaways for dinner, and then another slog up Wainuiomata Hill with a beautiful view over Wellington at the top.
After a quick break, we had a balance tester with strong gusts down a very steep descent before heading back to our cabins at the campground to eat our well-travelled takeaways.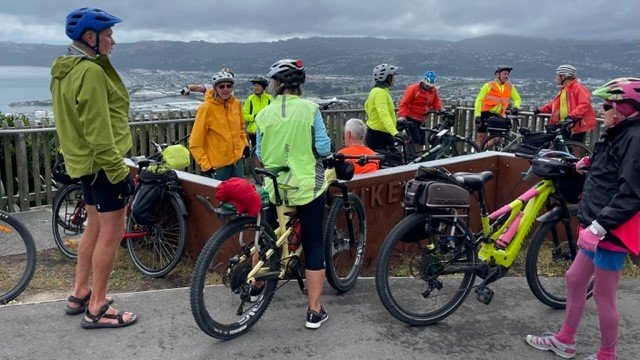 10 March – Wellington Rest Day – 30 to 50km, 100m of climbing
Author: Pieter
Today was supposed to be a rest day!! However, the forecast showers cleared early and most of us rode into Wellington, stopping in Petone for the obligatory coffee, and on around the waterfront to Kilbirnie, where we had lunch and made assorted purchases from Burkes Cycles. We then retraced our steps to Wellington. From there, some of us rode back to the campground, while the rest took the ferry to Days Bay and rode back from there. That evening, we returned to Petone for a very enjoyable meal at The Lucky Cat.
11th March – Lower Hutt to Featherston – 70km, 580m of climbing
Author Liz
Today was our final day of riding. We set off from the Wellington Top 10 Holiday Park in Lower Hutt and followed the Hutt River Trail led by Terry and Pieter. It was a lovely gentle ride meandering alongside the river, but it was busy being a Saturday morning with runners and walkers on a trail run, all making the most of the sunny weather.
We left the river trail and stopped for coffee and lunch supplies after about 20 kms when we reached Upper Hutt. After that, we had a very steep and windy climb up and over Mangaroa Hill Road to Maymorn, which was a bit of a surprise to us all.
The first part of the Rimutaka Trail was busy with mountain bikers on an adventure race hurtling in the opposite direction, but it was well monitored and controlled so we were able to cycle on without problems.
On entering the next part of the trail, the gradient was much more gentle as we cycled up to the summit, it was a beautiful ride through the bush with stops along the way to enjoy the view and read about the history of the railway. We stopped for lunch by a little ford and enjoyed our picnic in the sun. There were several tunnels to negotiate which were fun and we soon arrived at "The Summit", a lovely spacious area with trees, old railway relics and lots of history.
The final few kilometres to the carpark were narrow single track which was a bit more challenging, but we all made it down safely before heading back to Featherstone for a well-earned ice cream.
Our accommodation at Fareham Lodge was very spacious and comfortable and dinner that night at The Royal Hotel was excellent.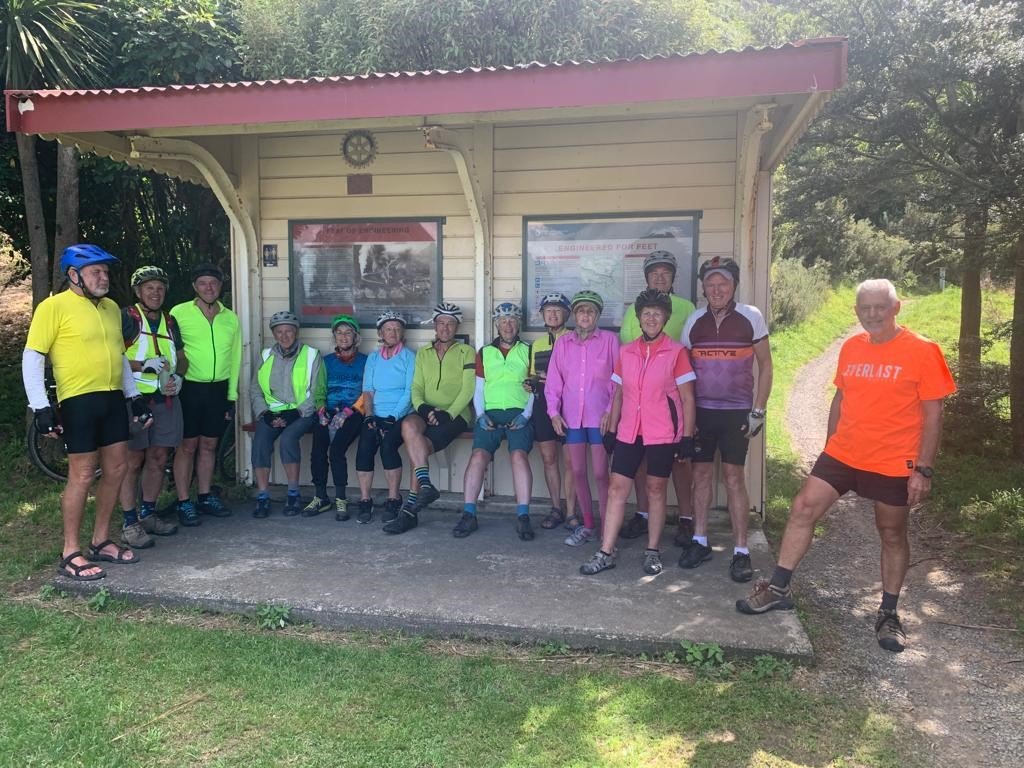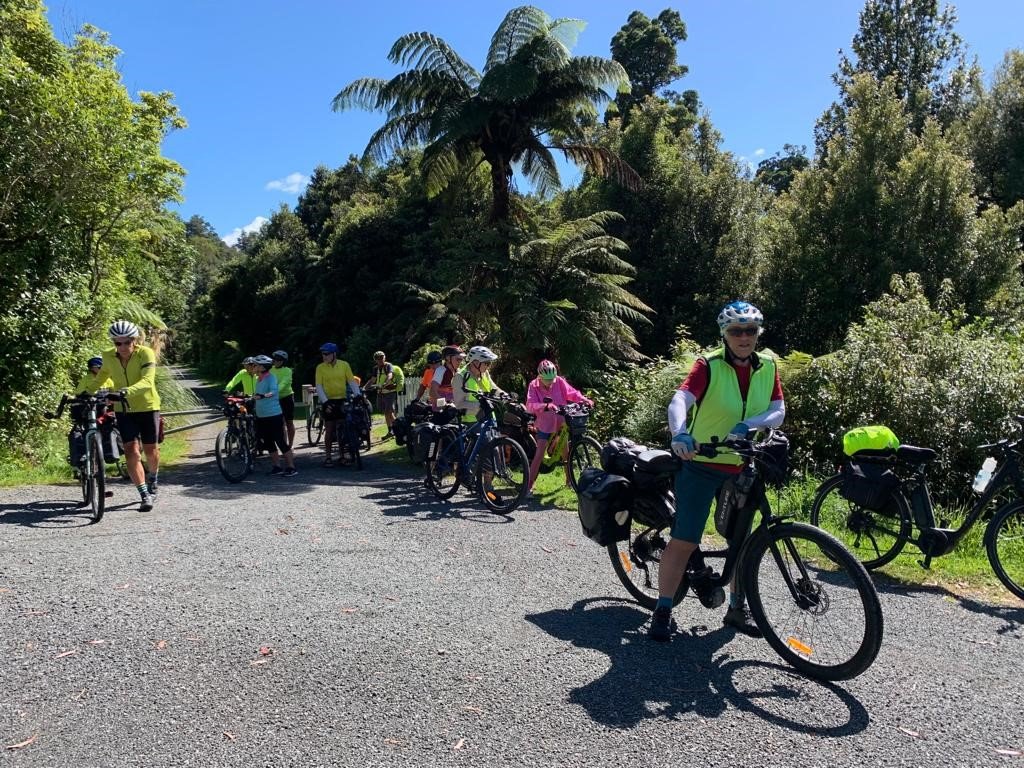 12th March – Featherston to Pongaroa
Author Liz
The next day we were picked up by shuttle and returned to Pongaroa, the end of a wonderful trip.
Our thanks to Athol and Erica for all their work in arranging all the details, we had a great time.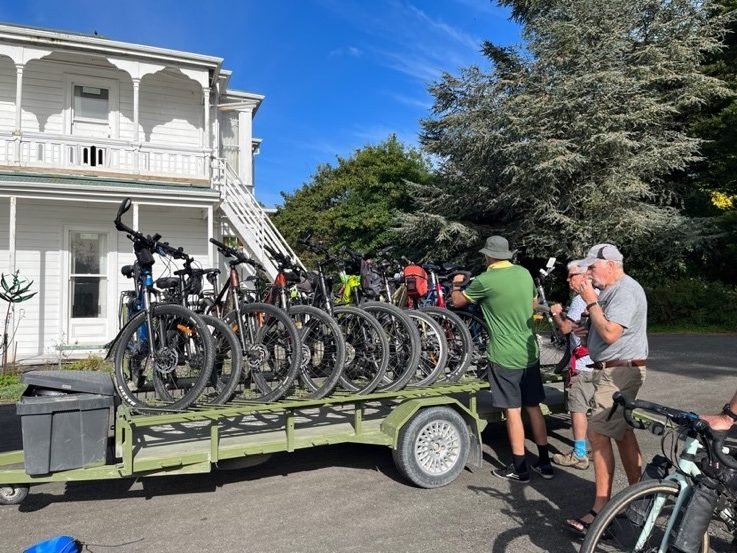 Pongaroa to Wellington Unsupported Tour – 5th to 12th March 2023